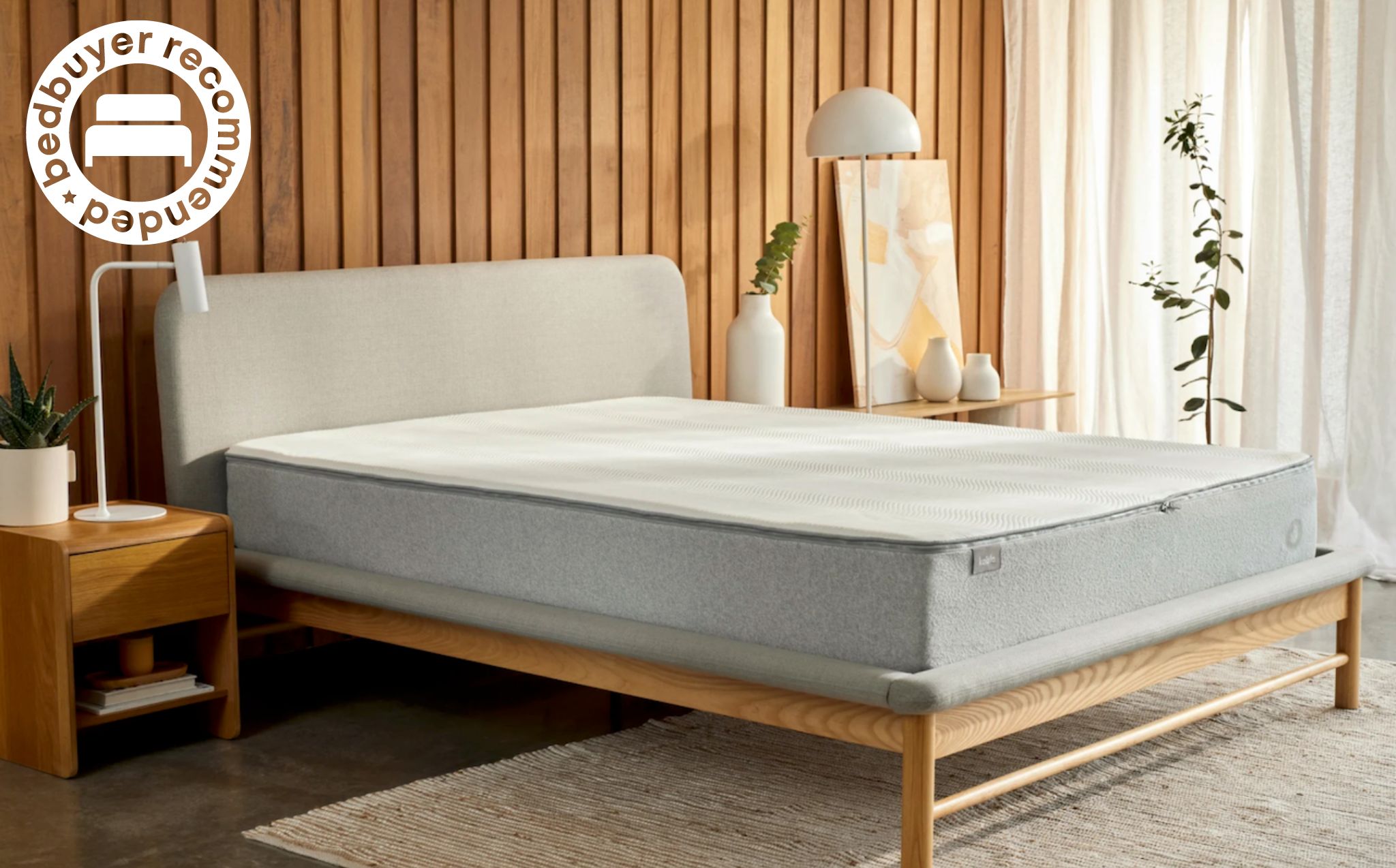 Koala Mattress Review
The Koala Mattress is one of the most popular and well known mattresses in Australia. It is made predominantly of foam and is highly certified as non-toxic and eco-friendly.
Like many of its competitors, this mattress comes with a handy customisation feature. This allows you to adjust the firmness of the mattress to suit your preference.
The Koala Mattress is a revamped model of the hugely popular (Original) Koala Mattress that was first released in 2015.
✏️ Product summary
Customisable, foam mattress

Mattress in a box

120 night trial period

Current best price is $900 (queen)
Click SHOP NOW for best price

The current Koala Mattress forms part of Koala's mattress range that also includes the mid-range Calm As Mattress and the entry-level SE Mattress.
Purchase and delivery
As with other mattress in a box products, you can order the Koala Mattress online (through the Koala website), and it will be delivered to your door.
Due to the design of this mattress, it comes in two separate boxes – one for the mattress support section, and the other for the flippable comfort layer. More on this shortly.
Delivery of the Koala Mattress is free and the mattress can be delivered to almost anywhere in Australia. Koala offers an impressive 'same-day delivery' to major metro areas. Please see delivery times below in our Delivery information section further down.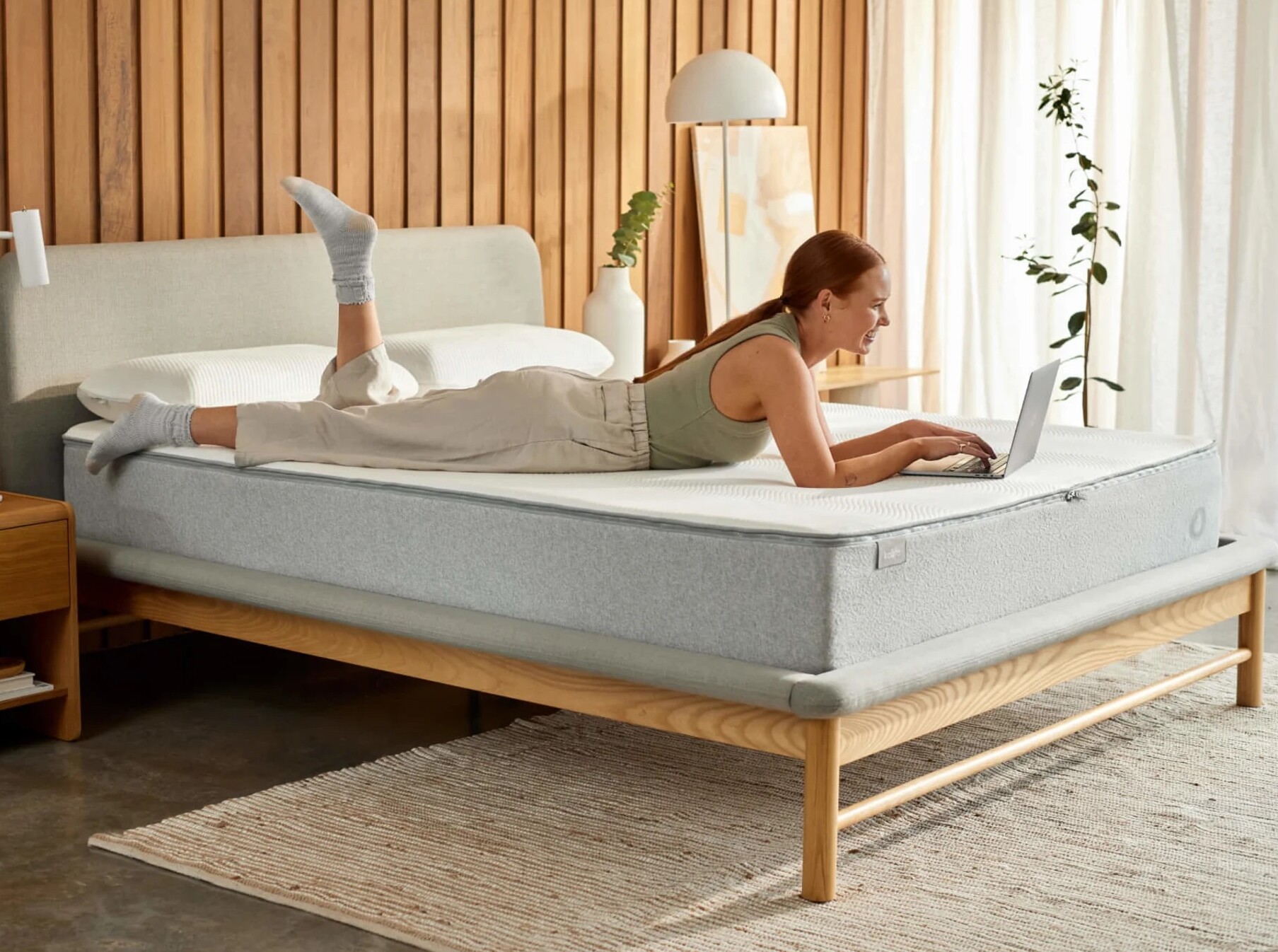 Due to the 2 box delivery system, removing the Koala Mattress from its packaging takes a little longer (15-20 minutes) than single boxed competitors. As always, we recommend having two people available to unpack a mattress in a box.
The Koala toy was a nice touch, but we would have preferred a cutting tool. Removing the plastic wrapping wasn't as easy as some other bed in a box products that we have unpacked.
As per our standard testing process, we gave the mattress 24 hours to decompress before we conducted our testing.
You can see the Koala Mattress in 'real life' in our video review below:
In the past, the (Original) Koala Mattress had been available to try out at Myer and at 'The Treehouse' in Sydney. Currently though, the Koala Mattress isn't available to try out in a showroom. The only way that you can try this mattress is through their 120 night trial.
In terms of pure aesthetics, the Koala Mattress presents nicely with a clean, modern style. It uses a white and grey colour theme, and its brand name label gives it a nice finishing touch.
The brand label on the zip puller is a fine example of Koala's attention to detail.
Mattress construction
The Koala Mattress is essentially a foam mattress that is made up of 3 main components.
1. Breathable Tencel™ Lyocell Cover
The cover of this mattress is made from Polyester (65%) and Tencel™ Lyocell fabric (35%). It has been specially designed for moisture absorption and breathability.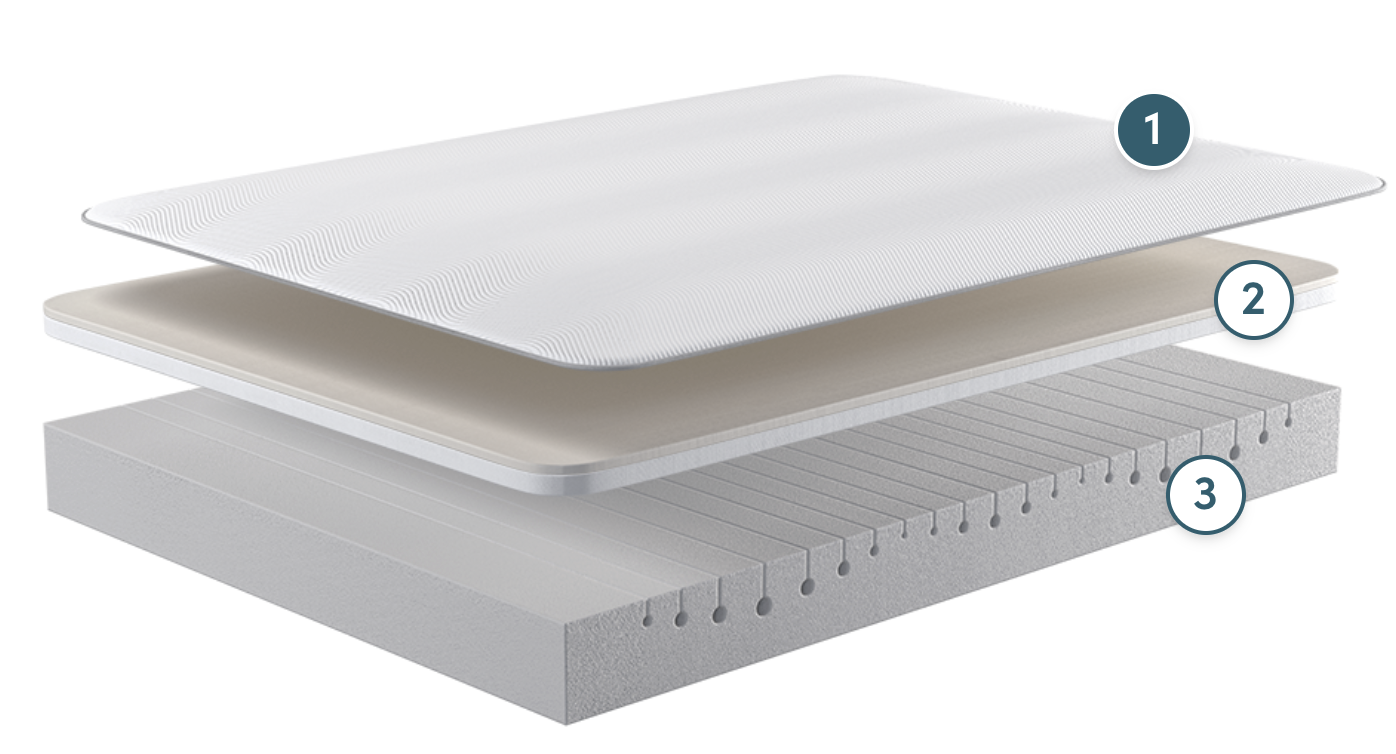 2. Soft and Supportive Kloudcell™ Comfort Layer
This layer is made up of a 7cm layer of responsive and breathable Kloudcell™ foam. This layer of polyurethane foam gives you the option to choose between a 'medium-firm' feel or a 'firm' feel.
3. Essential 3-Zone Support
The support layer of the Koala Mattress is a 3 zone, high density support layer. This section is designed to give responsive support that aligns the shoulders, hips, and feet.
All Koala Mattresses also have an 'anti-slip bottom' that helps to reduce movement of the mattress when placed on a bed base.
How does the customisation work?
As mentioned earlier, the Koala Mattress has a handy customisation feature that allows you to choose between two firmness options.
The separate comfort layer can be attached via small cylindrical clips that form the start of a zip mechanism. This zip is fairly easy to use, but it may require some patience – we found that it worked better with a slow, gentle motion rather than a strong forceful one.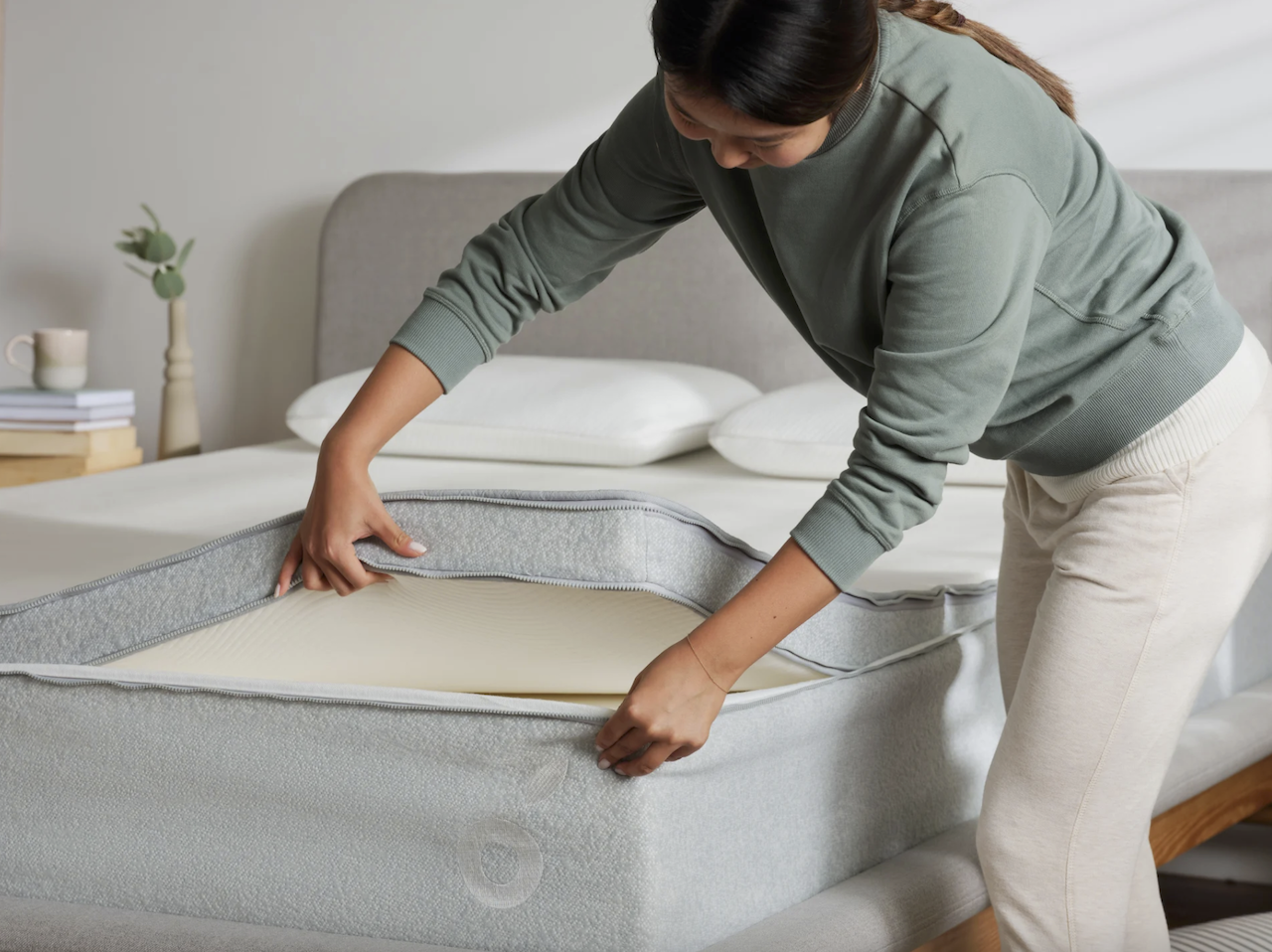 Nevertheless, you can switch between the two firmness options (firm and medium-firm) by unzipping and flipping this top comfort layer.
This comfort layer comes with convenient tags (at the base) to indicate which side is firm and medium-firm. Flipping this top layer should be manageable with one person, but is much easier with two people.
Other mattress in a box options that include a similar customisation feature include the Macoda Mattress, the Ecosa Mattress, and the popular Sleeping Duck Mattress.
Comfort and support
The medium-firm version feels dense, but it is comfortable and absorbs body weight nicely. It has a distinct spongy feel, and is fairly easy to move around in.
This configuration should suit all sleeping positions (side sleepers, back sleepers, and stomach sleepers), but understandably its suitability may vary between individuals.
In terms of firmness, our team rated the medium-firm configuration as a 6.5 / 10 on the firmness scale (with 10 being the firmest). This was the same firmness rating that we assigned to the Original Koala Mattress, but we must emphasise that the two mattresses do feel quite different.
Medium-Firm Version
Please note that our firmness ratings are just a guide and they do not necessarily relate to comfort.
Furthermore, our firmness ratings are assigned based on Bedbuyer's testing process and these may differ from firmness ratings given by individual companies. Mattress firmness will also vary depending on the type of bed base used.
We tested the Koala Mattress on the Chiropedic Bed Base which is a good quality bed base with rigid slats.
As you would expect, the firm version is firmer, but the difference (from the medium-firm) is not significant. The firm version also feels dense, and absorbs body weight smoothly.
This firm configuration would most likely suit back sleepers, but depending on the individual, it should still offer enough comfort for side sleepers and stomach sleepers.
Our team rated the firm configuration as a 7.5 / 10 on the firmness scale (with 10 being the firmest).
Firm Version
Both firmness configurations feel stable and both offer good spinal support. Based on our testing, this mattress should also accommodate people of all sizes.
Like many foam mattresses, the Koala Mattress doesn't have the natural bounce and responsiveness of some innerspring mattresses. In basic terms, this means that changing sleep positions (and intimate activities) may be easier on other mattresses.

Please note that our responsiveness scales are just a guide and preferred responsiveness levels will vary between individuals. It's worth noting also that innerspring mattresses are generally more responsive than foam mattresses.
The finer details
Our team liked the feel of this mattress better than the previous version. The (Original) Koala Mattress felt quite 'rubbery' and lacked the stability and comfort of this new model.
In terms of build quality, the Koala Mattress is very respectable. The quality of materials and finishings is commendable, and it is a notable improvement from its original version.
It's worth noting that the Koala Mattress is 1cm higher than its original version (which was 23 cm high). With this in mind, any standard size fitted sheet should fit easily around this mattress.
The zip mechanism works reasonably well if you need to flip the comfort layer. The 'anti-slip' bottom (100% Polyester with PVC dot) seems to be effective and should prevent any sliding or slipping of the mattress on your bed base.
The Koala Mattress is a notable improvement from its original version.
Like the original version (and many other foam mattresses), this mattress isolates movement well, so a restless partner shouldn't cause too much disruption.
With that said, motion transfer may vary. A larger mattress (e.g. king size) will usually involve lower amounts of motion transfer. Partner disturbance will also depend on the size of the occupants of the bed.
If we are to be critical, the lack of side handles is disappointing. Side handles will always make moving or transporting a mattress easier.
Edge support is not particularly firm, but is within normal limits for a foam mattress. Most users should be able to use the entire surface of the mattress, without fear of falling off the edge.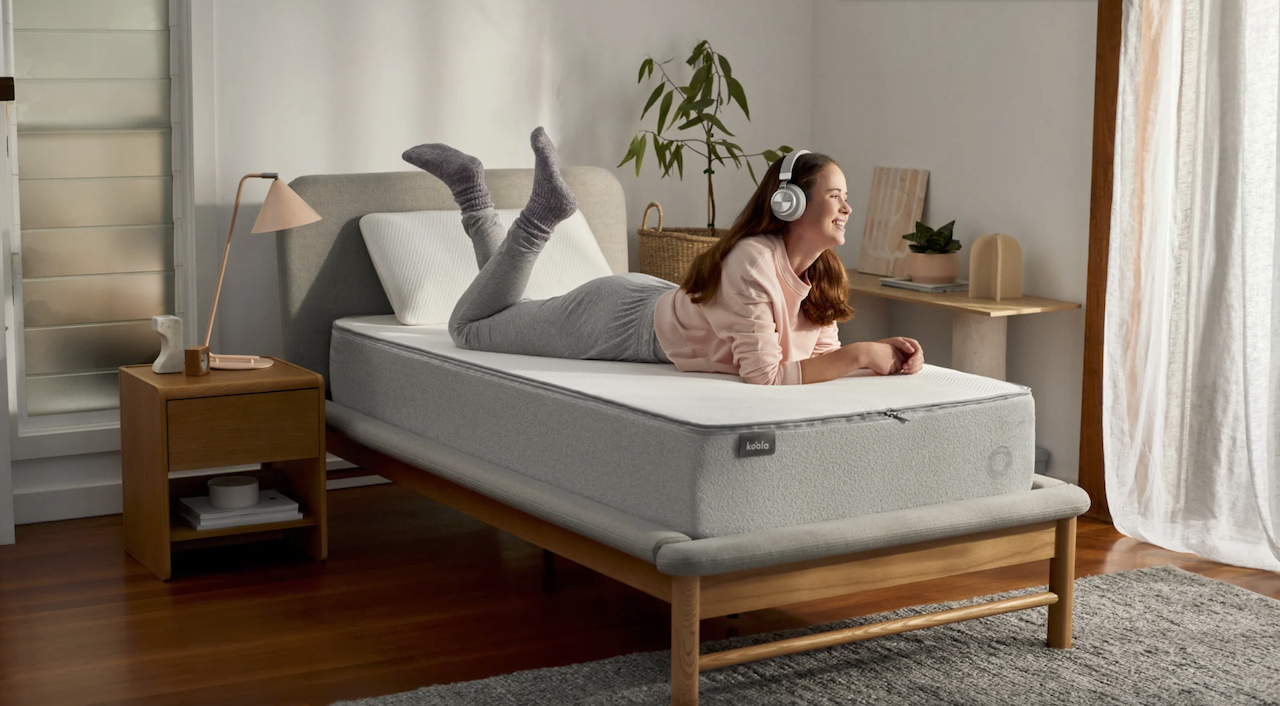 It's worth noting that the Koala Mattress is the first mattress (along with the others in the Koala Mattress range) to be fully GECA (Good Environmental Choice Australia) certified. GECA certifications are based around human health, non-toxicity, and environmental impacts.
The Koala Mattress is also certified as non-toxic by another reputable group, CertiPUR-US®. This certification gives customers the reassurance that a product (or product components) has been tested for toxic chemicals such as mercury, lead, formaldehyde, VOCs (Volatile Organic Compounds).
Additionally, all Koala mattresses have antimicrobial additives to prevent the growth of mould and bacteria.
What bed base should I use?
As with most mattresses, we recommend the Koala Mattress to be used on a bed base with flat panel slats such as the Koala Paddington Bed Base.
A bed base with solid slats (with slats no longer than 8 cm apart) such as the Chiropedic Bed Base, would also be very suitable.
Koala Paddington Bed Base
We would advise against using a bed base with flexible (posture) slats as this type of base may not provide adequate support. Ultimately, the use of an unsupportive mattress foundation will void the mattress warranty.
The Koala Mattress can used with an adjustable (electric) bed base. Here is our full list of mattresses that are compatible with an adjustable bed base.
It's worth noting here that mattress firmness, performance, and durability will vary with different bed bases.
Trial period and warranty
The Koala Mattress comes with a 120 night trial period, which is slightly superior to a typical trial period (of 100 nights) in the online mattress market. This means that you can return the mattress for a refund if you are not satisfied (conditions do apply).
This mattress also comes with a 10 year warranty to cover any faulty materials or workmanship. This is a typical warranty period in context of similarly priced competitors.
Available sizes
This mattress is available in 5 sizes (king, queen, double, king single, and single size) so it should accommodate almost all sleeping arrangements.
Here are Australia's standard bed (mattress) sizes in 2023.
Final verdict
The Koala Mattress is a nice mattress that combines comfort, support, and innovation. Its non-toxic certifications are also noteworthy.
Bedbuyer's rating:  4.1 / 5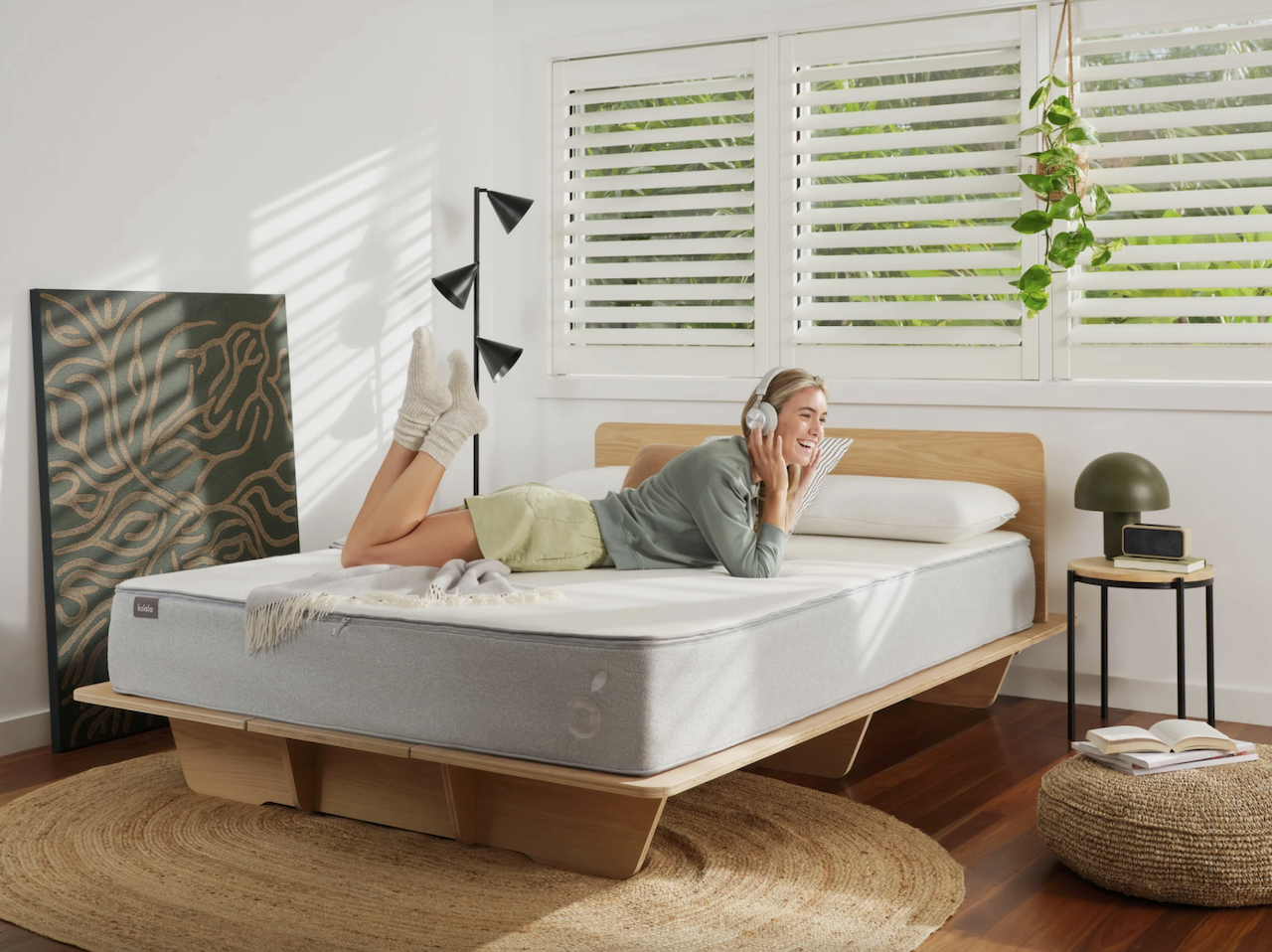 Here are our ratings for each category:
| | |
| --- | --- |
| Comfort | |
| Spinal Support | |
| Build Quality | |
| Partner Disturbance | |
| Value for Money | |
Did you know? Bedbuyer recently announced Australia's Top 12 Mattress in a Box in 2023!
If you have any questions about the Koala Mattress, please comment below.
---
Retail Prices
King Mattress: $1,450
Queen Mattress: $1,200
Double Mattress: $1,100
King Single Mattress: $990
Single Mattress: $800
Bedbuyer Prices*
King Mattress: $1,087.50
Queen Mattress: $900
Double Mattress: $825
King Single Mattress: $742.50
Single Mattress: $600
* To claim this price, click SHOP NOW.
---
Koala Payment Finance Options
VISA, Mastercard, AMEX, PayPal, Apple Pay, Afterpay, Zip Pay
---
Delivery information
We offer free delivery to almost everywhere in Australia for any order that includes a mattress.
If you're in one of our same-day delivery areas (Sydney, Melbourne, Adelaide, Brisbane and Perth) you can select a delivery time that's convenient for you.
Order a mattress or furniture item before 3pm on any weekday and we can deliver your order within 4 hours, if its in stock. Weekday evening and Saturday morning deliveries are also available!
Outside of our same-day delivery areas delivery is still completely free. Your items will be shipped from our metro warehouses so delivery will take longer. You will receive your delivery in 1-10 business days.
---
Product information – Koala Mattress
Weight: 35 kgs (Queen mattress)
Height: 24 cm
Maximum Weight Limit: no weight limit
Certifications
The Koala Mattress is the first mattress to be fully GECA (Good Environmental Choice Australia) certified.
All our mattresses are tested to ensure they are made without formaldehyde, are low-VOC, and free from nasty chemicals.
Materials
Top Fabric
67% Polyester, 33% TENCEL™ Lyocell
Anti-Slip Base Fabric
100% Polyester with PVC dot
Other Fabrics
100% Polyester
Polyurethane foam
Country of Origin
Designed by Koala in Sydney, assembled in China.
Responsive 3-Zone Support where you need it most
The durable 3-Zone Support base aligns to your shoulders, hips and feet for enhanced pressure relief, whilst our Kloudcell® topper instantly responds to movement to keep you continuously supported and undisturbed throughout the night.
Sleep cooler with breathable TENCEL™ Lyocell Cover plus Kloudcell®
To fall asleep, our bodies need to cool down first. The Koala Mattress cover fabric is made with TENCEL™ Lyocell fibre that helps absorb and release moisture, making nodding off a breeze. The Kloudcell® open-cell structure provides the breathability your body needs to sleep cooler and drift off faster.
Flippable Kloudcell® Comfort Layer
This is where the magic happens. The double-sided Kloudcell® comfort layer gives you the choice between medium-firm and firm at home, with both sides providing superior comfort and breathability. Simply unzip and flip to find your sweet spot.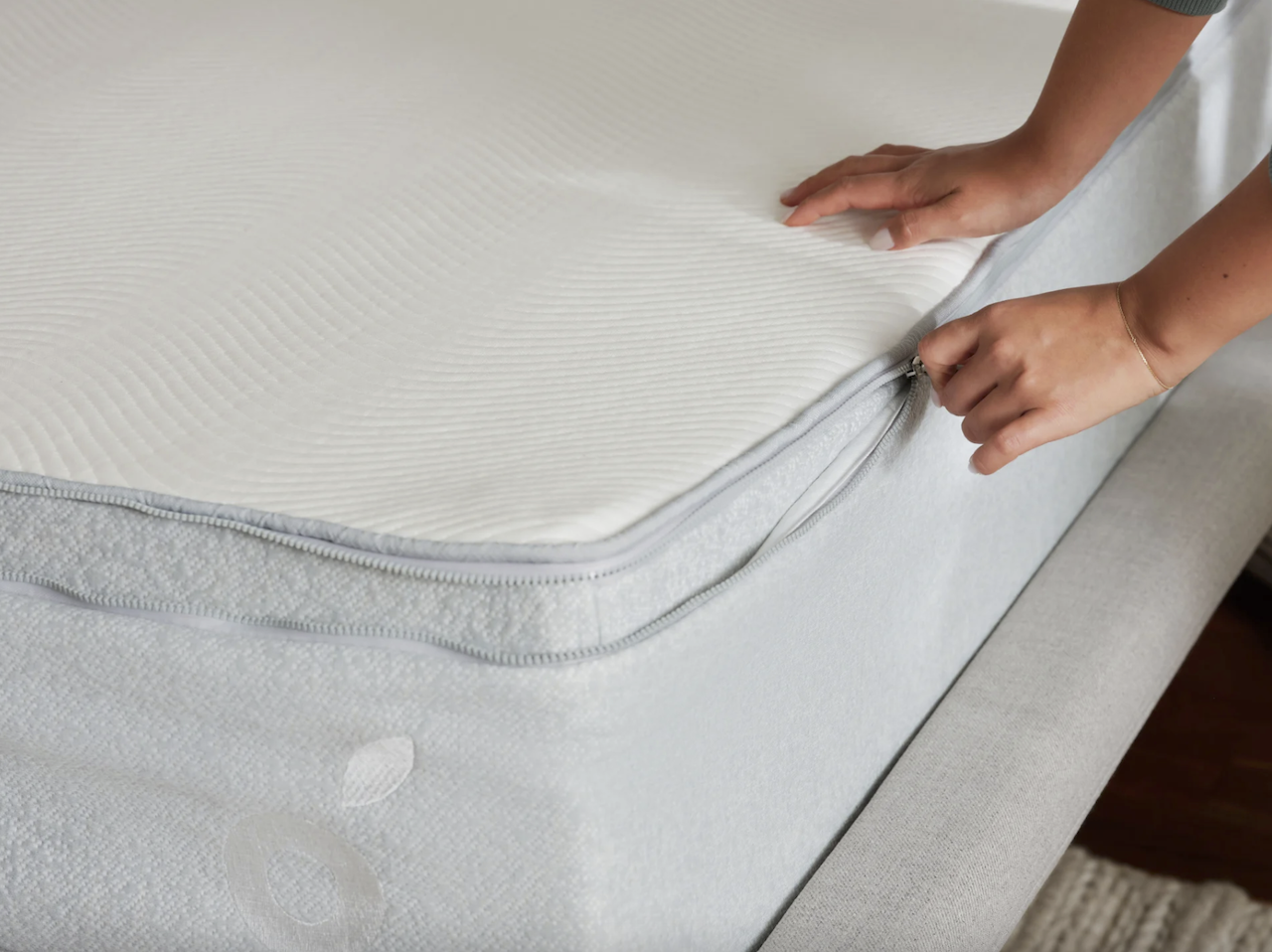 Quality stuff. Not stuffing.
Kloudcell® is made from high density, higher quality foam which means it stays comfier for longer. The density of Kloudcell® is 50 kg/m3. The density of our closest competitor? 38 kg/m3. Not even close³.
Sleep undisturbed
Sleeping with a tosser? Our famous Zero Disturbance® Tech is built to isolate motion, guaranteeing you'll sleep soundly no matter who you sleep next to.
Modify your mattress
What might feel right to your mate, doesn't feel right to you. That's why we've created our double-sided comfort layer that gives you the choice between medium-firm support and firm support. Just unzip and flip it to find what works for you.
Support in all the right places
We have a firmer support base right beneath the hips that prevents your body from sinking into the mattress. This comes in real handy when it comes to helping you maintain a healthy sleeping posture.
Keeping you cool all night long
Nothing beats breathability in bed. Made with TENCEL™ Lyocell fibre, all you need to know about our sensitive and soothing 7cm comfort layer is that it absorbs and releases moisture, making nodding off a breeze.
Zero disturbance means zero worries
Put the tossing and turning to bed. Our Zero Disturbance® mattress means you'll sleep soundly no matter who you sleep next to.
All Koala Mattresses have:
1. Anti-Slip Bottom – this little gizmo reduces the movement of the mattress when placed on the bed frame.
2. Anti-Bacterial Treatment – all mattresses have antimicrobial additives that help prevent the conditions that microscopic little monsters love.
3. CertiPUR-US® – all our mattresses are tested to ensure they are made without formaldehyde, are low-VOC, and free from nasty chemicals.

You may also be interested in: