Sleeping Duck Mattress Review
The Sleeping Duck Mattress is one of the most popular and well-known mattresses in Australia. It has an extraordinary level of customisation that includes numerous firmness options.
✏️ Product summary
Australia's 'Best Innovation' Mattress in a Box 2023

Customisable, innerspring mattress

Mattress in a box

100 night trial period

Current best price is $1,649 (queen)
Click SHOP NOW for FREE delivery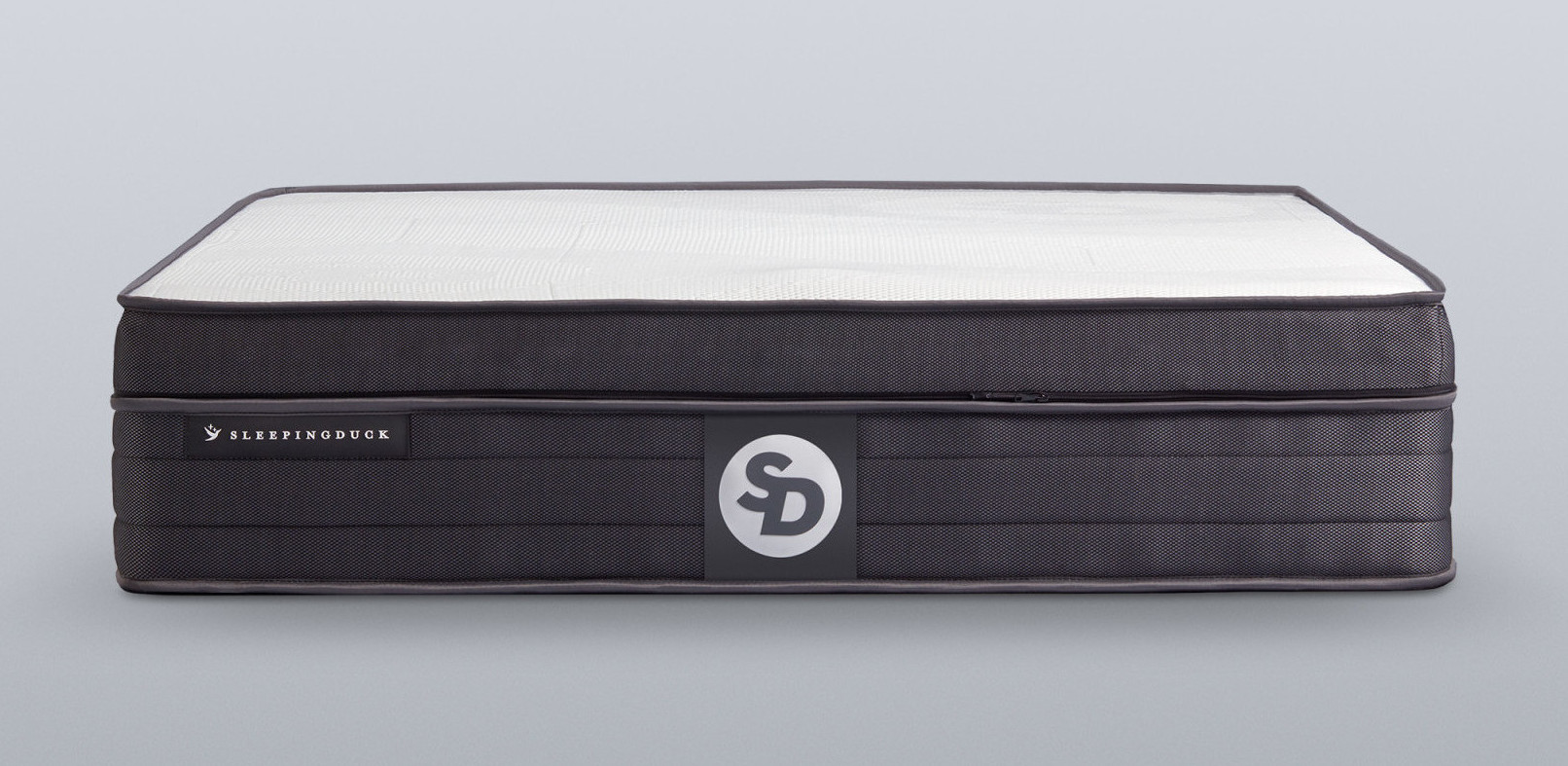 Purchase and delivery
The Sleeping Duck Mattress can be conveniently ordered online through the Sleeping Duck website. The mattress will be delivered to your door in a compact box, with larger sizes (e.g. queen and king) being noticeably heavy.
Sleeping Duck offers free delivery Australia-wide, and shipping times are fast. Please see delivery times in our Delivery information section further down.
Sleeping Duck offer a premium delivery service (for an additional fee) to select areas of Victoria, New South Wales, and Queensland. This service includes the delivery of your mattress to a room of your choice, mattress unpacking, and packaging removed. You can also have your old mattress removed (if you select the 'mattress removal' option at checkout).
Our box arrived in good condition, and the box's handy transport wheels allow for easy manoeuvrability. As usual, we recommend having two people available to unpack a mattress in a box, but it is still possible with one person.
You can see this mattress in 'real life' in our video review here:
Once all packaging is removed, the Sleeping Duck Mattress should be ready to sleep on after a few hours. With that said, we always allow a mattress in a box to decompress for 24 hours before testing.
Aesthetically speaking, the Sleeping Duck Mattress makes a strong statement. It gives off a modern, edgy vibe and oozes sophistication. The 'SD' brand label and rubber logo tag give off a distinct sense of class.
Mattress construction
The Sleeping Duck Mattress is an innerspring mattress that includes a breathable cover, two comfort layers, and a strong spring system.
1. BreathTech Cover
The Sleeping Duck Mattress has a BreathTech cover that is made from bamboo fabric. This has been specially designed for breathability and comfort, and feels soft and durable.
This cover is also removable (and washable) and forms an important part of the customisation process.
2. Foam comfort layers
The BreathTech cover sits over an 'AntiGravity Surface Foam' that is made from high density AirGrown polyurethane foam.
The second layer of the comfort section is named the 'ComponentAdapt Customisation' layer. The layer controls the firmness of the mattress, and it is this layer that can be altered.

3. Motherboard Spring System
These comfort layers sit over a 'multi-zoned' pocket spring system called the Motherboard. This spring unit has tailored support zones to suit specific parts of your body and is made from twice tempered steel springs.
The Motherboard also has a reinforced perimeter support for enhanced edge firmness.
How does the customisation work?
As we mentioned earlier, the Sleeping Duck Mattress has an incredible level of customisation. This means that you can choose from a number of firmness options to suit you, and your partner. 
On your initial order, you can choose either a 'firm' or 'medium' feel.
Additionally (on your initial order), you have the option to order 'half-half' – firm on one side, and medium on the other. This half-half option only applies to super king, king, and queen sizes and is ideal for those couples who have different firmness preferences.

If you aren't completely satisfied with your initial selection, you can request from Sleeping Duck (at no charge) additional foam layers to alter the firmness of your mattress.
It's worth noting though that to claim your free additional foam layers, you must wait 3 weeks from the time of delivery, and it must be done within the 100 night trial period. The additional layers of foam can be soft, medium, firm, or extra firm, so there are several options to choose from.
Sleeping Duck takes this customisation to the next level, by allowing you to request different foam pieces for different sections of the body. This feature is best shown in our video review (above).
This degree of adjustability is revolutionary. Although there are many customisable mattress options on the market, it's fair to say that the Sleeping Duck Mattress has the highest level of customisation of any mattress in Australia.
The Sleeping Duck Mattress has the highest level of customisation of any mattress in Australia.
This unique adjustability makes this product very suitable for those who experience back pain, or for those who suffer with a spinal condition.
Comfort and support
The medium version of the Sleeping Duck Mattress offers nice pressure relief with foamy yet responsive feel. It is a little softer than some other 'medium' versions that we have tested, but it still offers reasonable support.
This medium version should suit most side sleepers, but it may also accommodate back and stomach sleepers also. Understandably though, this suitability will vary between individuals.
We rated the medium version as a 5.5 / 10 on the firmness scale (where 10 is the firmest). Please note that our firmness ratings are just a guide and they do not necessarily relate to comfort.
Medium Version

Furthermore, our firmness ratings are assigned based on Bedbuyer's testing process and these may differ from firmness ratings given by individual companies. Mattress firmness will also vary depending on the type of bed base used.
We tested the Sleeping Duck Mattress on the Chiropedic Bed Base which is a good quality bed base with rigid slats.
As you would expect, the firm version is firmer (than the medium option). It is still nicely balanced with comfort and support, and maintains body position well. We certainly didn't detect any dipping or sinking.
This firm version should suit back most back sleepers, but should also accomodate side and stomach sleepers. We rated the firm version as a 7.5 / 10 on the firmness scale.
Firm Version
If neither the firm or medium options are to your liking, you do have the option to request 'extra firm' or 'soft' foam layers to adjust the mattress firmness, as we discussed above. The extra firm option is noticeably firm, and will generally suit back sleepers.
We rated the extra firm version as a 8.5 / 10 on the firmness scale. Again, please note that our firmness ratings are just a guide and they do not necessarily relate to comfort.
Extra-Firm Version

The soft version offers plenty of pressure relief, and feels foamy and spongy. Some users may experience a small degree of sinking. It will generally suit side sleepers and we rated this option as a 4.5 / 10 on the firmness scale.
Soft Version

Assuming that you select a firmness option suitable for your needs, the Sleeping Duck Mattress offers admirable back support. Its pocket spring system (the Motherboard) feels stable, robust, yet nicely responsive.
The level of partner disturbance on this mattress is minimal, but this may vary. A larger mattress (e.g. king size) will usually involve lower amounts of motion transfer. Partner disturbance will also depend on the size of the occupants of the bed.
All firmness options of the Sleeping Duck Mattress respond well to normal sleep movements, however the soft version is less responsive due to the thicker foam layers.
In any case, we rated the overall level of responsiveness on this mattress as 'optimal'. In basic terms, this means that changing sleep positions (and intimate activities) shouldn't be any trouble.

Please note that our responsiveness scales are just a guide and preferred responsiveness levels will vary between individuals. It's worth noting also that innerspring mattresses are generally more responsive than foam mattresses.
The finer details
The overall level of quality and craftsmanship of the Sleeping Duck Mattress is excellent. Its outer cover feels durable, and the side handles are strongly attached.
The zip mechanism that removes the top cover is strong and the ComponentAdapt foam layers and pieces are easy to rearrange. With that said, it is much easier to swap foam layers with two people.
Edge support is firm thanks to Sleeping Duck's reinforced perimeter support. As usual though, edge support does suffer slightly in the medium and soft firmness options.

You may notice a new product smell upon opening your new mattress, but this should dissipate within a few days. It's worth noting that the foams used in this mattress are certified as non-toxic by GECA (Good Environmental Choice Australia).
What bed base should I use?
As with most mattresses, we recommend the Sleeping Duck Mattress to be used with a bed base with flat panel slats such as the Sleeping Duck Indestruct Bed.
A bed base with solid slats (with slats no longer than 8 cm apart) such as the Chiropedic Bed Base would also be very suitable.
We would advise against using a bed base with flexible (posture) slats as this type of base may not provide adequate support. Ultimately, the use of an unsupportive mattress foundation will void the mattress warranty.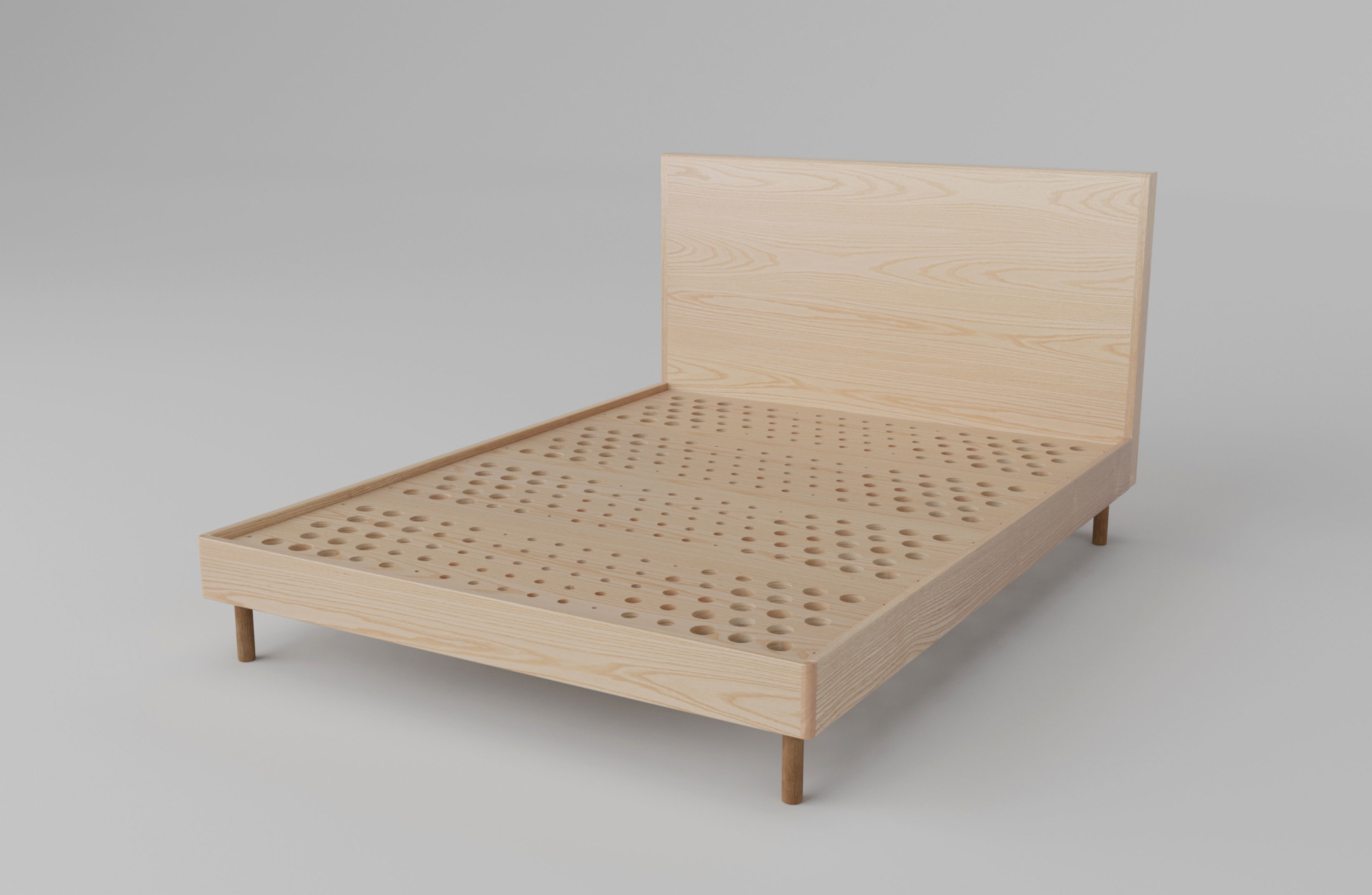 Sleeping Duck Indestruct Bed
Furthermore, we do not recommend the Sleeping Duck Mattress to be used with an adjustable (electric) bed base as this may also void the warranty. Here is our full list of mattresses that are compatible with an adjustable bed base.
It's worth noting here that mattress firmness, performance, and durability will vary with different bed bases.
Trial period and warranty
As we have alluded to, the Sleeping Duck Mattress comes with a 100 night trial period, which is a typical trial period in the online mattress market. This means that you can return the mattress for a refund if you are not satisfied (conditions do apply).
As mentioned earlier, requests for firmness adjustments must be done within the 100 night trial period. Requests for firmness adjustments cannot be made in the first 3 weeks (from the time of delivery).
This mattress also comes with a 10 year warranty to cover any faulty materials or workmanship. This is also a typical warranty length of many of its online competitors.
Available sizes
The Sleeping Duck Mattress is available in 6 sizes (super king, king, queen, double, king single, and single size) so it should accommodate most sleeping arrangements.
Here are Australia's standard bed (mattress) sizes in 2023.
Final verdict
The Sleeping Duck Mattress combines quality, sophistication, and a clever design. It has revolutionised the mattress industry in Australia and Sleeping Duck's attention to detail must be commended.
Bedbuyer's rating:  4.6 / 5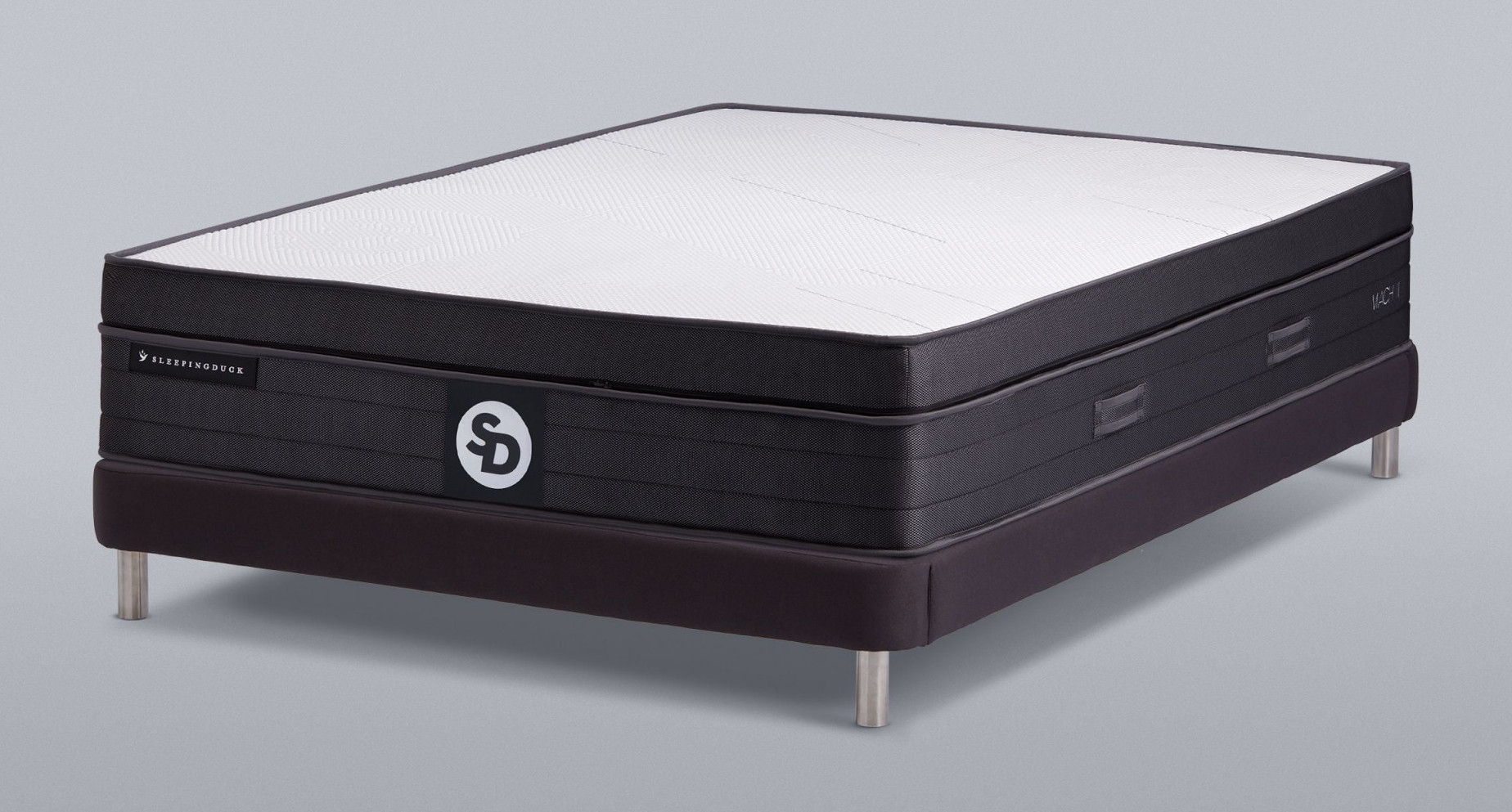 Here are our ratings in each category:
| | |
| --- | --- |
| Comfort | |
| Spinal Support | |
| Build Quality | |
| Partner Disturbance | |
| Value for Money | |
Did you know? The Sleeping Duck Mattress made it into Australia's Top 12 Mattress in a Box for 2023.
If you have any questions about the Sleeping Duck Mattress, please comment below.
---
Recommended Retail Prices
Super King Mattress: $2,699

King Mattress: $1,999

Queen Mattress: $1,649

Double Mattress: $1,349

King Single Mattress: $1,099

Single Mattress: $999
*To claim this price with FREE delivery, click SHOP NOW.
---
Payment & Finance Options
Interest free finance options are available with Zip and Humm.
---
Delivery information
Where can you deliver?
Our delivery network stretches Australia wide, so it's likely we deliver to you!
We can offer free next business day delivery to most Metropolitan and some Regional suburbs. If we're unable to offer this to your area, our system will let you know during the checkout process.
To discuss other potential delivery options for locations outside of our delivery network, please get in touch with us at SDHQ.
How do I book my delivery?
Provided your area is eligible for day of choice delivery and stock is available, you'll receive the option to book your delivery day during purchase.
If we are awaiting stock, you will be provided with an approximate delivery timeframe and will be unable to select your date of choice. You will then receive an SMS to book in delivery once your order is ready for dispatch.
What does Standard delivery include?
Standard delivery is free on all Sleeping Duck orders within our delivery network.
What it includes:
Scheduled delivery day and timeslot. To ensure your order arrives when you'd like, a delivery day and timeslot can be selected for most Metropolitan and some Regional areas. If your delivery is coming via an alternative courier, you can learn more below.

Delivery to the front door. This is provided there are no more than four external steps leading up or down to the door, and good external access for the driver and their vehicle.

Apartment deliveries to the front door of the apartment. This is provided there is a lift, and someone is available to escort the driver. It is also subject to individual strata rules, which may prohibit delivery past the lobby.

Authority to leave. Our couriers can leave your order by the front door, even if you're not home. If ATL is selected, your order will be delivered on your chosen day but may not arrive in your selected time slot. By waiving the signature requirement, Sleeping Duck is not responsible for lost, stolen, or missing boxes that are marked as delivered.
What it doesn't include:
Delivery into the home. Our couriers are not able to deliver into your home with this delivery service.

Mattress unpacking and Bed Base assembly. Instructions and tools are provided for self-assembly.

Rubbish removal. Our couriers do not remove the packaging. You can find more information on how to best dispose of the box and soft plastic in our FAQs.

Removal of an existing mattress or bed base. Our couriers do not offer the removal existing mattresses or bases within this service.
For everyone's safety, the drivers can't accept assistance when delivering or unloading your items. If access to your front door may be tricky for the courier, or the location exceeds our step limit, please get in touch with SDHQ to discuss potential options.
Sleeping Duck also offer premium delivery options.
Product information – Sleeping Duck Mattress
Weight: 53kgs (Queen mattress)
Height: 31cm
Spring count : 768 (Queen mattress)
Coil gauge : 2.3mm (edge), 2.0mm (back and hip zones), 1.8mm (shoulder zone)
Total maximum weight limit: 260kgs (Queen mattress)
Certifications
GECA (Good Environmental Choice Australia) Certified
Sleeping Duck's foams have been assessed to meet environmental, human health and ethical impact criteria.
What's inside the Sleeping Duck mattress?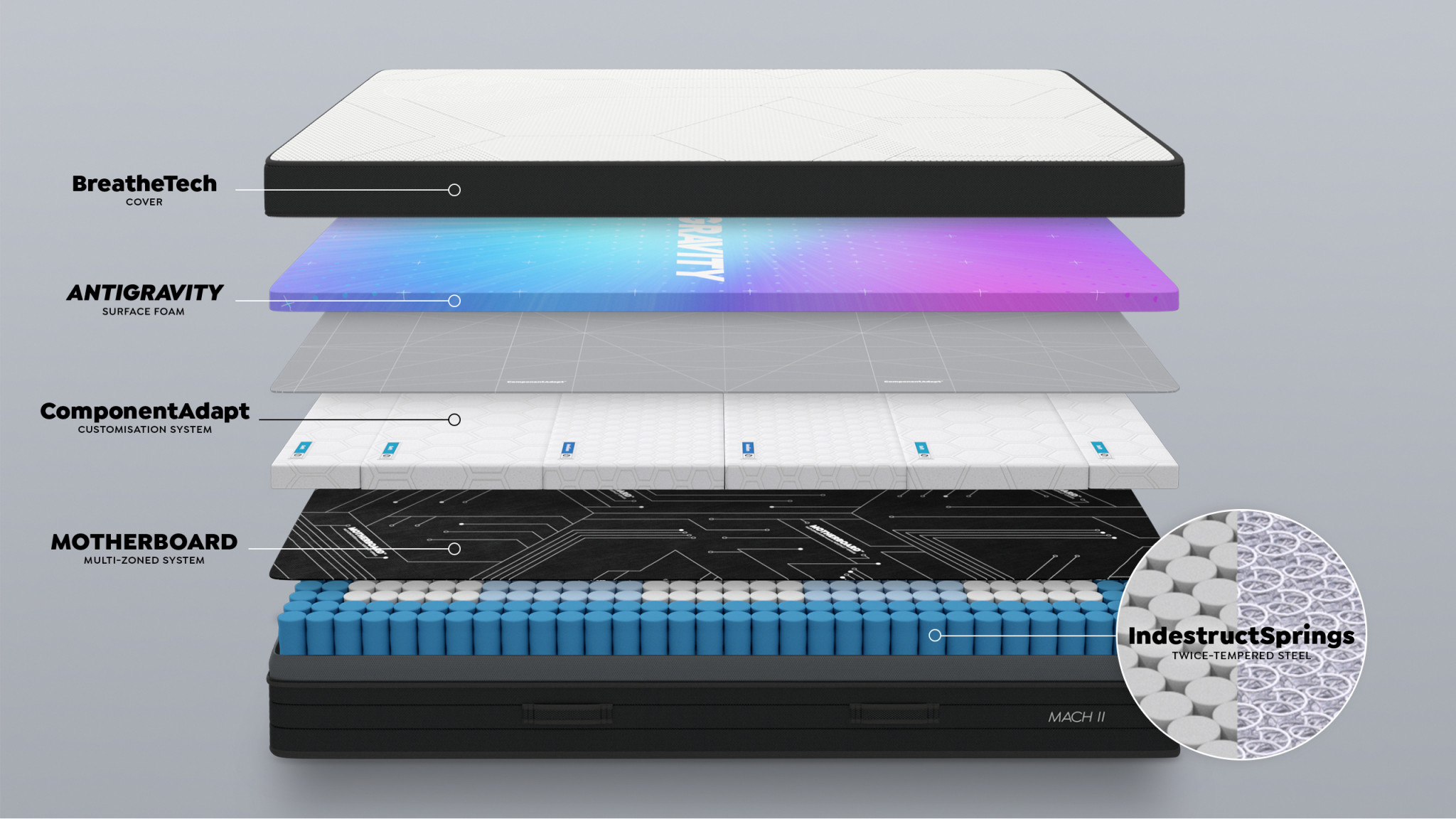 BreatheTech Removable cover
Made from vortex spun bamboo yarn

Maximum breathability

Soft and silky to touch

Removable and washable
The Sleeping Duck Mattress has a removable and washable cover. We recommend a gentle cold machine wash, lowest spin cycle, and air-dried out of direct sunlight. The cover should not be washed more frequently than once every 6 months. We still highly recommend a waterproof, high-quality protector for every mattress!
Antigravity Surface Foam
Made from high density AirGrown polyurethane foam

Creates a feeling of weightlessness

Porous and breathable

GECA approved
AntiGravity Foam was engineered in pursuit of the ultimate top layer. A surface that achieves superior comfort and cushioning, without at the same time limiting sleeper movability, in the way that traditional foams like memory foam do.
The breakthrough came with the discovery of a new method of foam manufacturing, called Variable Pressure Foaming, which allows us for the first time, to finely adjust the microcellular structure of the foam. This gives us the ability to adjust the softness and movability parameters completely independent of each other.
ComponentAdapt Customisation System
Made from high density AirGrown polyurethane foam

Available initially in medium or firm

GECA approved
The ComponentAdapt customisation system empowers you to take full control of the comfort of your mattress. This is achieved via interchangeable Precision Pads that you can swap out for both you and your partner.
Motherboard Multi-zoned System
Tailored support zones to suit specific parts of your body

Springs act entirely independently

Reinforced perimeter support

Made from twice tempered steel springs
The Motherboard is a multi-zoned steel spring system that is the main support structure of the mattress. It is the core in which all of the layers of the mattress are connected, in order to provide a system that is highly responsive to your needs. The springs are connected with independent pocketing technology that heightens independent kinetics and reduces partner disturbance. It's the foundation on which the SD MACH II is built.

Firmness options of the Sleeping Duck Mattress
Medium
Are you a side sleeper? Do you need a little more give in the bedroom? Our medium Sleeping Duck mattress is designed to sink slightly, without losing lumbar support. You'll wake up feeling cozy and safe, well rested and well nested.
Firm
Do you sleep mostly on your back? Do you suffer from mild back pain? Our firm Sleeping Duck mattress has less give so you won't sink as much, which our research recommends for those of us with back issues. Get ready for a pain free morning.
Customise during your 100 nights!
Depending on how you are sleeping you can change the firmness of the entire Sleeping Duck mattress.
We recommend waiting at least 21 days as the sleeping duck mattress will conform to you and you to the Sleeping Duck Mattress.
If you are having issues after the initial period we can make the whole mattress firmer or softer. We can even make specific areas of the mattress firmer or softer depending on your needs.
If you are happy and your partner wants a change, we can even customise each half of the mattress. This only occurs after the initial 3-week period.
This is all free of charge during your 100 nights!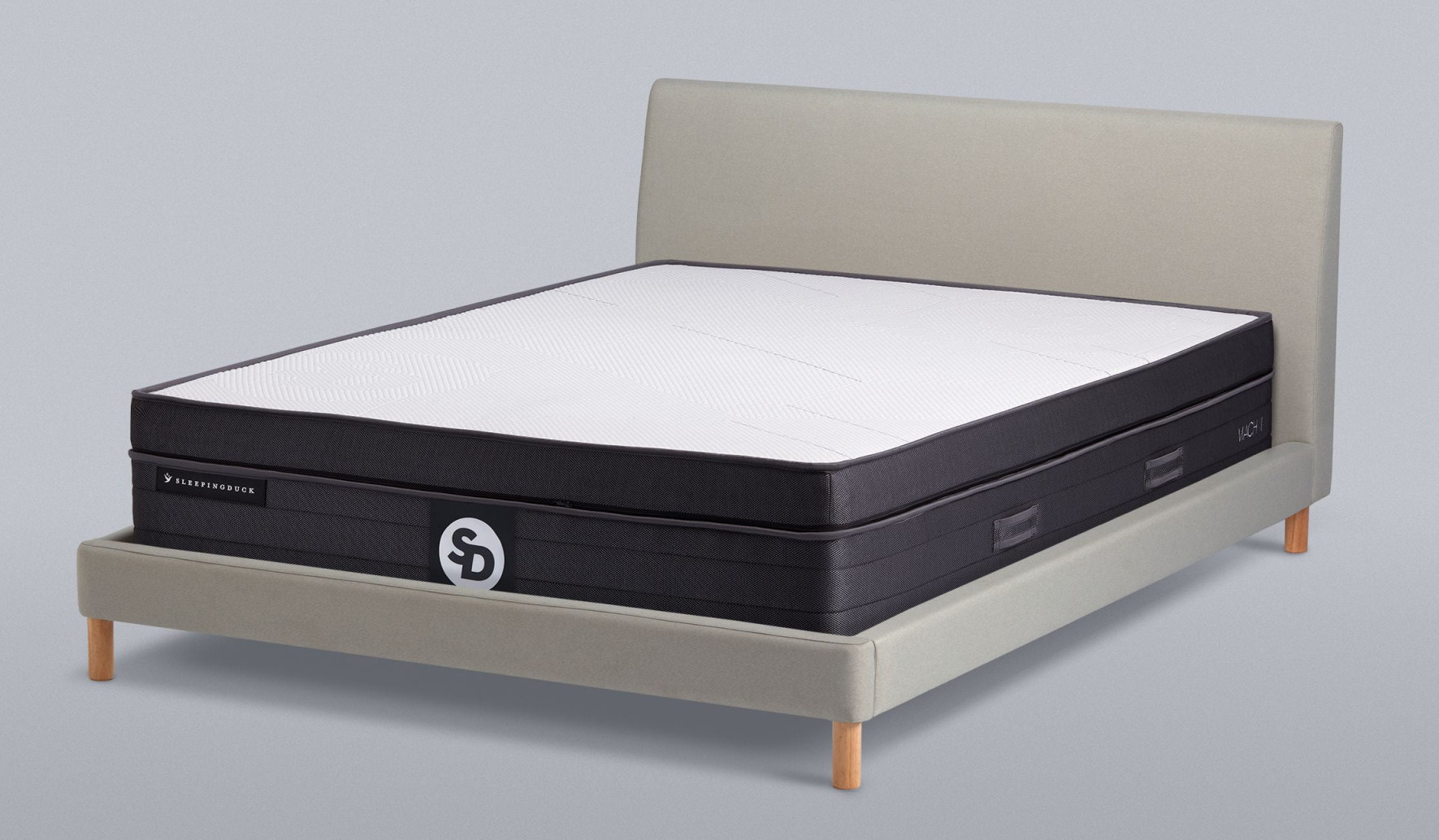 You may also be interested in: