Sleeping Duck Mattress Review
The Sleeping Duck Mattress is one of the most popular and well-known mattresses in Australia. It is also one of the most 'customisable' mattresses available, allowing you to adjust firmness levels to suit your exact preference.
The Sleeping Duck Mattress can be conveniently ordered online through the Sleeping Duck website, and will be delivered to your door in a compact box. Delivery is free and can be delivered Australia-wide (see delivery times below). Sleeping Duck does have a showroom (in Abbotsford, Melbourne) but due to COVID-19, it is currently closed.
The Sleeping Duck Mattress weighs 48kgs (Queen size), about average weight for a spring mattress. It was relatively easy to remove from its box and packaging, and we allowed 24 hours of decompression before we conducted our testing.
On initial inspection, the mattress appears nicely constructed and well designed. Its outer cover feels durable and expensive, the side handles are strongly attached, and the embroidery gives off a distinct sense of class and quality.
The Sleeping Duck Mattress has an extraordinary level of customisation.
As we alluded to earlier, the Sleeping Duck Mattress has an extraordinary level of customisation, allowing you to choose the exact firmness level of the mattress that suits you and/or your partner. On your initial order, you can choose either a firm or medium feel. Additionally (on your initial order) you have the option to order firm on one side, and medium on the other side.
If you aren't completely satisfied with your initial selection, you can request from Sleeping Duck (at no charge) additional foam pieces to alter the firmness of your mattress (you must wait 3 weeks and must be done within the 100 night trial period). The additional pieces of foam can be a soft, medium, firm, or extra firm feel so there are several options to choose from. You can even request different foam pieces for different sections of the body. Check out our video review (below) to see exactly what this looks like. So no matter what your preference is in terms of firmness, this mattress has you well covered.
The medium version feels a little softer than your typical medium, but was very comfortable and offered plenty of pressure relief. The level of spinal support was still very good in this medium version and it just felt really nice to sleep on. We rated this medium version 5 / 10 on the firmness scale (where 10 is the firmest).
Medium Version

The firm version would naturally suit those who prefer a firmer feel. This version has less pressure relief than the medium firmness, but certainly doesn't feel 'hard' like some firm versions. We rated the firm version a 7 / 10 on the firmness scale.
Firm Version

The Sleeping Duck Mattress has a removable and washable cover. The top section of this cover is a special bamboo fabric that has been specially designed for breathability and bacterial resistance.
The comfort layers of the Sleeping Duck Mattress include a 'Hyper-Adaptive™' foam and a 'high density' foam. The Hyper-Adaptive layer offers nice pressure relief and is well-ventilated. The high density layer is what controls the firmness of this mattress, and it is this layer that can be altered.


These comfort layers sit over a 5 zone pocket spring system that should accommodate people of all sizes. The spring unit felt solid and responsive and offers very good spinal support (assuming you select the correct firmness for your preference). Partner disturbance is minimal in all combinations we tested, and edge support is sound.
The Sleeping Duck Mattress will currently set you back $1449 (Queen size), making it one of the more expensive mattress in a box products on the market. However, with its quality, versatility, and overall feel, this is to be expected. In fact, considering its build quality and incredible level of customisation, this mattress represents very good value. Here are our ratings in each category:
| | |
| --- | --- |
| Comfort | |
| Spinal Support | |
| Build Quality | |
| Partner Disturbance | |
| Value for Money | |
Did you know? The Sleeping Duck Mattress made it into Australia's Top 10 Mattress in a Box for 2020.
If you have any questions about this mattress, leave a comment below or don't hesitate to contact us!
*To claim this price with free delivery, click SHOP NOW. If you have any questions about the Sleeping Duck Mattress, please contact us.
*Please note: the information provided in this video review was current as of June 2018. Sleeping Duck now only has one showroom in Melbourne, and the price noted has since changed. 
---
In a nutshell 🥜
Australia's 'Best Design' Mattress in a Box 2020

Highly customisable

5 zone pocket springs

100 night free trial

To get FREE delivery, click here.
---
Recommended Retail Prices
King Sleeping Duck Mattress: $1599
Queen Sleeping Duck Mattress: $1449
Double Sleeping Duck Mattress: $1149
King Single Sleeping Duck Mattress: $899
Single Sleeping Duck Mattress: $799
---
Trial Period
100 nights
Warranty
10 years
Delivery Times
We offer an Australia wide courier service for all our products. If in stock, items are usually dispatched from Melbourne or Sydney within 1-2 business days. Deliveries take place Monday to Friday between 8am and 6pm.
You will receive a confirmation email once your order has been placed. Once your order has been dispatched from our warehouse you will receive an email with delivery information.
The courier will attempt to make delivery once your order reaches your area. If someone is not home to accept delivery, the courier will leave a card to notify you of the missed delivery. You can then contact the courier to organise delivery for a day which suits you.
Please note couriers are not allowed to enter your residence for OH&S reasons, so delivery will only be made to the front door (or bottom floor if you live in a multi-level building).
What are the estimated delivery times?
Melbourne; Sydney – Within 5 business days.

Greater Victoria; Greater NSW – Within 7 business days.

Canberra; Adelaide – Within 5 business days.

Brisbane – Within 6 business days.

Perth; Fremantle; Hobart; Launceston – Within 10 business days.

If the delivery is outside these locations, please allow up to 14 business days.
Certifications – Sleeping Duck Mattress
GECA Certified
Sleeping Duck's foams have been assessed to meet environmental, human health and ethical impact criteria.
Specifications – Sleeping Duck Mattress
Weight: 48kgs (Queen mattress)
Height: 30cm
Total maximum weight limit: 280kg (Queen mattress)
Spring Count : Approx. 800 (Queen mattress)
Coil gauge: 2.3mm (edge), 1.8mm (hip/shoulder), 2.0mm (feet, torso, head).
What's inside the Sleeping Duck mattress?

Removable cover
The Sleeping Duck Mattress has a removable and washable cover. We recommend a gentle cold machine wash, lowest spin cycle, and air-dried out of direct sunlight. The cover should not be washed more frequently than once every 6 months. We still highly recommend a waterproof, high-quality protector for every mattress!
Bamboo topper
Sleeping Duck has a bamboo top layer designed to offer the maximum breathability. Soft and silky to the touch, it also has natural anti-microbial properties that keep it fresher for longer.
Hyper-Adaptive™ foam
Hyper-Adaptive™ foam combines the pressure relieving property of memory foam with the buoyancy of latex. It is designed to enhance the feeling of weightlessness on the Sleeping duck mattress. It is produced via pressure expansion rather than chemical reactions which means it is 8x more open than latex and memory foam. Made in Australia.
High density foam
This layer of polyurethane foam controls the firmness of your Sleeping duck mattress. It comes with the GECA seal of approval. You can rest assured that our foams have undergone rigorous testing by independent, accredited laboratories to meet strict standards for content, durability and emissions.
5 zone pocket spring
We've developed our 5 zone support to make sure every part of our Sleeping duck mattress is wonderfully comfortable, and part of your body is treated with care, and with individually pocketed springs that act entirely independently, you'll not be bothered by any of your partner's tossing or turning. You'll love us (and each other) for it.
Firmness options of the Sleeping Duck Mattress
Medium
Are you a side sleeper? Do you need a little more give in the bedroom? Our medium Sleeping Duck mattress is designed to sink slightly, without losing lumbar support. You'll wake up feeling cozy and safe, well rested and well nested.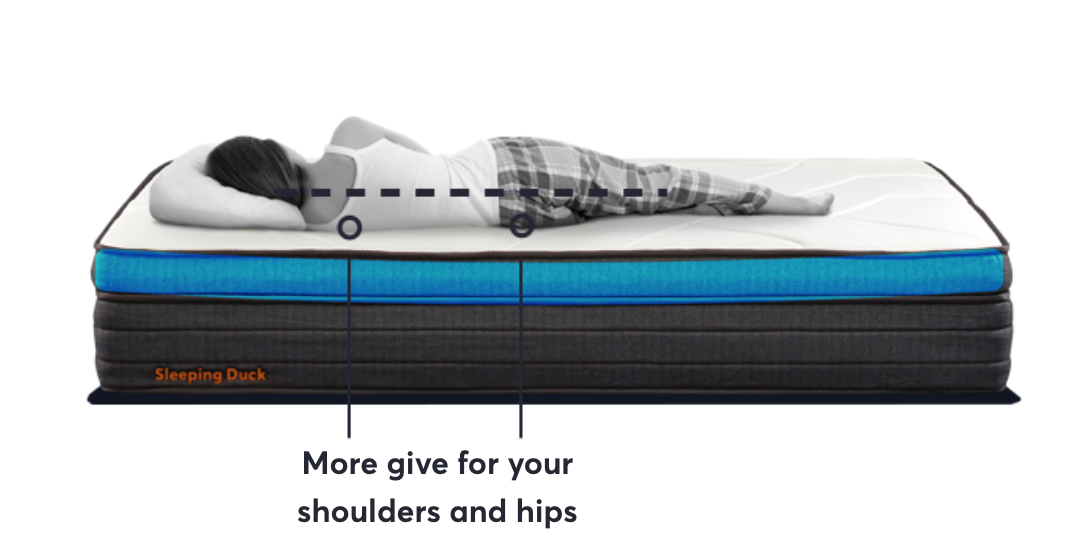 Firm
Do you sleep mostly on your back? Do you suffer from mild back pain? Our firm Sleeping Duck mattress has less give so you won't sink as much, which our research recommends for those of us with back issues. Get ready for a pain free morning.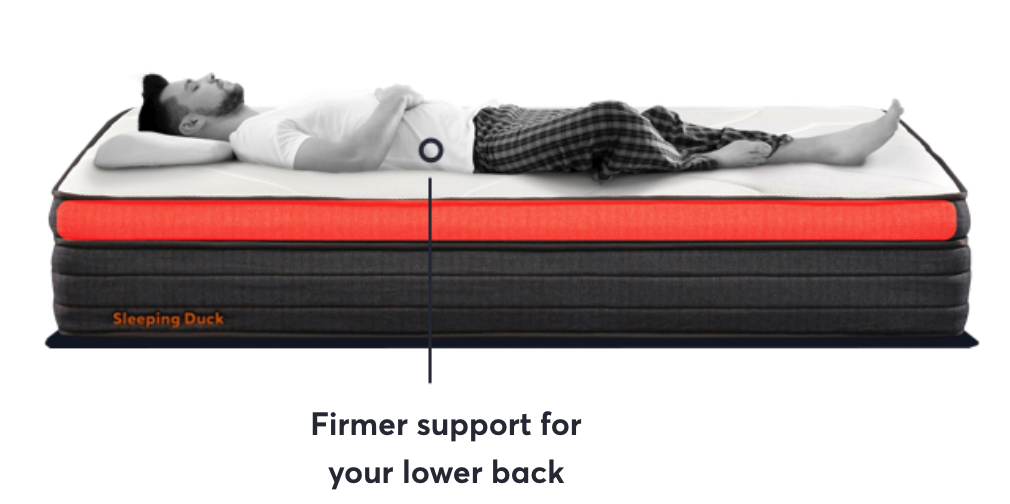 Customise during your 100 nights  !
Depending on how you are sleeping you can change the firmness of the entire Sleeping Duck mattress.
We recommend waiting at least 21 days as the sleeping duck mattress will conform to you and you to the Sleeping Duck Mattress.
If you are having issues after the initial period we can make the whole mattress firmer or softer. We can even make specific areas of the mattress firmer or softer depending on your needs.
If you are happy and your partner wants a change, we can even customise each half of the mattress. This only occurs after the initial 3-week period.
This is all free of charge during your 100 nights!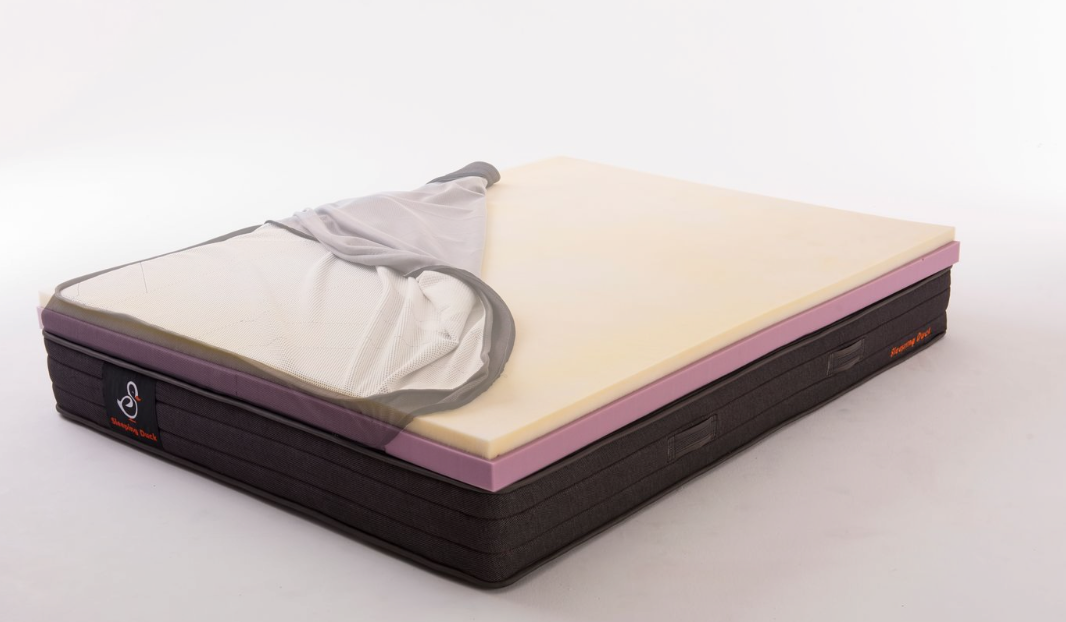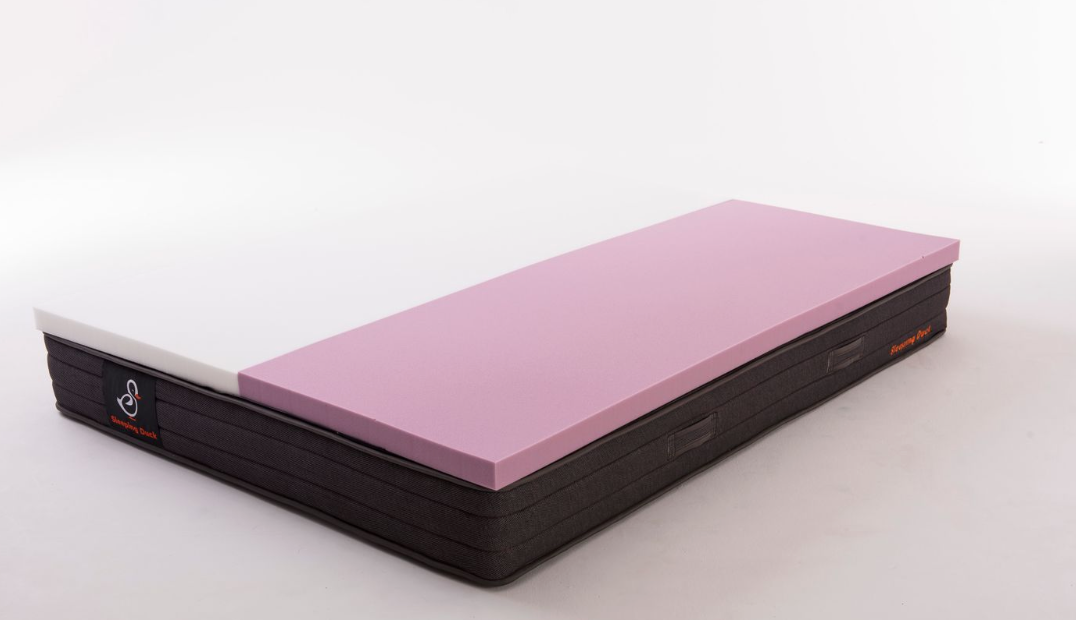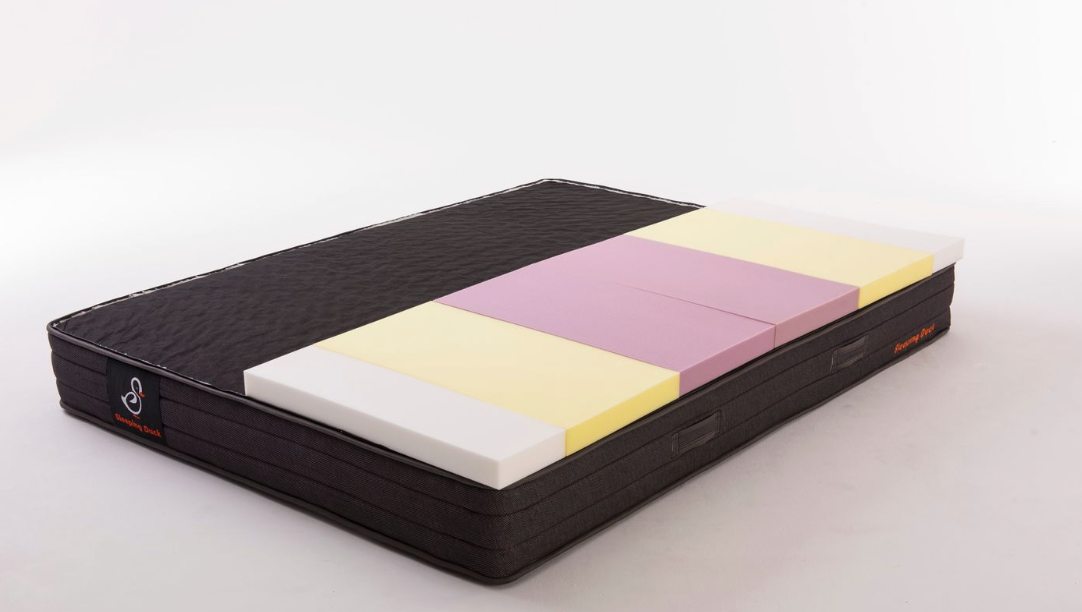 Free shipping
Free returns
Free customisation of your Sleeping Duck
All within your first 100 nights

Please note: We don't generally recommend mattress in a box products to go on an 'adjustable base' (a base that can be angled via a remote control). If a mattress in a box product is placed on an adjustable base, it is recommended that a person/s be lying on the mattress (and base) whilst making positional adjustments. We generally recommend a mattress in a box product to go on a solid ensemble base, or a slat base. If you have any queries about bed bases, please contact us.
Finance Options
ZipMoney
Sleeping Duck and zipMoney have teamed up to provide interest-free financing on your order and give you the opportunity to pay for your purchase, through zipMoney, with flexible monthly payment plans.