Sleep Republic Mattress Review
The Sleep Republic Mattress was awarded Australia's 'Best Overall' Mattress in a Box in 2020. As you would expect, our expert review team considers this as the premier bed in a box on the market.
Purchase and delivery
The Sleep Republic Mattress can be conveniently ordered online through the Sleep Republic website. Delivery is free and the mattress can be delivered Australia wide. Sleep Republic has one of the best delivery services on the market and can do 'same day delivery' to many major cities (see prices and delivery times below).
The mattress was easy to remove from its packaging, but you may need two people to carry this out. It weighs 50kgs (Queen size mattress) which is about average for a spring mattress. We allowed 24 hours for the mattress to fully decompress before conducting our testing, and you can see this mattress in 'real life' in our video review here:
Aesthetically, the Sleep Republic Mattress definitely makes a statement. Its brand name label and embroidery give off plenty of class. The mattress combines simplicity with modern style, and gives off a touch of luxury.
Comfort and support
Perhaps even more impressive is just how nice this mattress is to sleep on. The top cover (of cashmere knitted fabric) feels smooth and luxurious. This cover sits over a layer of gel infused memory foam and 100% natural latex which provide lovely pressure relief.
Our team rated it as a 'medium / firm' feel and a 7 / 10 on the firmness scale (with 10 being the firmest). Please note that our firmness ratings are just a guide and they do not necessarily relate to comfort.

Sitting below the comfort layer, is Sleep Republic's signature 'high definition' pocket spring system. This support system contains 1,850 individual springs, more than double that of a standard Queen size mattress. With such a high spring count, this mattress provides exceptional spinal support, and partner disturbance is very minimal.
This mattress has a lovely balance of comfort and support.
The Sleep Republic Mattress is easy to 'move around' in, and responds beautifully to normal body movements during sleep. Quite simply, this mattress has a lovely balance of comfort and support.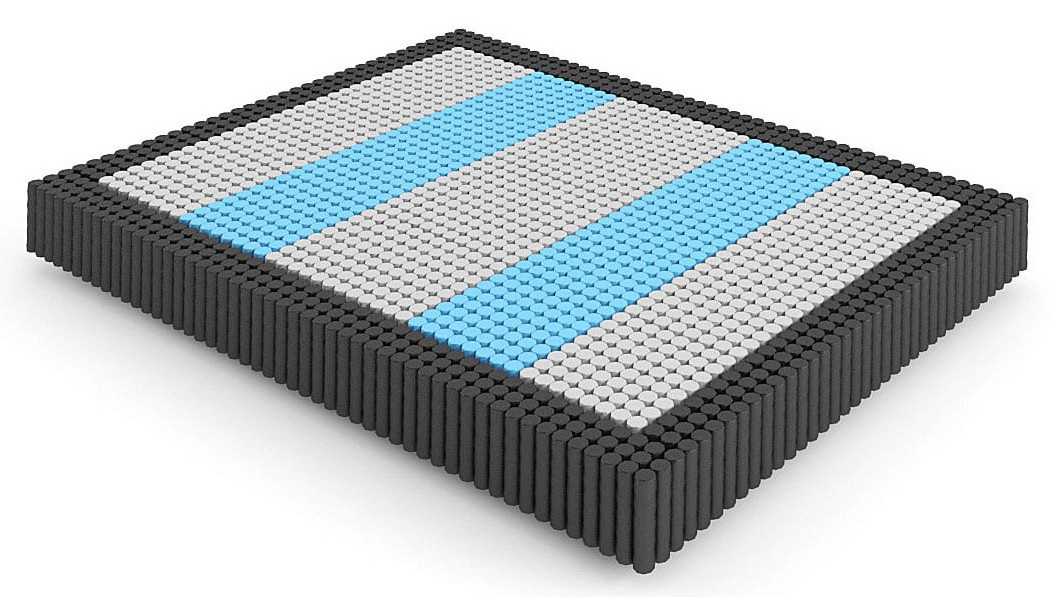 Sleep Republic's 'High Definition' Pocket Spring System
The finer details
Overall build quality and craftsmanship of the Sleep Republic Mattress is outstanding. It feels solid and stable and should suit people of all sizes. Edge support is excellent, thanks to the high tensile springs on the mattress perimeter.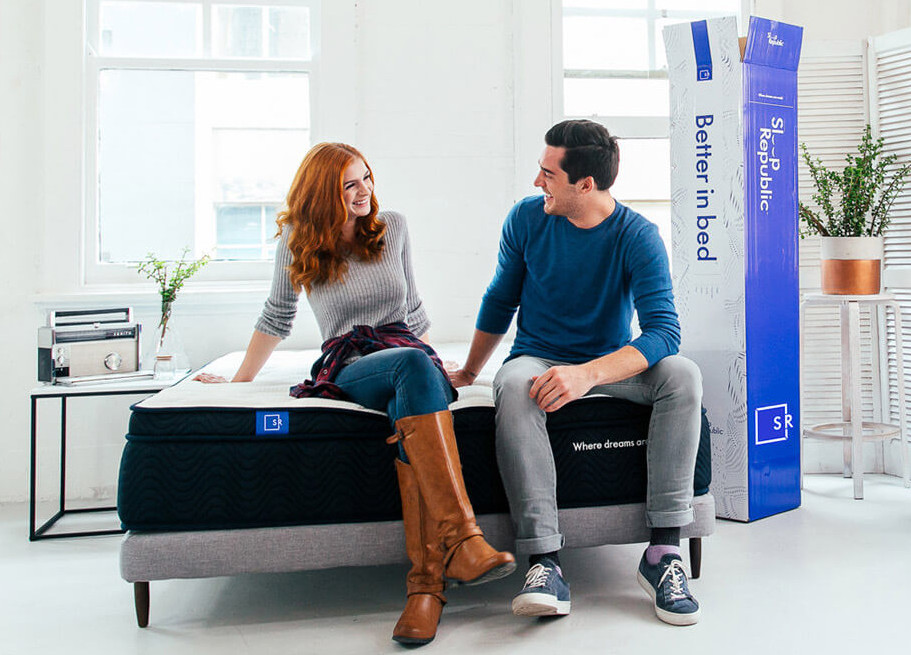 Sleep Republic offers a 100 night trial period and a 12 year warranty. It is also well certified as non-toxic by CertiPUR-US®, one of the world's leading authorities in foam and fabric testing.
Available sizes
The Sleep Republic Mattress is available in 6 sizes (king, queen, double, king single, long single, and single size) which is one of the most comprehensive size collections in the online market. Here are Australia's standard bed (mattress) sizes in 2020.
Final verdict
The Sleep Republic Mattress is an outstanding mattress that is considered by our expert review team as the premier mattress in a box in Australia in 2020. It is perfectly balanced with comfort and support, and is competitively priced. Congratulations to Sleep Republic – a worthy award winner in 2020!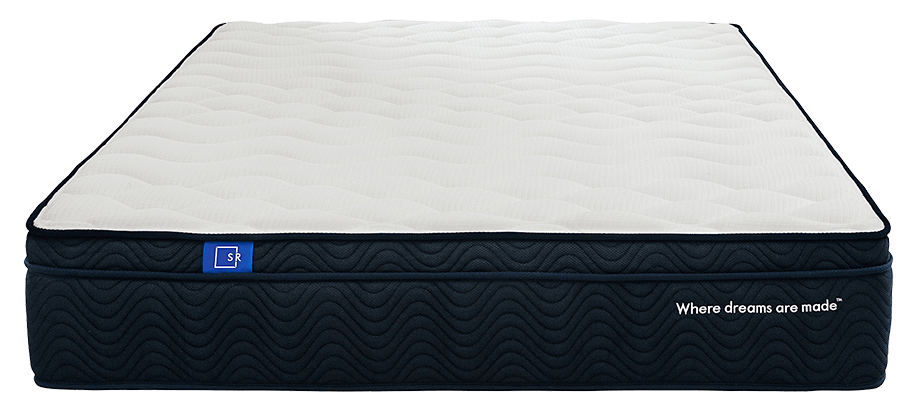 Here are our ratings for each category:
| | |
| --- | --- |
| Comfort | |
| Spinal Support | |
| Build Quality | |
| Partner Disturbance | |
| Value for Money | |
If you have any questions about this mattress, leave a comment below or don't hesitate to contact us!
Click SHOP NOW and use code BEDBUYERBLACK at checkout to get a further $25 off the Black Friday sale price. If you have any questions about this discount, please contact us.
---
In a nutshell 🥜
Australia's 'Best Overall' Mattress in a Box 2020

High definition pocket springs

Lovely comfort layers

100 night free trial

Click SHOP NOW and use code BEDBUYERBLACK to get a further $25 off!
---
Recommended Retail Prices
King Mattress: $1449
Queen Mattress: $1249
Double Mattress: $1039
King Single Mattress: $729
Long Single Mattress: $729
Single Mattress: $629
Special Bedbuyer Prices*
King Mattress: $1206
Queen Mattress: $1036
Double Mattress: $858
King Single Mattress: $594
Long Single Mattress: $594
Single Mattress: $509
*Once Bedbuyer discount code is applied. Click SHOP NOW and use code BEDBUYERBLACK at checkout. If you have any questions about this discount, please contact us.
---
Trial Period
100 nights
Please note: Due to COVID-19 our charity partners have temporarily suspended their mattress pick-up services in some states. The location currently affected is VIC. Mattress pick-up services in NSW, ACT, QLD, WA, SA & NT are now back up and running.
For VIC, in order to stop returned mattresses going to landfill, we are sourcing alternative arrangements through accredited mattress recycling companies. These companies have limited service areas and because of this we may not be able to schedule the pick-up of your return right now if you are out of their service area. If you would like to make a return during this time but are not in a serviced area we ask if you can please drop off the product to your local charity and with proof of return we will immediately process your refund.
If you cannot drop off the product then we are happy to extend the 100 Night Trial for all customers who contact us to make a return within their trial period and will schedule the pick up as soon as our charity partners services in your location are back up and running. We apologise if this causes any inconvenience and hope for your understanding during these unprecedented times.
Warranty
12 years
Delivery
Free delivery Australia wide.
In metro areas of Sydney, Melbourne, Perth, Brisbane, Adelaide, and Gold Coast we offer 'same day delivery' for Sleep Republic Mattress orders placed before 11am.
Accessories may be shipped separately. Take note: we're not talking about 'ship on same day' – we look to deliver on the same day!
Most other locations will be delivered within 2-5 business days, while the most remote areas may take up to 8 days – and it's still free!
Certifications – Sleep Republic Mattress
CertiPUR-US® Certified
Our Cashmere blend fabric has been CSIRO tested in Australia and cleared from presence of harmful chemical substances. The gel visco memory foam in the Sleep Republic Mattress has been vetted and approved by CertiPUR-US®, a US based program that certifies the foam is tested and meets their content, emissions and durability standards.
Specifications – Sleep Republic Mattress
Weight: 50kgs (Queen mattress)
Height: 31cm
Spring count : 1850 (Queen mattress)
Coil gauge: 2.0mm, 1.9mm, 1.8mm (depending on the zone)
Total maximum weight limit: 400kgs (Queen mattress)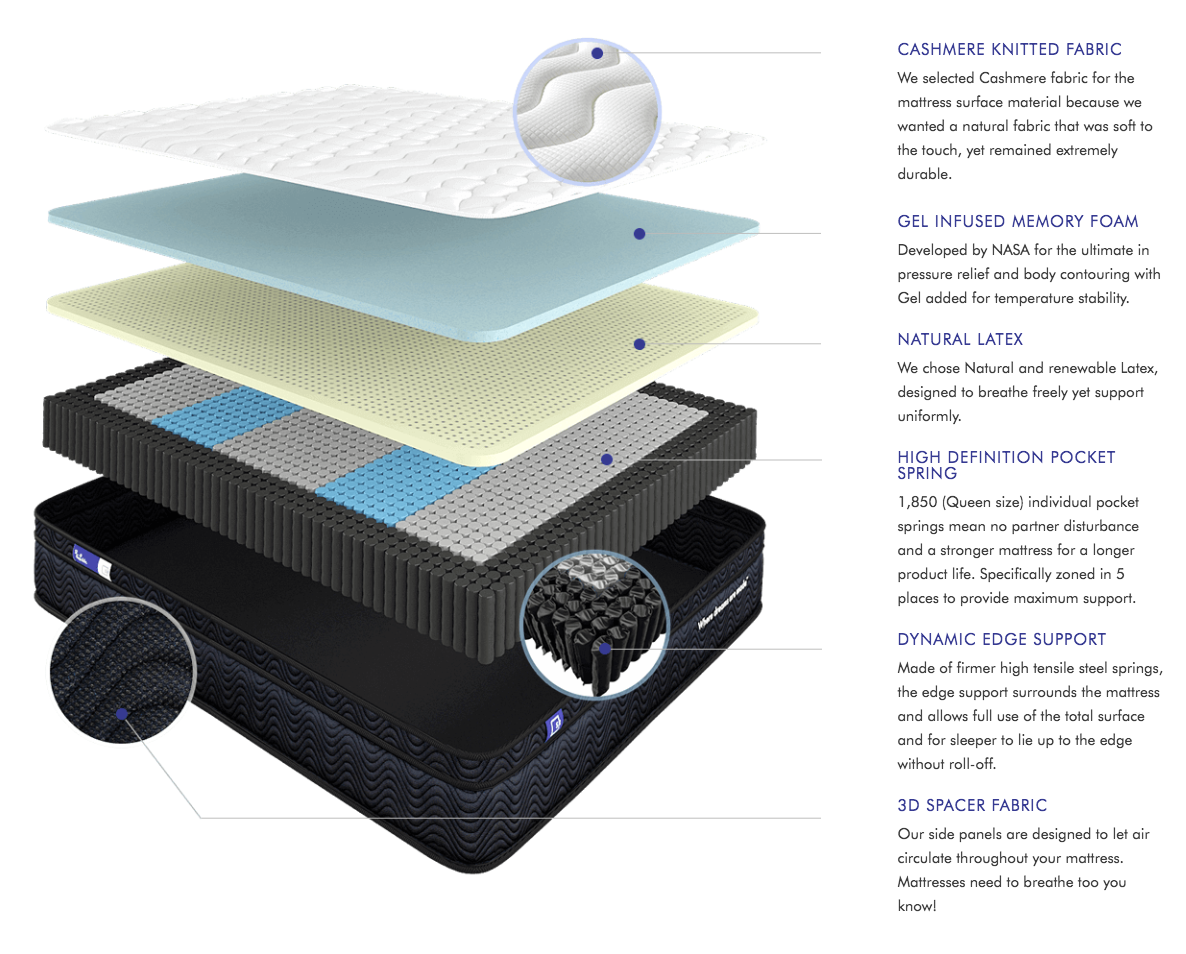 Cashmere knitted fabric, gel infused memory foam & natural latex come together with our exclusive High Definition pocket spring system to create the perfect hybrid mattress feel.
From decades of experience in designing, making and selling mattresses we put it all together to bring you the best hybrid mattress design. Not content with the usual 630 springs in a Queen mattress, Sleep Republic created 1850 individually pocketed springs; supporting you precisely where it counts, eliminating partner disturbance and giving you the sleep you deserve.
The Sleep Republic Mattress is medium/firm feel. Why? Because years of customer feedback has told us that this is what the vast majority of people (even years after buying one) are happy with. Despite the notion that complete softness is required in order to achieve a perfect night's sleep, we have found that the foam vs spring debate is moot: a soft mattress simply does not cut it. The same can be said for those contemplating a very firm mattress. A rock-hard mattress wears surprisingly thin after just a few nights.
The Sleep Republic Mattress offers a high level of support – which is exactly what we have designed with the Sleep Republic Mattress. The HD Pocket Springs for support, married with the gel infused memory foam and latex pillow top for comfort make quite sure of it. Not too soft, not too hard; the best of both worlds.
Don't just take our word for it. Try it free for 100 nights and find out for yourself how to sleep well.

At Sleep Republic, everyone is equal and delivery is free everywhere (providing our deliverers can get there). No surcharges, no add-ons, country or city – delivery included. See details here.

The Sleep Republic Mattress uses state of the art compression technology. Our mattresses are rolled, wrapped and boxed with handles and wheels for easier moving. Seeing is believing – yes we really can get that mattress in there!
Please note: We don't generally recommend mattress in a box products (including the Sleep Republic Mattress) to go on an 'adjustable base' (a base that can be angled via a remote control). If a mattress in a box product is placed on an adjustable base, it is recommended that a person/s be lying on the mattress (and base) whilst making positional adjustments. We generally recommend a mattress in a box product to go on a solid ensemble base, or a slat base. If you have any queries about bed bases, please contact us.
Finance Options
4 fortnight interest free payments
6 month interest free payments