Eva Comfort Classic Mattress Review
The Eva Comfort Classic Mattress (formerly the Eva Mattress) has become one of the most popular online mattresses in Australia. It is a great 'all-rounder' and comes with a 100 day trial period.
Purchase and delivery
As with other mattress in a box products, the Eva Comfort Classic Mattress can be ordered online (through the Eva website) and it will arrive at your door in a compact box. Eva offers free and fast delivery, Australia-wide (except to the Northern Territory). Delivery times can be seen below our 'Delivery' section.
The box is relatively heavy, due to a robust pocket spring system. Care is required when moving and unpacking the box as it can 'pop out' quickly from its packaging. Having said that, removing the mattress from its box and packaging is straight forward. As usual, we recommend having two people on hand to unpack a mattress in a box.
Unpacking the Eva Comfort Classic Mattress should only take 5-10 minutes, and we allowed it to decompress for 24 hours before testing. You can see this mattress in 'real life' in our video review here:
The Eva Comfort Classic Mattress presents will well with a clean, modern design. It uses a grey and white colour theme, and a blue brand name label.
Comfort and support
The top comfort layer of the Eva Comfort Classic Mattress layer consists of a breathable polyester cover that feels breathable and durable. This is followed by layers of memory foam (20 mm), latex (20 mm), and a high density foam (70 mm).
The combination of these layers give a 'foamy' yet comfortable sleeping surface, and it should offer enough pressure relief for most people. To this point, the mattress should suit all sleeping positions (side sleepers, back sleepers, and stomach sleepers) but understandably, this suitability will vary between individuals.
The Eva Comfort Classic Mattress comes with a 100 day trial period. 
Eva recently made some small changes to the design of this mattress (in 2020), namely the removal of the layer of 'micro springs' in its top comfort layer. This seemed to soften the mattress a little, and as a result, we have made a slight change to its firmness rating.
We would classify the current version of the Eva Comfort Classic Mattress as a 'medium-firm' feel and a 7 / 10 on the firmness scale (with 10 being the firmest).
Please note that our firmness ratings are just a guide and they do not necessarily relate to comfort. Furthermore, our firmness ratings are assigned based on Bedbuyer's testing process and these may differ from firmness ratings given by individual companies.

This comfort layer sits over a 5 zone pocket spring system that feels solid and robust. It has an impressive 400kg weight limit (Queen size) so it should accommodate people of all sizes. The mattress offers outstanding overall spinal support, with no obvious dipping or sagging.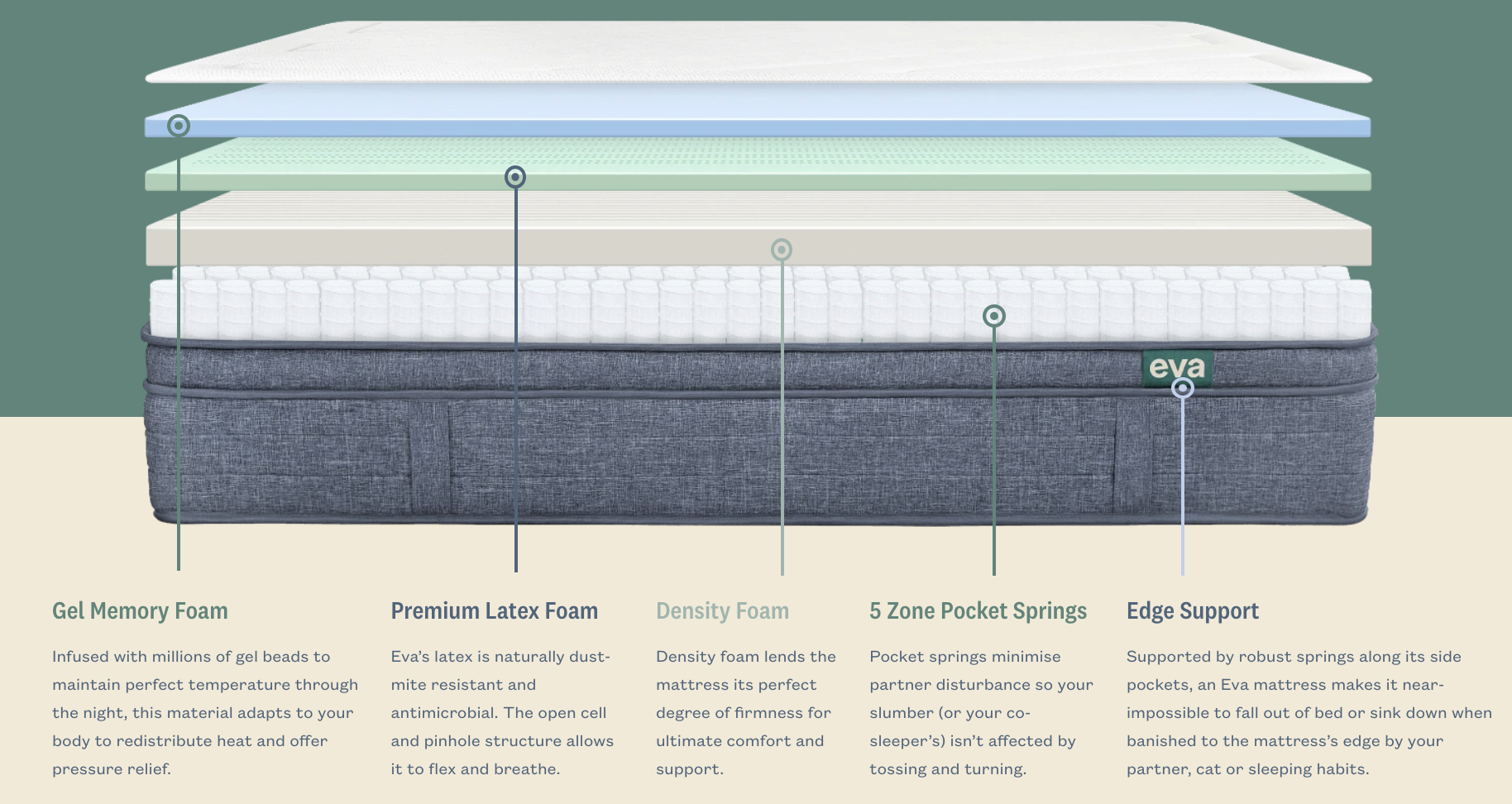 The Eva Comfort Classic Mattress responds well to normal sleep movements and we rated its level of responsiveness in the 'optimal' zone. In basic terms, this means that changing sleep positions (and intimate activities) shouldn't be too much trouble.
Please note that our responsiveness scales are just a guide and preferred responsiveness levels will vary between individuals. It's worth noting also that innerspring mattresses are generally more responsive than foam mattresses.

The finer details
The Eva Comfort Classic Mattress is nicely constructed, and build quality is very respectable. Edge support wasn't outstanding, but there should still be enough support on the edges for most people.
The handles placed at the head and base of the mattress is an unusual location – most mattresses have handles placed on the sides. Nevertheless, this should make the mattress easier to carry and rotate.
As we said earlier, the Eva Comfort Classic Mattress is quite heavy (55kgs, Queen size), so you will likely need two people to help carry and rotate this mattress.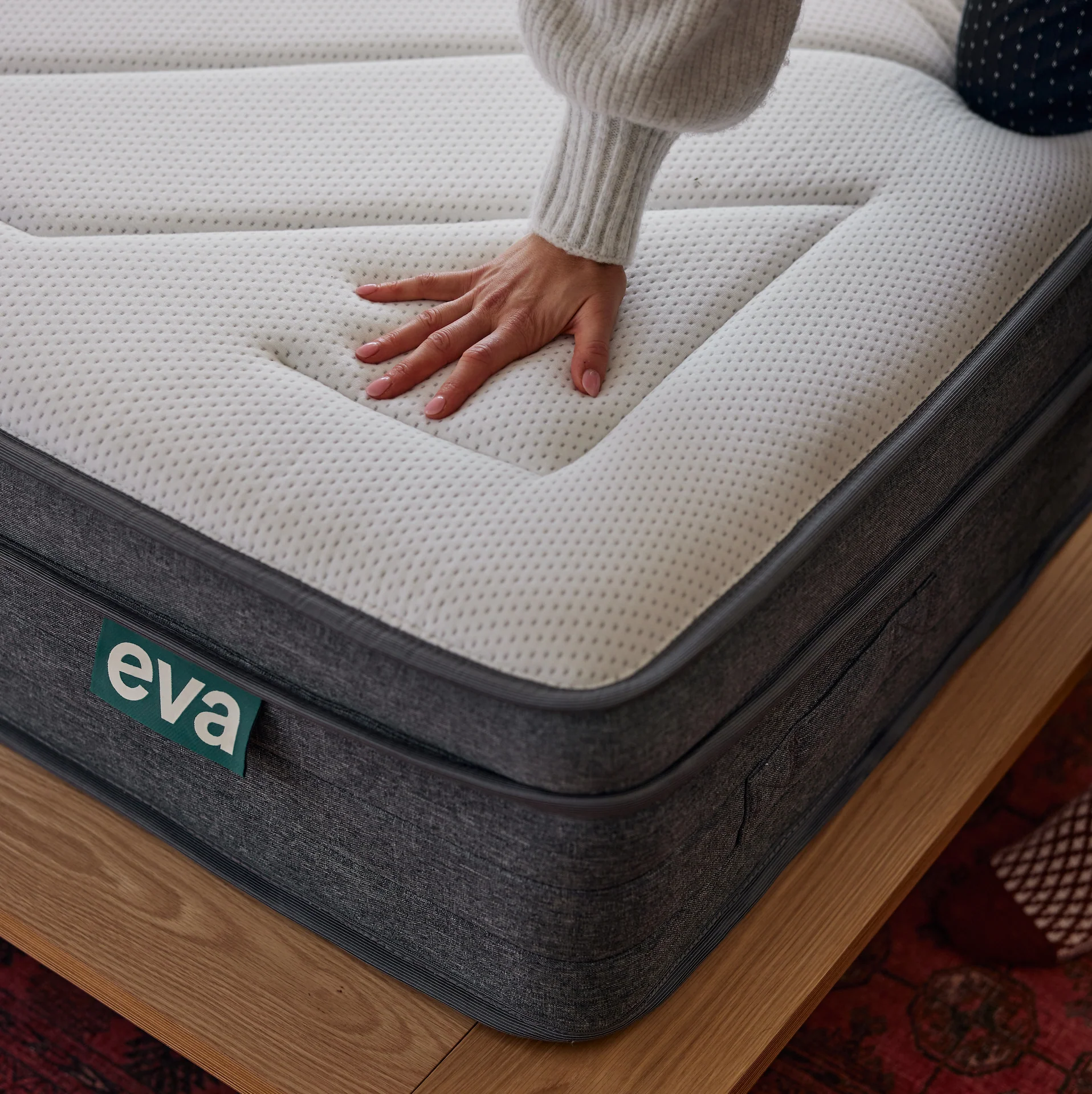 The Eva Comfort Classic Mattress comes with a 100 day trial period, giving you plenty of time to try it in the comfort of your home. It also has an impressive 12 year warranty.
This mattress is also B Corp Certified, meaning that it has been assessed for social and environmental impact.
What bed base should I use?
As with most mattresses, we recommend the Eva Comfort Classic Mattress to be used with a solid bed frame (such as the Sleep Republic Pro Base), or a solid ensemble base (with the slats no longer than 8 cm apart).
A bed frame (with flexible slats) may still be adequate, but again, we strongly recommend that the distance between each slat is less than 8 cm. Use of an unsupportive mattress foundation will usually void the mattress warranty.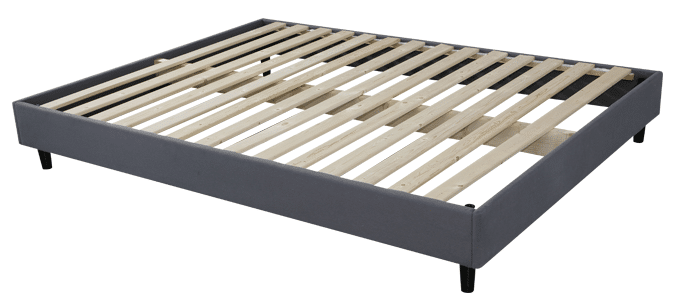 Sleep Republic Pro Base
Furthermore, we do not recommend the Eva Comfort Classic Mattress to be used with an adjustable (electric) bed base as this will also void the warranty. Here is our full list of mattresses that are compatible with an adjustable bed base.
It's worth noting here that mattress firmness, performance, and durability will vary with different bed bases.
Available sizes
The Eva Comfort Classic Mattress is available in 5 sizes (king, queen, double, king single, and single size) so it should accommodate most sleeping situations.
Here are Australia's standard bed (mattress) sizes in 2023.
Final verdict
Overall, the Eva Comfort Classic Mattress is a great buy. It has a nice balance of comfort and support, and offers very good value. It is also well certified as non-toxic, so you can feel confident that it is safe it bring into your home.
Bedbuyer's rating:  4.5 / 5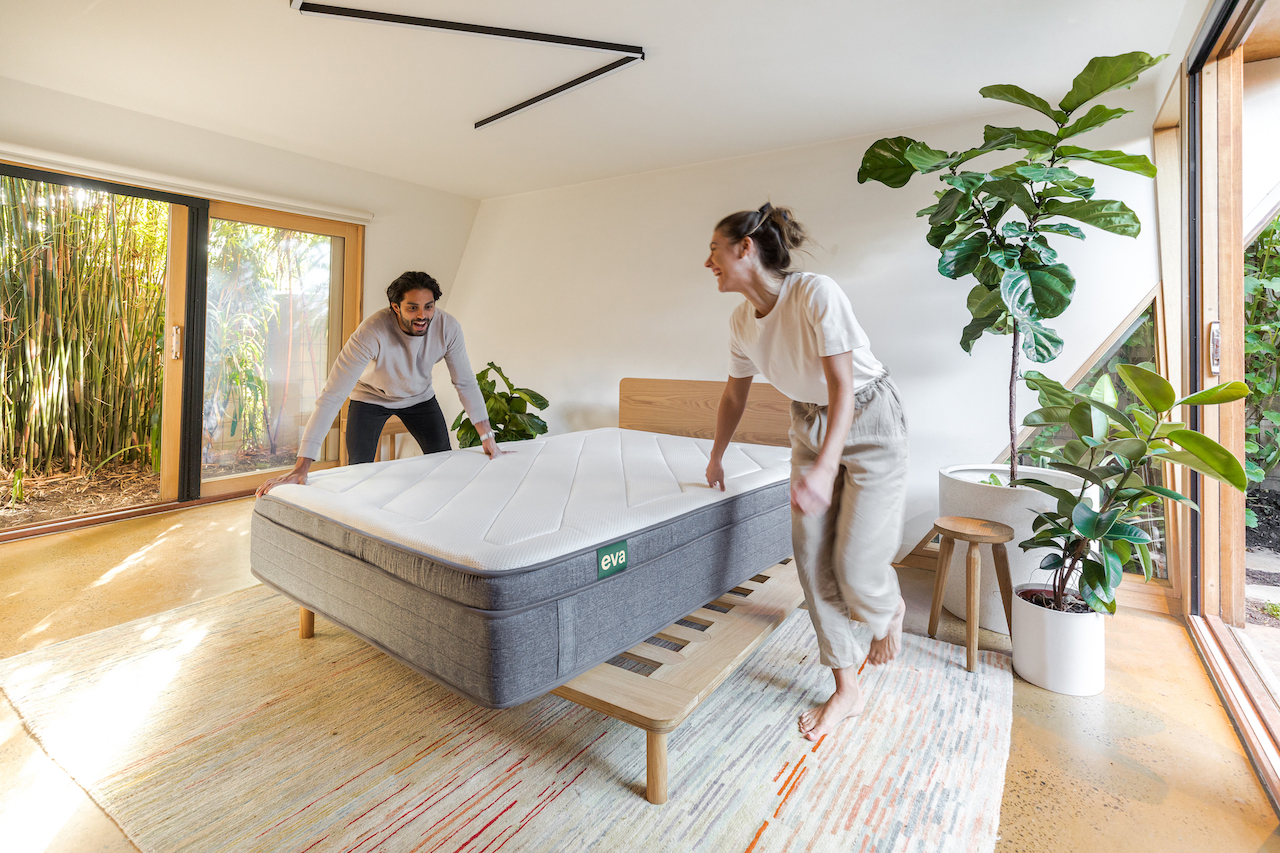 Here are our ratings for each category:
| | |
| --- | --- |
| Comfort | |
| Spinal Support | |
| Build Quality | |
| Partner Disturbance | |
| Value for Money | |
Did you know? Bedbuyer recently announced Australia's Top 12 Mattress in a Box in 2023.
If you have any questions about this mattress, leave a comment below and we'll respond shortly!
* Click SHOP NOW and your (up to) $375 discount will be automatically applied at checkout.
---
In a nutshell 🥜
Bedbuyer 'Recommended'

Medium-firm feel

Great value

100 day free trial period

Click SHOP NOW and your (up to) $375 discount will be automatically applied!
---
Retail Prices
King Mattress: $1,300
Queen Mattress: $1,200
Double Mattress: $1,100
King Single Mattress: $1,000
Single Mattress: $900
Bedbuyer Prices*
King Mattress: $970
Queen Mattress: $825
Double Mattress: $770
King Single Mattress: $700
Single Mattress: $630
* To claim this price, click SHOP NOW.
---
Trial Period
100 day trial
Warranty
12 years
Delivery
Free Australia wide (please note delivery is not possible to the Northern Territory).
Next Day Delivery
Place your mattress order before 4pm to receive next business day delivery in metro areas (Melbourne, Sydney, Adelaide, Brisbane, Perth and Tasmania). Alternatively, you can select your preferred delivery date at checkout. When your mattress is out for delivery, you will receive live tracking updates via text message. Please note, next day delivery excludes pre-order items.
Regional Delivery
If you fall outside of our next day delivery areas, your mattress order will be dispatched from our warehouse within 24hrs. We'll send you a text message when it's on the way! Expected delivery times range from 1-8 business days depending on your location. Please reach out to the customer service team at hello@eva.com.au or (03) 8820 4034 if you have any questions!
See your eligibility with the Mattress Delivery Checker
Certifications – Eva Comfort Classic Mattress
CertiPUR-US® Certified
All the foams used in the Eva Comfort Classic Mattress are Certipur-US® approved materials ensuring they are safe and non-toxic. Our gel memory foam and base support foam are SGS certified.
A B Corp certification measures a company's entire social and environmental impact. Eva is one of only eight furniture companies in Australia that are certified B Corps (as of April 2022).
Specifications – Eva

Comfort Classic Mattress
Weight of mattress: 55kgs (Queen mattress)
Mattress height: 32cm
Total maximum weight limit: 400kg (Queen mattress)
Spring counts: 768 pocket springs (Queen mattress)
Coil Gauge: 1.8mm & 1.9mm and 2.2mm on the sides

Polyester Cover
Our 100% polyester cover provides a durable and breathable surface.
Gel Memory Foam
Infused with millions of gel beads to maintain perfect temperature through the night, this material adapts to your body to redistribute heat and offer pressure relief.
Natural Latex
Eva's latex is naturally dust-mite resistant and antimicrobial. The open cell and pinhole structure allows it to flex and breathe.
Density Foam
Density foam lends the mattress its perfect degree of firmness for ultimate comfort and support.
5 Zone Pocket Springs
Pocket springs minimise partner disturbance so your slumber (or your co-sleepers) isn't affected by tossing and turning.
Strong Edge Support
Supported by robust springs along its side pockets, an Eva Comfort Classic Mattress makes it near-impossible to fall out of bed or sink down when banished to the mattresses edge by your partner, cat or sleeping habits.
Unparalleled support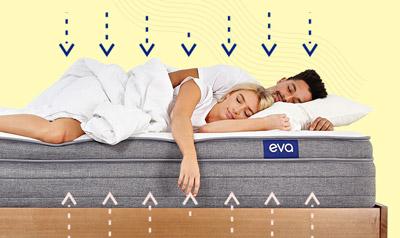 Our unique combination of micro and pocket springs provide support where it matters. Our 5 zone pocket springs provide optimal support from head to toe ensuring the body is properly aligned, no matter the sleeping position.
Keeping you cool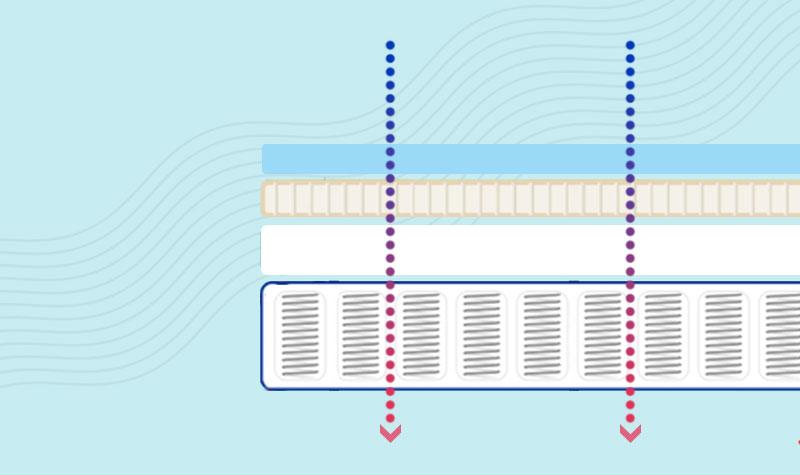 The open structure allows air to circulate freely thus providing a cooler sleep. In contrast, a full block of foam acts as a barrier to ventilation and traps heat in it. This makes the mattress hot, especially during the Australian summer!
Firmness Level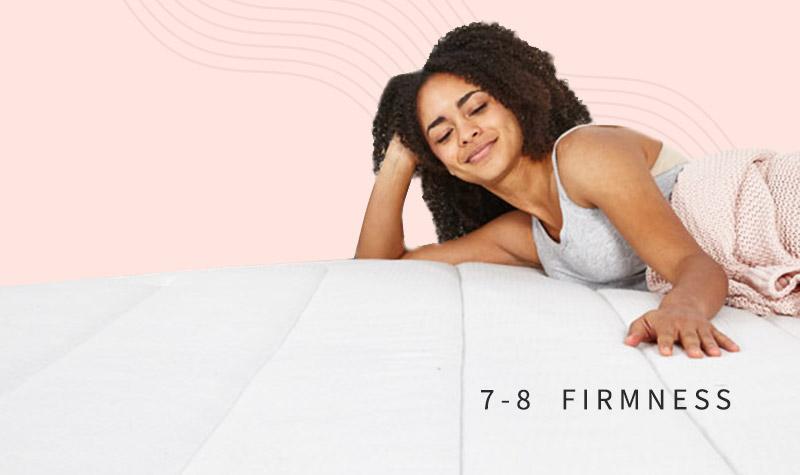 Based on our research, most people prefer a mattress that is firm but not too hard. The Eva Comfort Classic Mattress is a medium firm mattress which puts it in the region of a 7-8 out of 10 with 1 being very soft and 10 being very hard. This is the ideal firmness for a supportive sleep.
365 day trial
We understand that shopping online can come with a lot of uncertainty. At Eva we want you to be able to choose with confidence.

We know a lot can happen in a year. Maybe you switch up your style, you move house, or your family grows by a small but significant one. That's why we give you 365 days to try out any Eva product in your own home.
Now you can be sure that Eva fits your life for all the moments in a year.
Eva Comfort Classic Mattress – A Mattress for all Surfaces
The Eva Comfort Classic Mattress works on any of the following foundations. You'll just need to ensure that the slats are evenly spaced for a smooth and even sleep.