This is a 'Complete Buyer's Guide' to help you through the process of buying a new bed in 2023.
Buying a new bed is one of the most important household items that you will buy – and one of the most confusing. With an endless selection of stores and products, choosing the right products can be very overwhelming.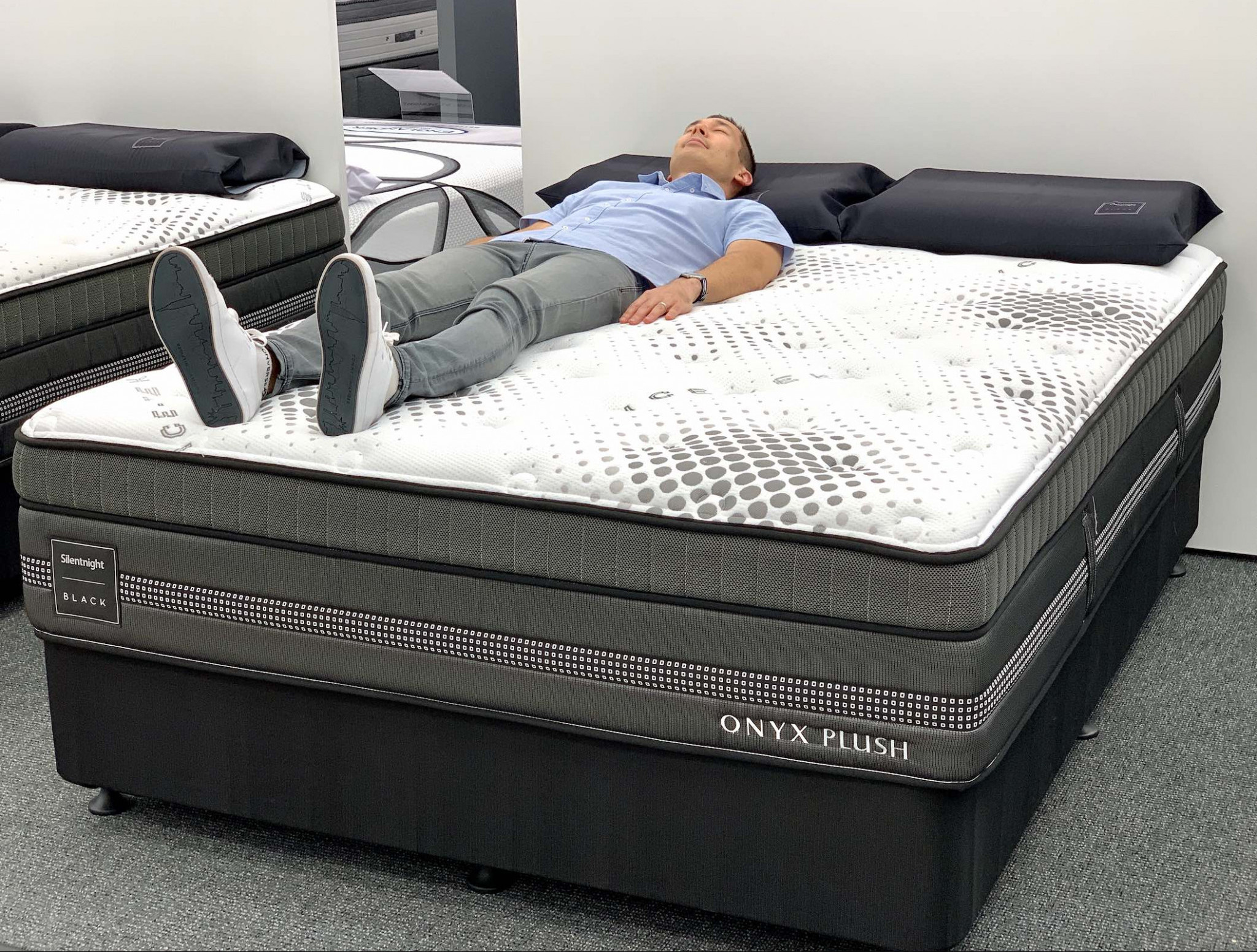 To make this process easier for you, our team of sleep experts have compiled a step by step guide to ensure that you are fully informed before you make your final purchase.
Don't be put off by the long list of items that this guide covers. Each section is short, concise, and easy to follow. We have listed the full set of topics below to give you a broad overview of what we will discuss.
This guide will cover:
Mattress vs. bed

Old mattress removal

Bed sizes

How much should I spend?

Bed sales

Online or in-store

What firmness is best?

Springs, foam, or latex

Australian made

Negotiating the best deal

Payment and finance

Health considerations

Delivery times & cost

Warranties

Choosing a bed base

Sleep accessories

Trial periods

Customer reviews

Sleep hygiene

Best mattresses
Let's get started!
---
1. Mattress vs. bed
It's important to clarify the difference between a 'mattress' and 'bed'. These terms are often misused in Australia so let's start by explaining the difference.
The word 'bed' typically refers to the combination of a mattress and a bed base as seen below.
The bed base may include a bedhead as seen below with the Koala Kirribilli Bed Head. A bed base can be purchased 'ready to use' or in may require assembling.
A mattress is the 'case of fabric' that forms your direct sleeping surface. Most mattresses involve a system of metal springs inside (termed a spring mattress or innerspring mattress), but full foam and latex mattresses have become more common in recent years.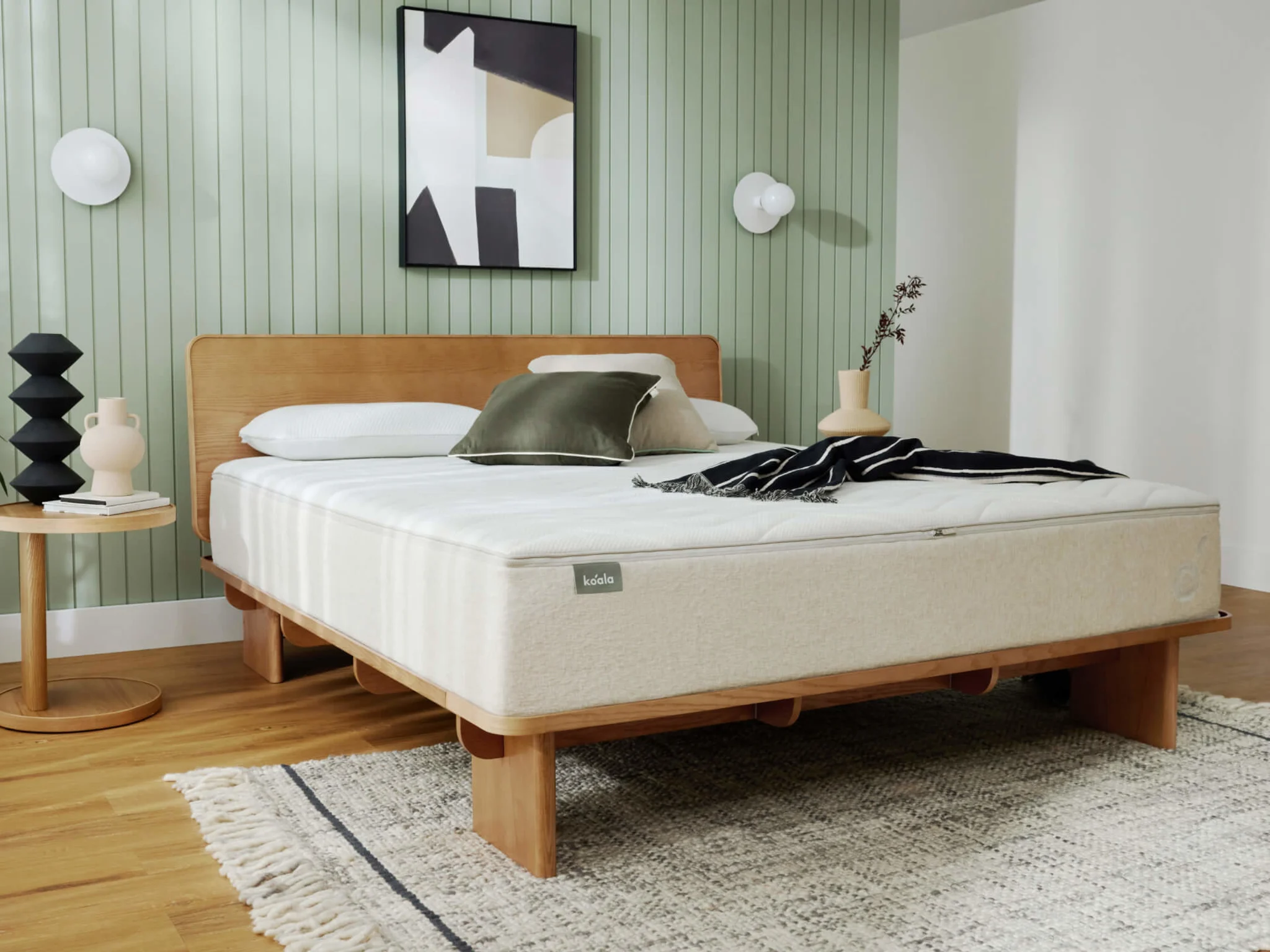 Koala Calm As Mattresss on the Koala Kirribilli Bed Base
The first thing we must clarify is what exactly are you looking to buy? Do you simply need a new mattress, or do you need a mattress and a bed base. If you are simply replacing a mattress, then there is a reasonable chance that your current bed base will be adequate.
If you are changing the size of your mattress, you will obviously need a new bed base to match.
Mattresses and bed bases can be purchased together (commonly referred to as an 'ensemble' or a 'bundle'). However, it's important to note that a mattress and bed base will often be seperate purchases.
This guide will focus more on the mattress purchase, but we will discuss the different types of bed bases in point 20 below.
---
2. Old mattress removal
When purchasing a new mattress, it is likely that you will have to dispose of your old one.
You may want to keep your old mattress (for example in a spare room), but if you want it removed, you have a few options.
Firstly, many councils will collect old mattresses, often for free. Contact your local council to see what your options are in terms of collection.
Alternatively, there are a number of mattress removal companies that will collect your old mattress and even recycle it. Soft Landing is a popular Australian mattress removal company who focus on an eco-friendly operations model.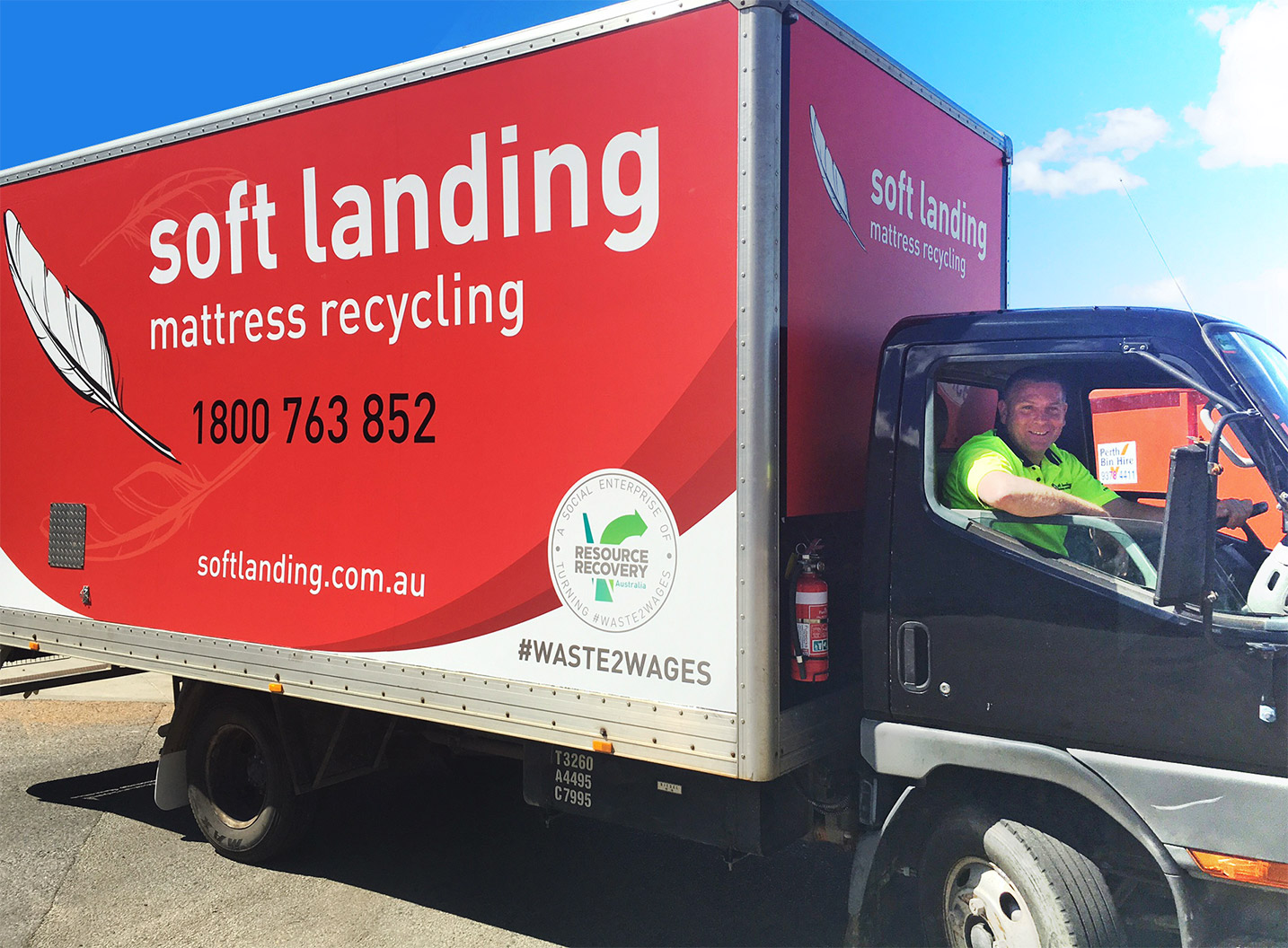 If your mattress is relatively new (or in good condition) you can try your luck selling it on online (e.g. Gumtree, Facebook Marketplace). It may also be easier to simply 'give it away' (list it for free online) or pass it on to a family or friend.
If someone is collecting your mattress, they will almost always need a ute, trailer, or van. Some mattresses may fit on roof racks, but we would be cautious trying to squeeze a mattress into a car. This may damage the mattress and/or your car.
---
3. Bed sizes
Before you think about what mattress or bed base you want to buy, you will need to decide on what bed size is best for you.
The appropriate bed size will depend on your life situation (e.g. regular sleeping partner) but will also depend on what size bed you can actually fit into your bedroom.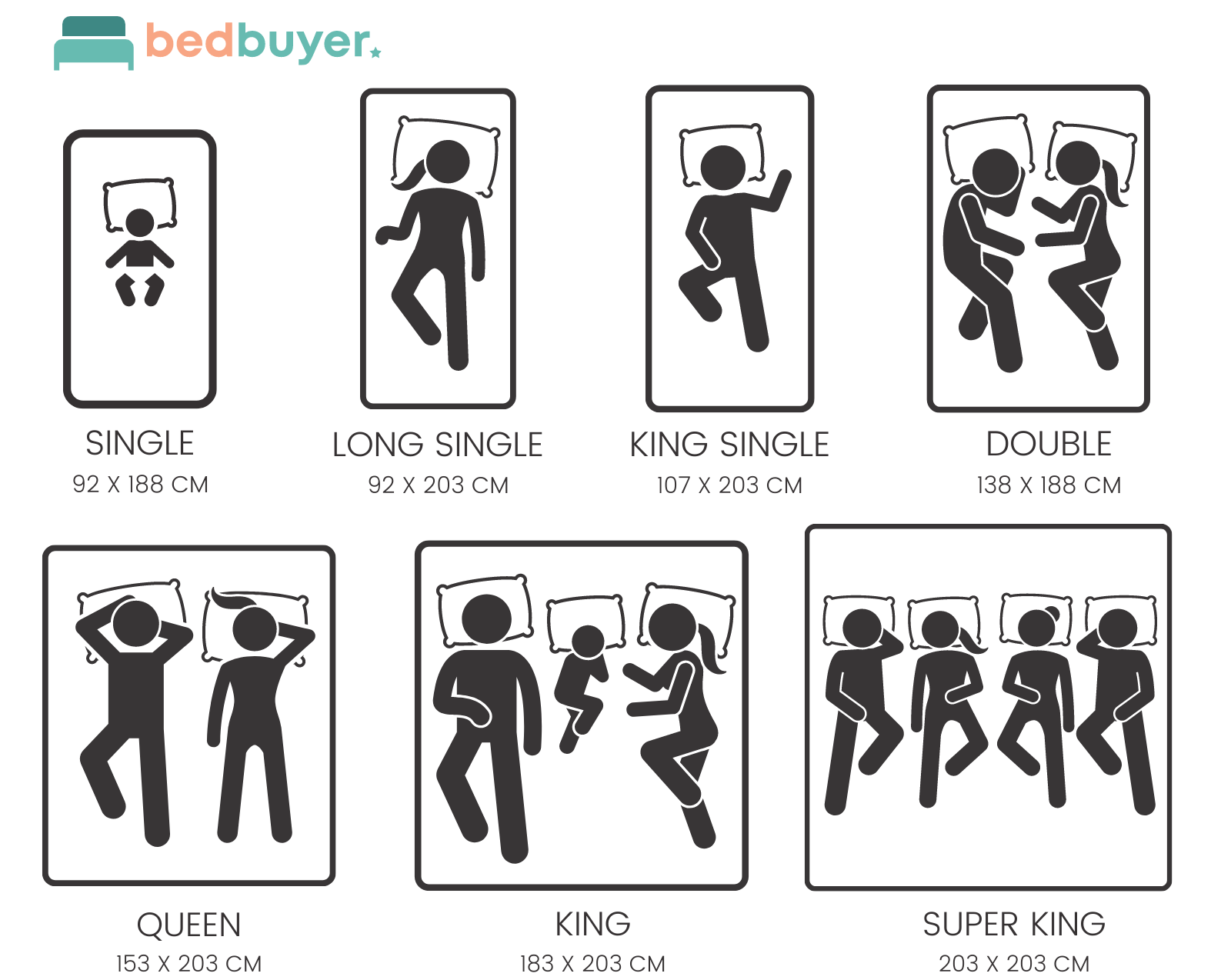 Australian bed (mattress) sizes
As mattresses can be 'squeezed' through spaces to some degree, it may be the bed base that will limit your options. Many bed bases these days require assembling and this will make it easier to transport up stairs or through doorways.
So, the key point here is to make sure that you can fit your mattress (and bed base) through the spaces into your bedroom. There's no point in buying a king bed if it doesn't fit.
---
4. How much should I spend?
This is obviously an important topic for most bed shoppers so it's important that we discuss this early in our guide.
Mattress prices (queen size) in Australia range from $99 all the way past $20,000, so it's understandable that many of us are unsure as to what we should be spending on a new mattress.
Generally speaking, you can get a very good mattress for between $1,000 – $2,000 (queen size). Now, we must emphasise that this is a very general guide, and the amount of money that you spend on a new mattress will be unique to your individual needs, preferences, and life situation.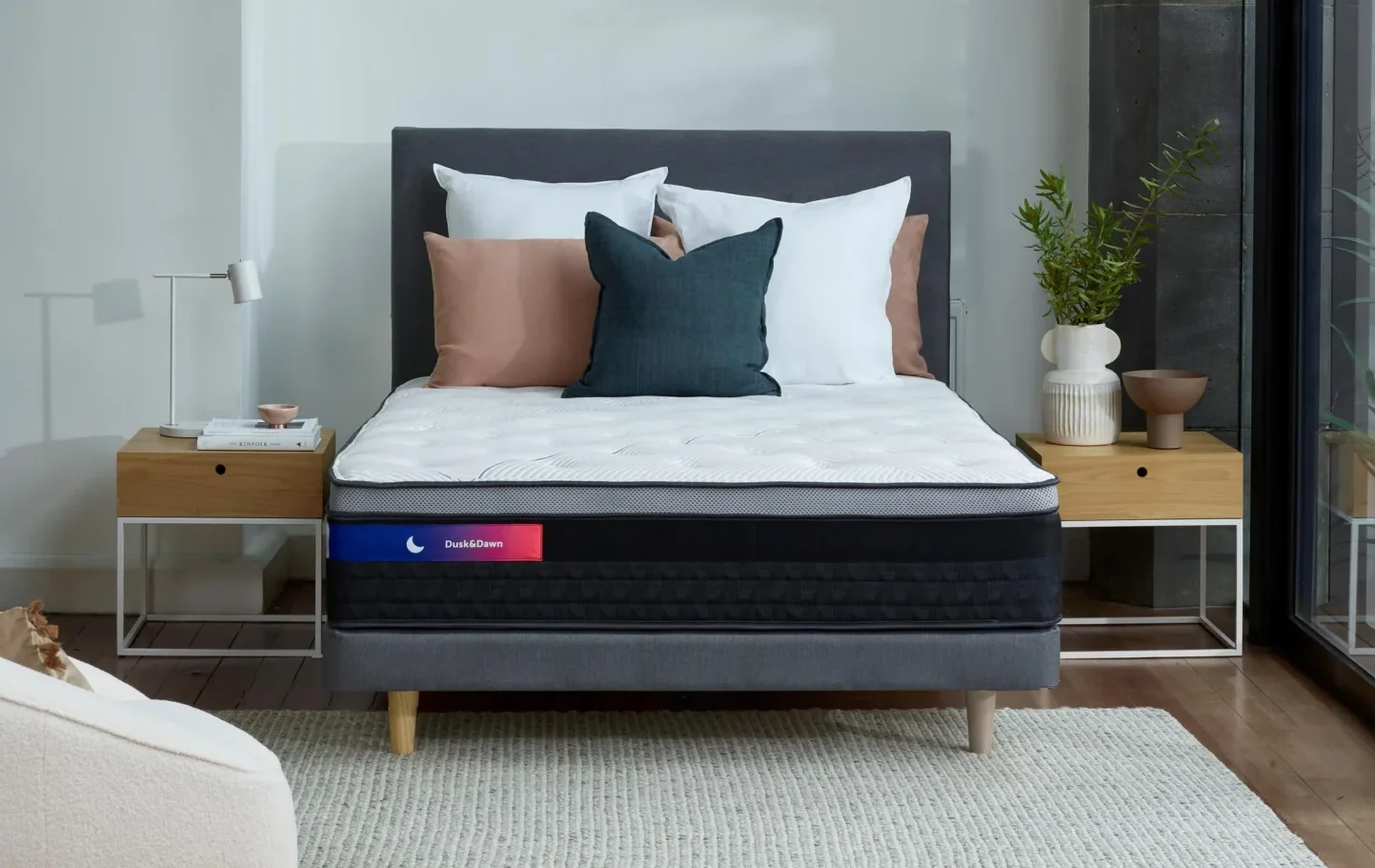 Dusk and Dawn Essential
If you're happy to spend a more than $2,000 (queen size), the quality and durability of a mattress will generally increase. Having said that, we would be cautious once you move into the $5,000 plus range. We don't believe that you have to spend many thousands of dollars to get a good mattress.
You can read more here about the price considerations when buying a new mattress.
When it comes to the bed base, prices range from under $100 up to several thousand. In our experience, you can get a very good (queen size) bed base for $500 – $1,000 (please see further discussion about bed bases in section 15).
---
5. Should I wait for a sale?
You don't always have to wait for a sale to get the best price on a bed or mattress.
As well as navigating through all of the stores, products, and prices, it's important to be familiar with bed sales.
Here are some common examples of of sales in the bedding industry:
Calendar event sales (e.g. Boxing Day Sale)

Stocktake sales

Percentage off sales (e.g. 50% off)

Dollar amount sales (e.g. get $200 off)

'Any size mattress for the price of a single' sale

Example of a mattress sale
As much as these sales create an attractive incentive to buy, you can usually negotiate a 'sale price' (in-store) at any time of the year.
If a mattress has a recommended retail price (RRP) of $2,999, you should be able to negotiate at least 30-40% this price, meaning that you could get the mattress around $2,000.
In many cases, you can even negotiate around 50% off the retail price. So, in the above example you could get the mattress for around $1,500.
When it comes to buying a mattress online, prices are far less negotiable. We will discuss the difference between buying online and from a retail store in the very next section below.
---
6. Should I buy online or in-store?
One decision you will need to make before you buy a new bed or mattress, is whether you want to buy online or in-store.
Buying a mattress from a retail store is the familiar, old-fashioned way of bed shopping. You walk into a store, decide on the product, and make your purchase.
Buying a mattress online is more of a recent trend where you can purchase a mattress online from the comfort of your own home. The mattress will then be delivered to your door for you to unpack. Most mattresses that you buy online will come with a trial period, so you can return the mattress for a refund if you are not satisfied.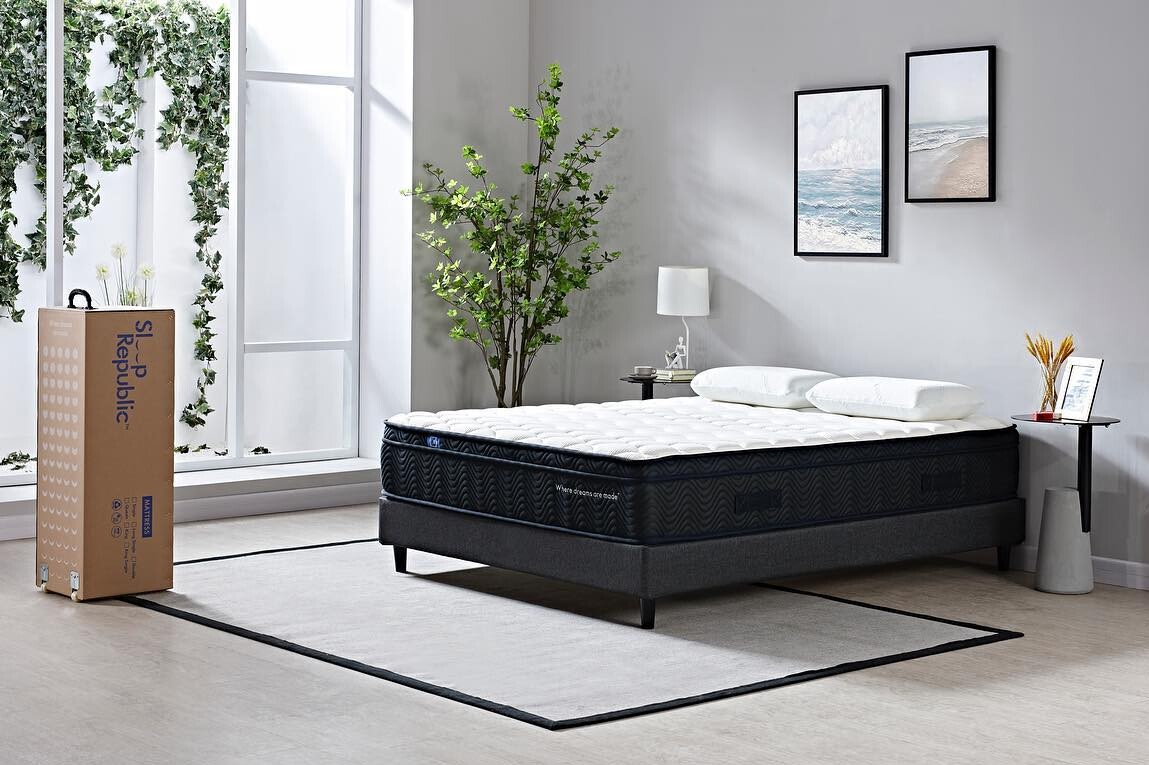 Sleep Republic Mattress
Here are the pros and cons of deciding between buying online or in a retail store. As you will see, there is no right or wrong decision here, it will come down to what suits your buying style best.
---
7. What firmness is best?
Choosing the right firmness can be a tricky part of the selection process as everyone has their own firmness preference.
We often find that partners prefer different firmness levels, so this can make things even more complicated!
Many retail store mattresses come in 3 firmness levels – firm, medium, and plush (soft). Some may even offer an 'extra firm' or an 'ultra plush' option. Deciding on the firmness level of a mattress really comes down to your personal preference and what suits your body the best.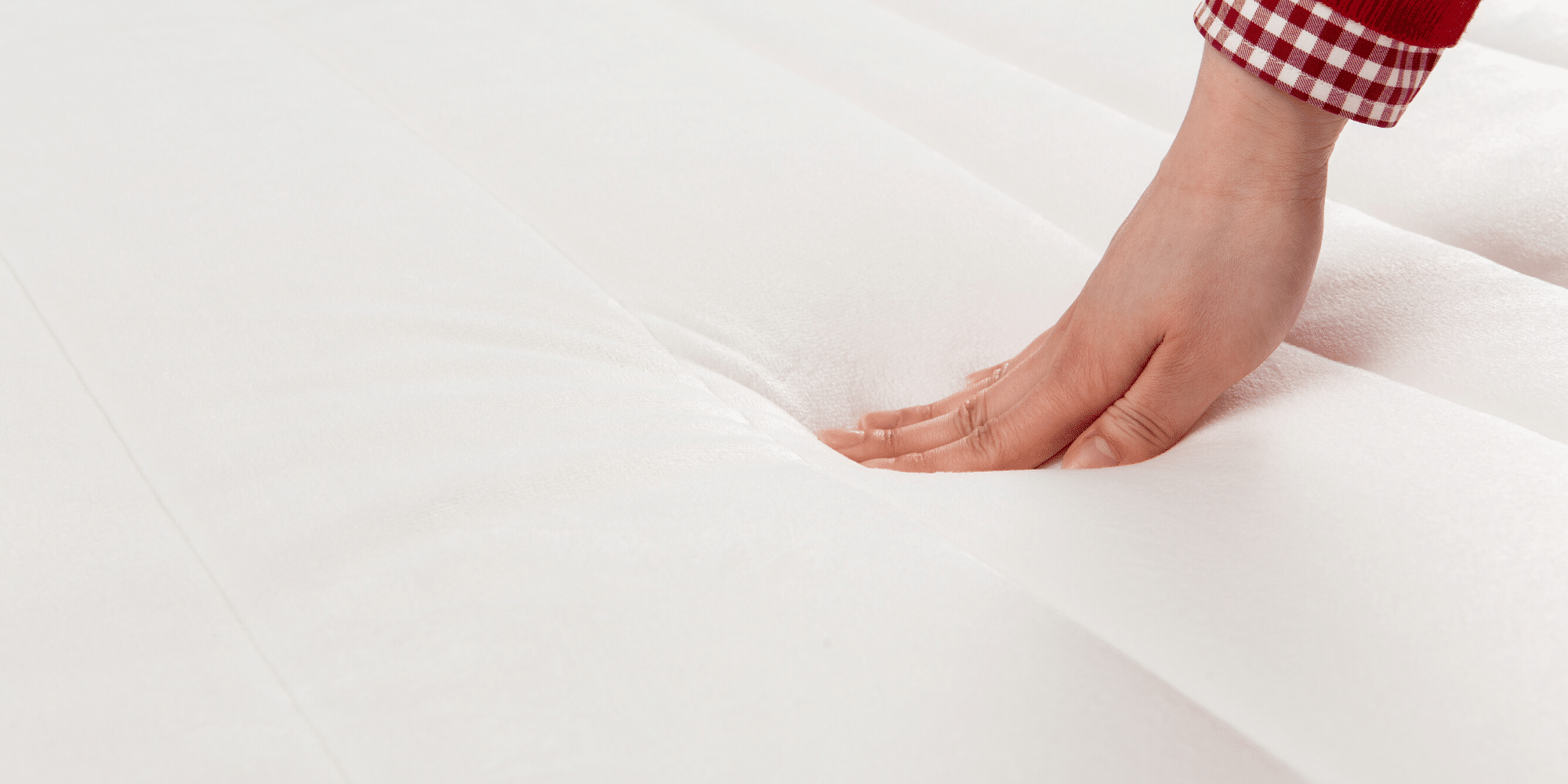 Your chosen firmness may also depend on your sleeping position/s. Below is a general guide as to what firmness level you may consider based on your sleeping position:
Side sleeper: Soft or medium-soft
Back and side sleeper: Medium-soft or medium
Side, back, and stomach sleeper: Medium
Stomach sleeper: Medium or medium-firm
Stomach and back sleeper: Medium-firm
Back sleeper: Medium-firm or firm
In our experience, the most common firmness preferences are 'medium' or 'medium – firm' as this generally offers a nice balance of comfort and support.
Many people have a basic feeling of how 'firm' they like a mattress but to get a better understanding it may be best to try some out in-store to get a better sense of your preference.
Some people believe that hotel mattresses all have a particular firmness (e.g. soft and luxurious). In reality, hotel mattresses vary greatly in quality, comfort, and firmness.
---
8. Springs, foam, or latex?
Generally speaking, there are 3 main types of mattresses:
Innerspring mattresses

Foam mattresses

Latex mattresses
Most mattresses on the market are innerspring mattresses, but there is a growing number of foam and latex products now available too.
As a very general rule, we recommend innerspring mattresses (e.g. Atlantis Mattress) as they are more supportive, more durable, and have better ventilation.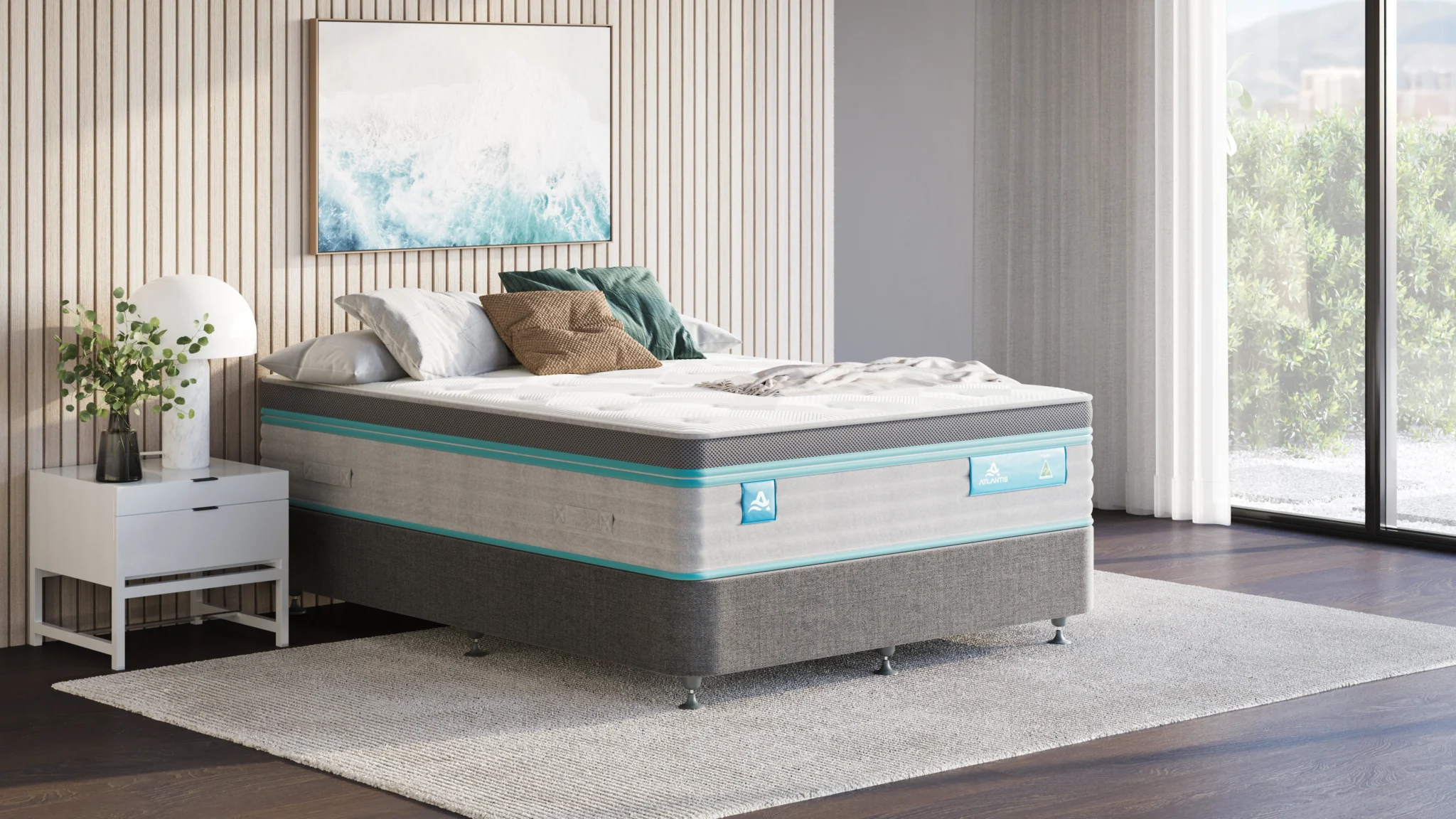 Atlantis Mattress
Each mattress type has its own distinct feel so it is something to consider when purchasing. Here is an in-depth discussion about the main types of mattresses available in Australia.
---
9. Should I buy Australian made?
Based on a recent Bedbuyer survey of over 1,000 people, it seems that most (over 80%) bed shoppers have a preference to buy Australian made.
Thankfully, there are many, excellent locally made mattresses available in Australia so there is plenty of opportunity to support Aussie workers.
One thing to keep in mind too, is that there are also many excellent products made overseas. Even though the products are made elsewhere, if you're buying the product in Australia, it most likely still employs many Australians.
Ultimately, buying Australian made is a personal choice and certainly something to be aware of when buying a new mattress and bed.
If you're looking for a great Australian made mattress, here are Bedbuyer's Best Aussie Made Mattresses in 2023.
---
10. Negotiating the best deal
When it comes to negotiating the best deal on an online mattress in a box product, there really isn't much to know. Here at Bedbuyer, we have generally negotiated the best deals available so you can always contact us to clarify the best current offers.
As discussed earlier, you can generally negotiate at least 30 – 40% off the recommended retail price in a retail store.
---
11. Payment and finance
If you're not in a position to pay the full cost of a new mattress upfront, most bedding companies (online and retail stores) offer finance options to help you manage the cost of your new purchase.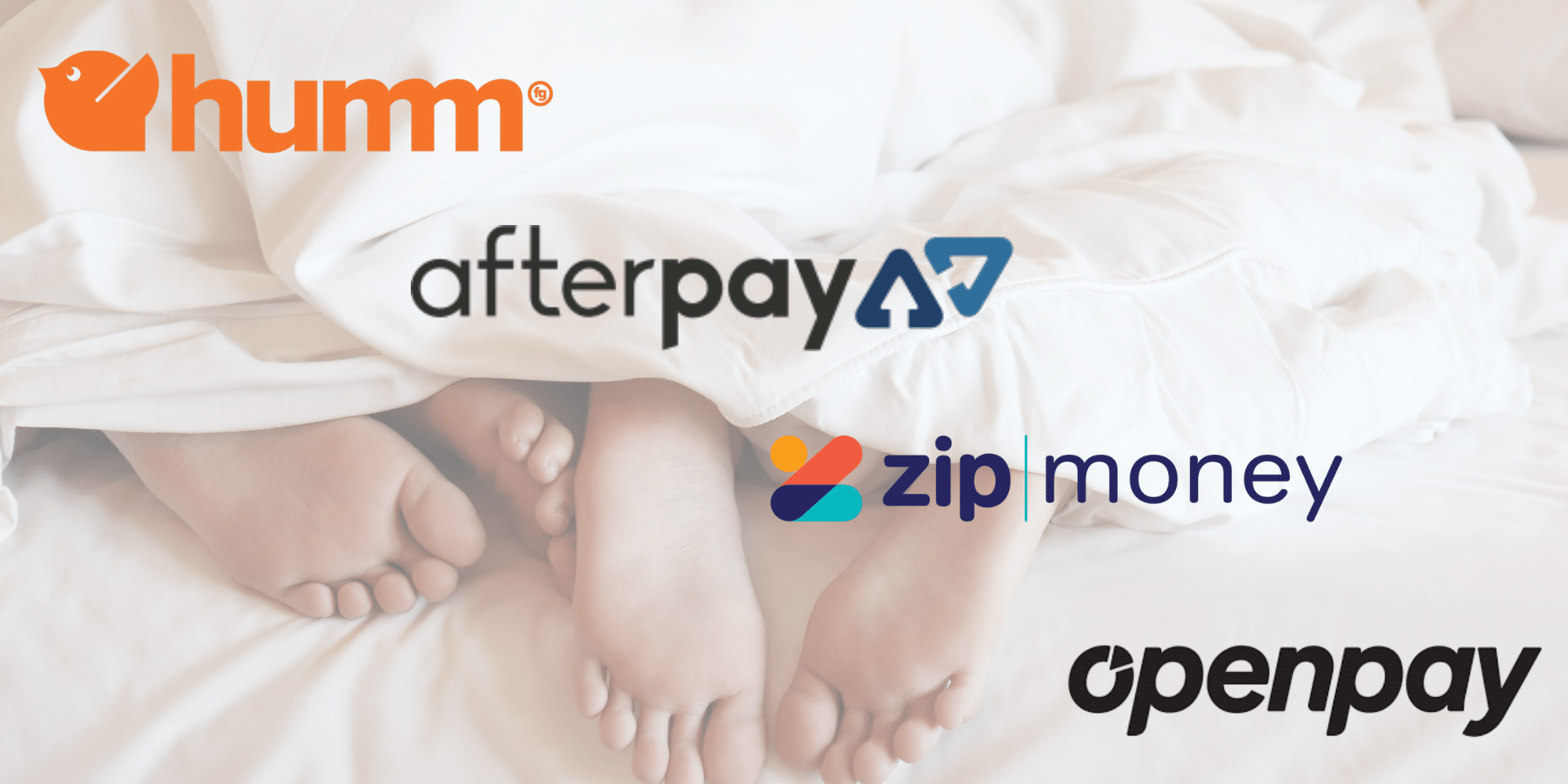 Some of the popular finance options offered by bedding retailers include Afterpay, Zip, and Humm. Here is our summary of each of the major interest free payment options available in Australia. Be sure to check with the individual store to see what finance options they offer.
As always, we strongly recommend that you use finance sensibly. Please check all of the terms and conditions outlined by each finance provider before you use their service.
---
12. Health considerations
Many customers these days ask us:
"Does this mattress contain any harmful chemicals?"
It is very normal for a new product (including a mattress) to have a new product smell upon delivery. Some people are sensitive to certain new product smells and odours, but it doesn't mean that the smell is harmful or toxic.
If you are sensitive to new product odours, we recommend placing the product outside (undercover) or open windows.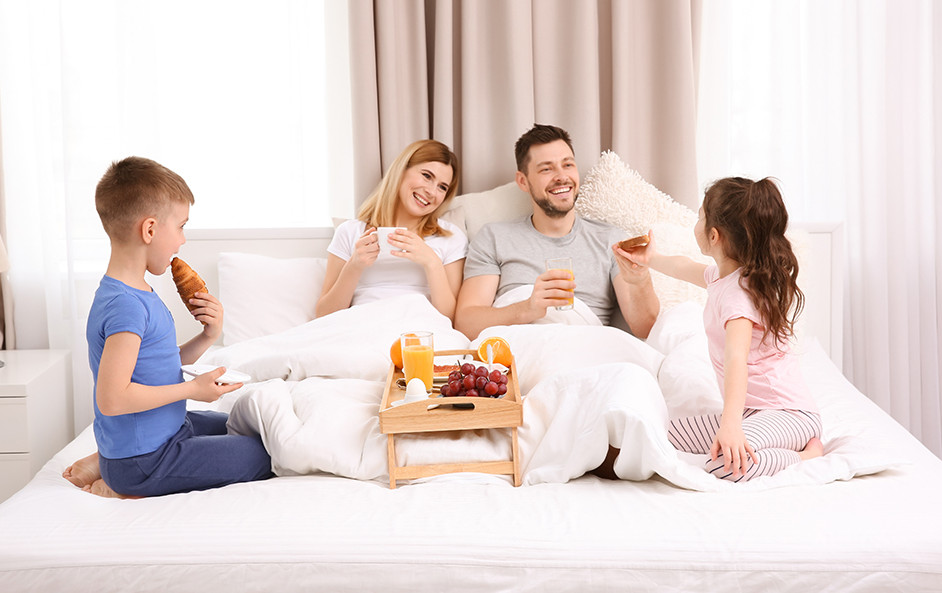 If you are concerned about toxic chemicals from a new mattress, many products these days have been formally tested in terms of health and toxicity. These certifications are usually listed in the product information.
We have summarised the major health certifications when it comes to mattresses in 2023.
---
13. Delivery times and cost
Delivery times and cost vary greatly depending on:
Your location

Stock levels and availability

Type of mattress (mattress in a box, retail store)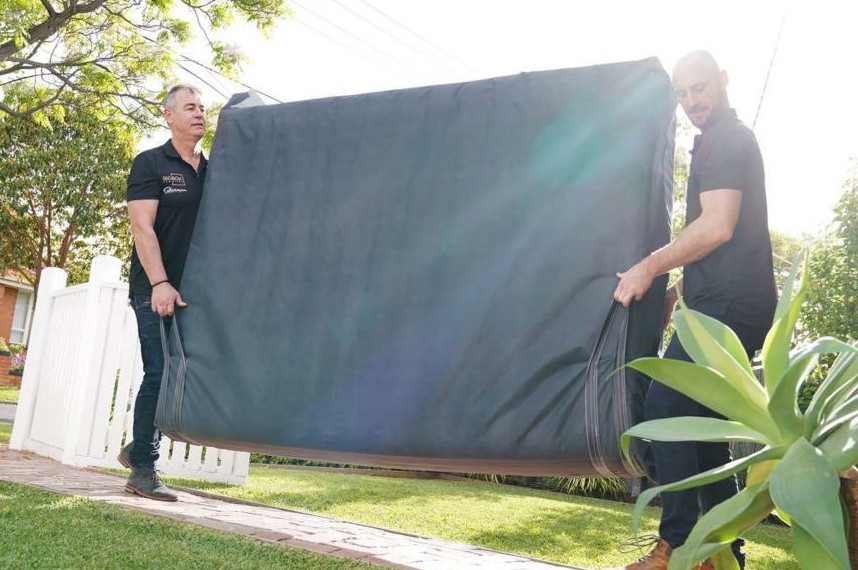 If you are buying a mattress online, delivery is usually free and is relatively fast (usually within a week or two). Some online companies (e.g. Sleep Republic) can even do 'next day delivery'. Again though, this will depend on your location.
If you're buying a mattress from a retail store, delivery times depend greatly on stock availability. If your product is in stock, delivery can usually be done within a week or so. If it needs to be ordered from the manufacturer, it can take much longer (e.g. 4-6 weeks).
Delivery cost to metro areas is usually around $100, but delivery to regional areas can be much more expensive (e.g. $300).
---
14. Warranties
Most mattresses over about $1,000 (queen size) will have a 10 year warranty to cover any major defects.
These warranties must comply with Australian Consumer Law, and further details can be found on the ACCC (Australian Competition & Consumer Commission) website.
Keep in mind that some cheaper mattresses will have a very short warranty (e.g. 1 year) or no warranty at all.

The definition of a product defect usually refers to a problem in the structural integrity of the mattress. This can get hazy when it comes to mattresses, as body impressions in a mattress are considered normal at a certain level (e.g. 3cm).
Warranty issues are further complicated when customers choose a product that ends up not being suitable for them (e.g. too firm or too soft). This emphasises the importance of choosing a mattress that is suitable for your needs.
Unfortunately, some retailers do not always honour warranties as you may expect.
If you feel that you are entitled to a warranty claim though, please contact your relevant store or retailer. We would recommend having some written notes (with dates) relating to the issue, along with any photo or video evidence.
---
15. Choosing a bed base
As we touched on earlier, buying a new bed base is an important part of the bed shopping process.
Your bed base can certainly influence how your mattress feels and performs over time. Below are the main types of bed bases:
Standard bed base

Bed frame

Ensemble base

Adjustable bed base

Box spring

The floor
Sleep Republic Pro Base (Standard Bed Base)
The type of bed base that you choose will depend on your budget, preference for style and decor, and desire for storage space. Many mattress warranties also require certain bed bases or certain bed base specifications (e.g. distance between slats).
Here is our list of Australia's Best Bed Bases in 2023 that also includes some important information about bed bases.
---
16. Sleep accessories
Along with a mattress and bed base, there are numerous other bedding products that you may need to buy when upgrading your bed. These include:
Pillows

Sheets

Mattress protectors

Duvets / Doonas
Macoda Pillow
A few tips when it comes to sleep accessories:
Using a mattress protector is possibly the best thing you can do to keep your mattress clean

If you have a queen size bed, a king size doona is usually a great idea

Make sure that your bed sheets are deep enough to fit your mattress (check mattress height and sheet height)

Following on from the point above, the Koala Deep Fit Sheets are designed for high profile (e.g. 40cm) mattresses
Just like mattresses, there is a huge range of bedding accessories on the market. Here at Bedbuyer, we have compiled top product lists for all bedding accessories to help you decide.
---
17. Trial periods
To give customers peace of mind when they buy, mattress companies offer a trial period (e.g. 100 nights).
This system allows the customer to return the mattress for a refund so that they are not stuck with a mattress that they don't like.
Two common 'after-sale' options include:
1. Free trial period
Typically offered with mattress in a box (online) products

Allows the customer to return the mattress for a refund

The mattress must be returned within a certain time frame (e.g. 100 nights)

Requires the mattress to be in pristine condition

Mattress will typically be collected and given to charity
2. Comfort guarantee
Offered at some retail stores

Allows the customer to exchange their mattress if not satisfied

Can be claimed within a certain time frame (e.g. 60 nights)

The exchange often involves the same range or same price

Exchange option can only be claimed once
Keep in mind not all mattresses on the market will offer a trial period or comfort guarantee. Make sure that you are clear on the details of any trial periods or comfort guarantees before you buy.
---
18. Customer reviews
Consulting with 'customer' reviews (e.g. productreview.com.au) is a common part of the decision making process when it comes to buying a new mattress or bed.
It's understandable that we want to read about other customer experiences before we buy.
Customer reviews can be useful for many products (e.g. dishwashers, vacuum cleaners), but when it comes to mattresses, they are not so reliable. Each person has individual needs when it comes to a mattress, so it's likely that the same mattress product will produce a positive review from one person, and a negative review from another.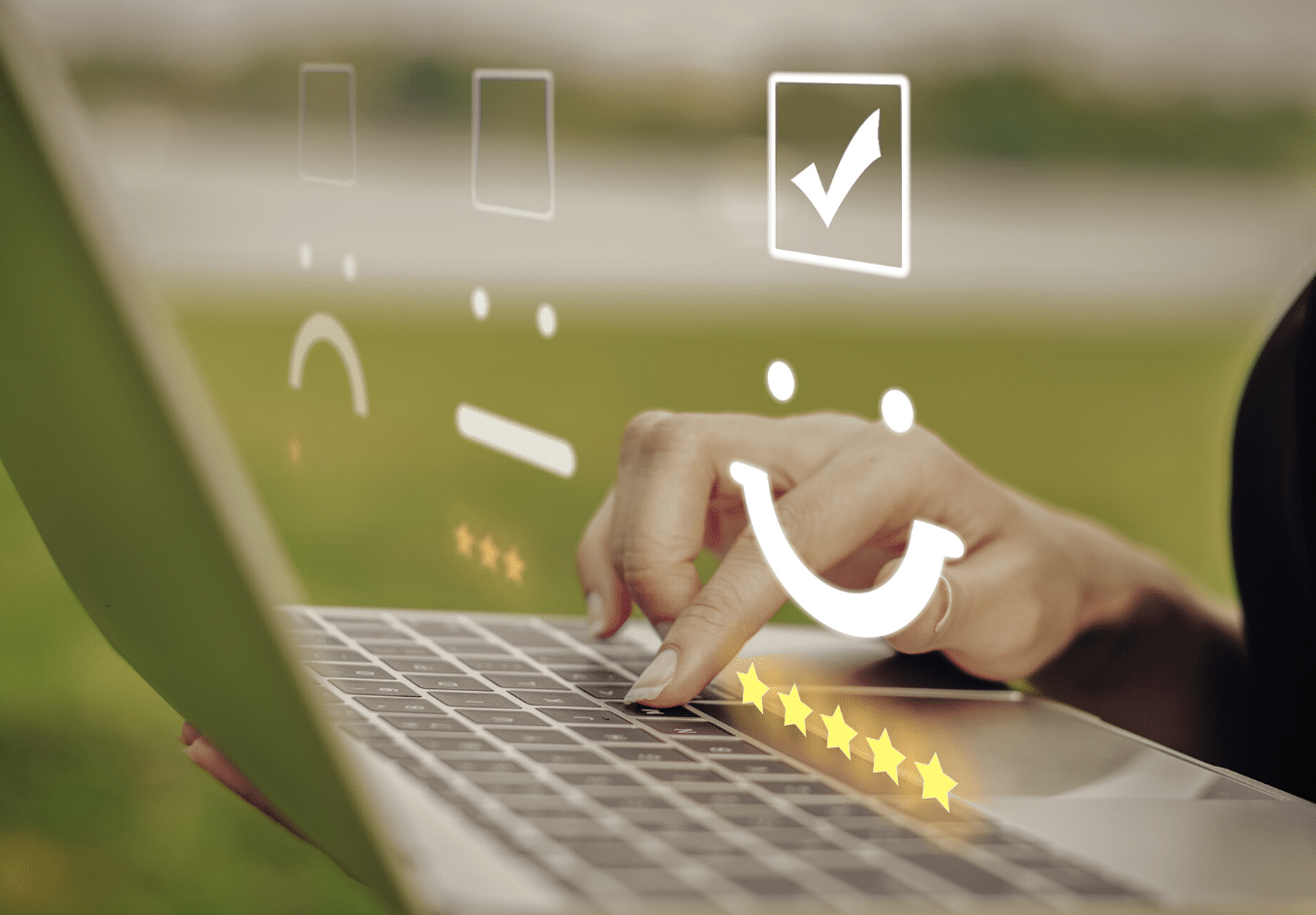 Furthermore, customer reviews of mattresses often relate to old versions of a product (which have since been altered). Some customer reviews are also fake (from competitors) and so it's important to use customer reviews wisely.
You can read more here about why you should be cautious when using customer reviews of mattresses.
---
19. Sleep hygiene
Once you get your new mattress, there are some easy measures to take to maintain a clean and healthy sleep environment. Some of these include:
Use a mattress protector (as mentioned earlier)

Wash your linen weekly

Rotate your mattress every 3-6 months
To read more about mattress hygiene, click here.
---
20. Best mattresses
To help you with your selection, Bedbuyer has put together numerous 'top product' lists to assist you.
These articles discuss the best options available on the market in different categories, and will really help you streamline the process of buying a new bed.
Two of our most popular articles include:
Yinahla Classic Comfort
---
Still lost?
We hope that this guide will assist you in buying a new bed and mattress in 2023.
With that said, we still understand that it can all be a bit confusing. If you have any questions, please comment below.
On behalf of the Bedbuyer team, we thank you for visiting our site and we hope that you find your perfect bed!
---
Bedbuyer is Australia's largest bedding website and leading independent mattress review group. To read our disclosure and disclaimer statement, click here.