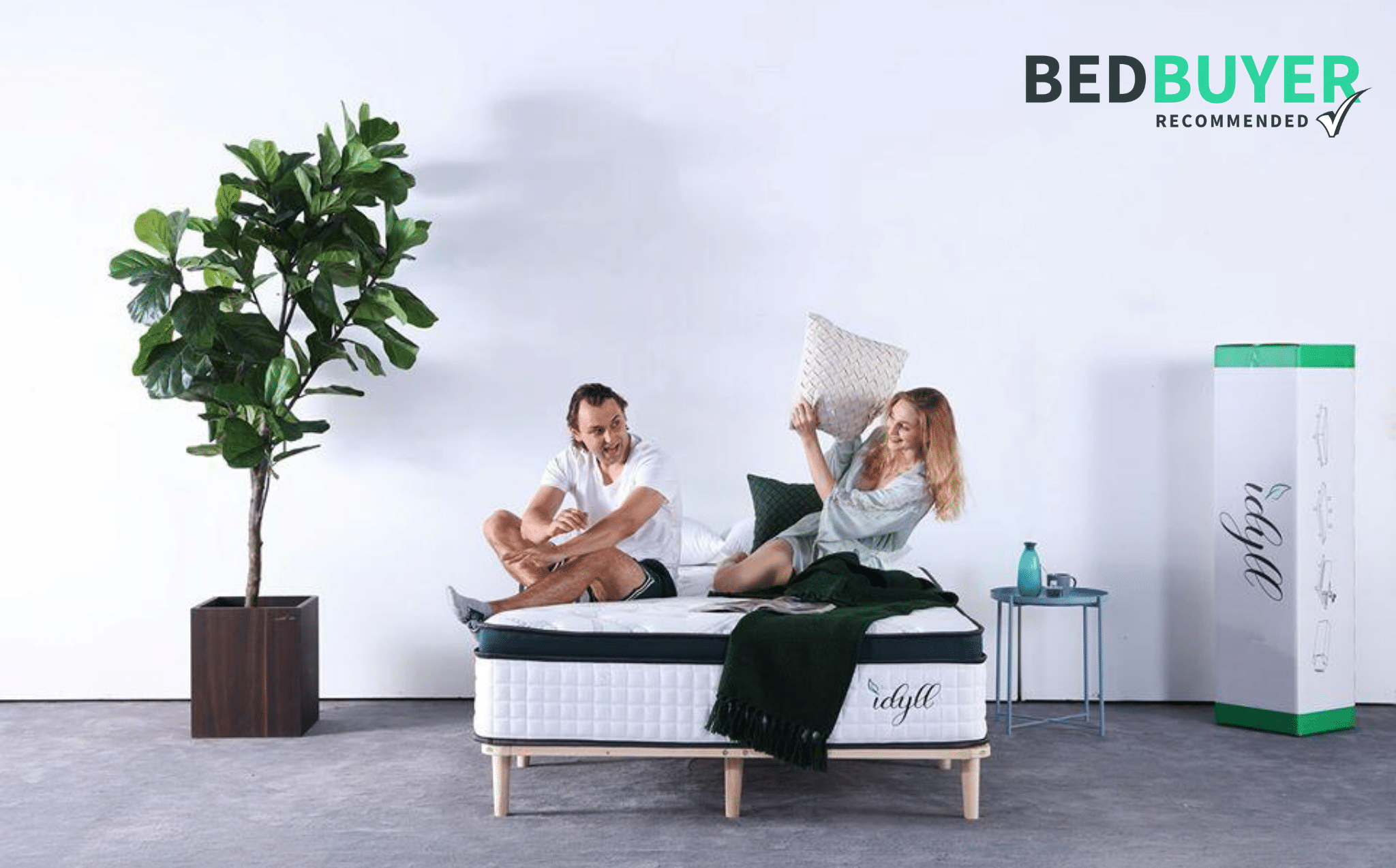 Idyll Premium Mattress Review
The Idyll Premium Mattress is an excellent option in the online mattress market. It is comfortable, supportive, and comes with an impressive lifetime warranty.
Purchase and delivery
As with other 'mattress in a box' products, you can simply order this mattress online (through the Idyll website) and it will arrive at your door in a compact box. Removing the mattress from its packaging was straight forward, and, as usual, we recommend having two people available to unpack a mattress in a box.
As per our standard testing process, we gave the mattress 24 hours to decompress before we began our assessment. To see this mattress up closer, you can check out Idyll's product video here:
The Idyll Premium Mattress presents well, and gives off a rather luxurious vibe. Its black and white colour theme is far from original, but it still has plenty of style and aesthetic appeal.
Comfort and support
From the top, this mattress starts with a 100% bamboo fabric cover. This feels soft, breathable, and offers a touch of luxury. This top cover sits over multiple comfort layers that includes a high density foam, 100% natural latex, 'cooling gel' memory foam, and a support foam. This comfort section absorbs body weight evenly, and offers a nice level of pressure relief.
It is comfortable, supportive, and comes with an impressive lifetime warranty.
Our team rated it as a 'medium / firm ' feel and a 7 / 10 on the firmness scale (with 10 being the firmest). Please note that our firmness ratings are just a guide and they do not necessarily relate to comfort.

This rather fancy comfort layer sits over a 7 zone pocket spring system, which feels strong and solid. It is not overly 'bouncy' but certainly offers adequate responsiveness to normal body movements during sleep.
In terms of overall spinal support, this mattress is excellent. We did not detect any undesirable sagging and it should accommodate people of all sizes.

The finer details
Considering its price, the Idyll Premium Mattress has a high level of refinement. It contains strong side handles which makes it much easier to manoeuvre. Some of the biggest names in the mattress in a box market (such as Koala and Ecosa) don't have side handles.
Motion transfer is minimal, so a restless partner shouldn't cause major problems. Edge support is sound, so you should be able to use the full surface of the mattress without falling off the edge.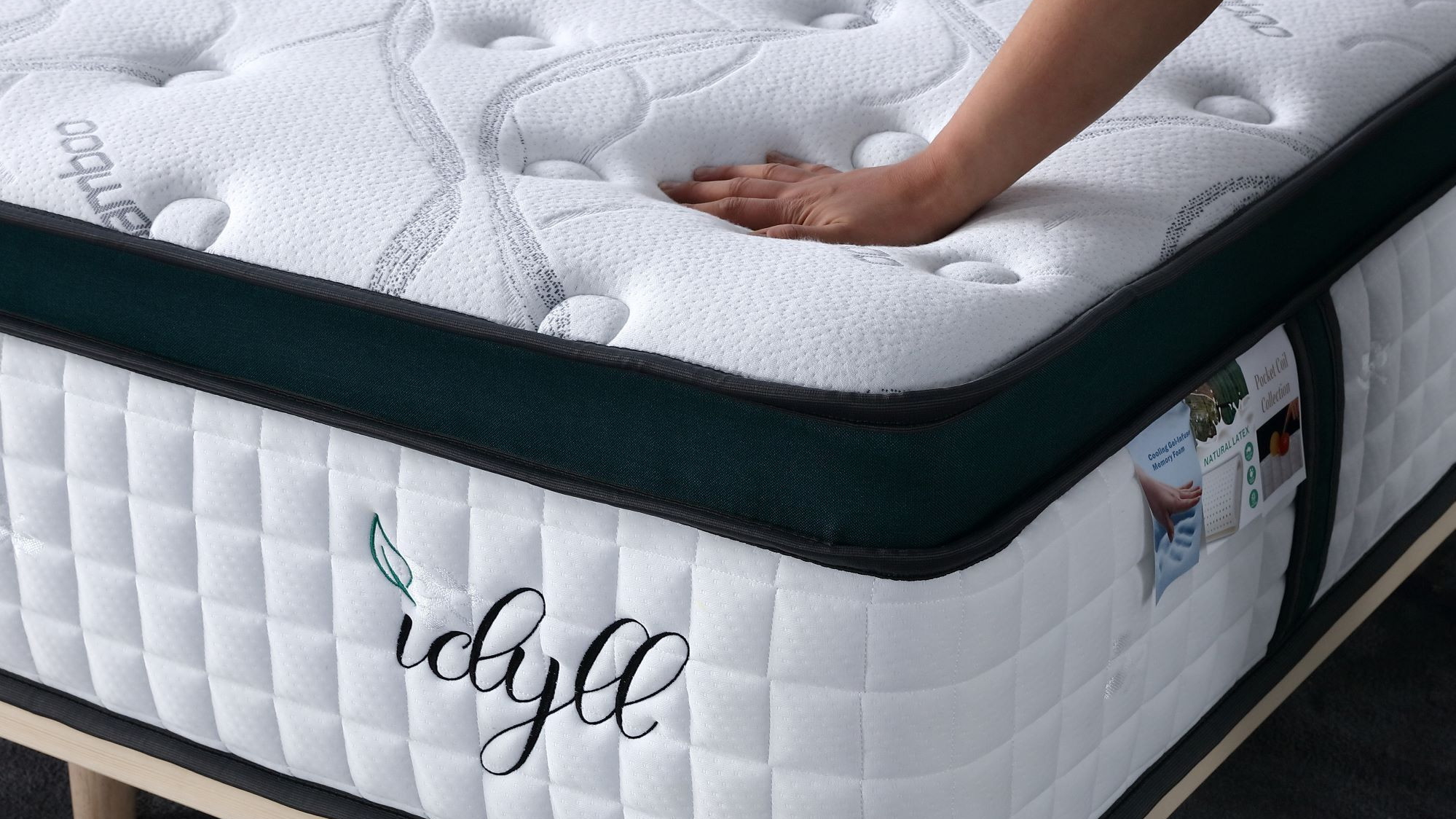 It's worth noting that the Idyll Premium Mattress is well certified as 'non-toxic' by CertiPUR-US®, OEKO-TEX® and SGS. These companies are among the world's leading authorities in foam and fabric testing.
As with most innerspring mattresses, we don't recommend this mattress to be used with an adjustable (electric) bed base. Here is our full list of mattresses that are compatible with an adjustable bed base.
Available sizes
The Idyll Premium Mattress is available in 5 sizes (king, queen, double, king single, and single size) so it should accommodate most sleeping arrangements. Here are Australia's standard bed (mattress) sizes in 2021.
Final verdict
Overall, the Idyll Premium Mattress is a great mattress with very good back support.

Here are our ratings for each category:
| | |
| --- | --- |
| Comfort | |
| Spinal Support | |
| Build Quality | |
| Partner Disturbance | |
| Value for Money | |
Did you know? Bedbuyer recently announced Australia's Top 12 Mattress in a Box in 2021.
If you have any questions about the Idyll Premium Mattress, leave a comment below or please contact us.
*Click SHOP NOW and use code 21772E66D05 at checkout to get $300 off. If you have any questions about this discount, comment below or please contact us.
---
In a nutshell 🥜
Medium – firm feel

Excellent support

Well certified as non-toxic

Click SHOP NOW and use code 21772E66D05 to get $300 off!
---
Recommended Retail Prices
King Mattress: $1100
Queen Mattress: $1000 (out of stock)
Double Mattress: $900
King Single Mattress: $800
Single Mattress: $700 (out of stock)
Special Bedbuyer Prices*
King Mattress: $800
Queen Mattress: $700 (out of stock)
Double Mattress: $600
King Single Mattress: $500
Single Mattress: $400 (out of stock)
*Once Bedbuyer coupon is applied. Click SHOP NOW and use code 21772E66D05 at checkout to claim this price. If you have any questions about this discount, comment below or please contact us.
---
Warranty
Lifetime warranty
Delivery Times
We are working with various couriers, one of which is Hunter's Express, to provide the most efficient delivery service with the most reasonable price and quickest turnover.
Please bear in mind that there are uncontrollable factors in the delivery of your purchased items. Much as we want to orchestrate the delivery for you from the onset, we do not have full control over the third-party couriers companies' standard operating procedures and processes. We cannot be responsible for any delays of the Idyll Premium Mattress in the delivery timeframe provided to you by our partner couriers but we will be there for you every step of the way during the delivery process.
Shipping duration are as follows:
Victoria – 1 to 2 business days

New South Wales – 1 to 2 business days

Australian Capital Territory –2 to 3 business days

Queensland – 4 to 8 business days

Tasmania – 3 to 5 business days

Western Australia – 3 to 7 business days

Northern Territory – 7-12 business days
Certifications – Idyll Mattress
CertiPUR-US® Certified | Class 1 – OEKO-TEX® Certified
Highly regarded as one of the most coveted certifications for mattress production, the Idyll Premium Mattress is Certipur-US /Standard 100 Oeko-Tex approved. This mattress has undergone rigorous tests and strict considerations before being awarded by this merit.
SGS – Geneva as Société Générale de Surveillance
Also, the processes of mattress production are SGS Certified so you will be confident that quality is valued highly.
Specifications – Idyll Mattress
Weight: 51.2 kgs (Queen mattress)
Height: 34 cm
Box size (Queen) : 37 x 37 x 162 cm
Spring count: 768 (Queen mattress)
Cover: Breathable Premium Eurotop
Provides advanced comfort and that hotel top layer feel you love, with a smooth touch of breathable 100% Natural bamboo fabric for next level sleep bliss and ultra cool technology.
Ergonomic Pressure Relief : 100% Natural Latex
This layer is made up of tens of thousands of exhaust holes which are meant to help the human body dissipate wastes, heat and moisture.
Comfort Layer : Visco Elastic Memory Foam
Relieving weight and pressure during deep sleep, the high tech memory foam is an advantageous feature. This crucial layer contains gel particles encouraging better sleep contour and provide constant temperature distribution, all the while being shockproof.
Support Layer: Idyll Dynamic High Density Foam
With a mechanism of grooved holes, the high density sponge layer is not only environmentally-friendly but also contributes to the holistic 'genetics' of this premium mattress. With a dual transition layer that helps create an even feel.
7 Zone Body Shape Layer : 1000+ Wrapped Coils
We have coupled the pocket spring technology with the 7-zone option only because we want you to get the best of both worlds. Regarded as the most advanced form in the zoning technology, this feature boasts seven zones of physical support which results to optimal alignment and contour of your body while laying down. The seven zones of support in the Idyll Premium Mattress are:
Head & Neck

Shoulder and Upper Back

Lumbar

Pelvic

Knee

Lower Leg

Foot and Ankle
You can only imagine how great it is for your Idyll Premium Mattress to seemingly caress every point of your physique.
6 month interest free payments.