Emma Mattress Review
The Emma Mattress contains a unique foam construction and offers very good value. It was awarded Australia's 'Best Foam' Mattress in a Box in 2021. It also holds a number of awards in Europe.
It is worth noting that its construction is slightly different to Emma's UK model. This review (including our video review below) is specific to the Emma (Original) Mattress which is available in Australia.
Purchase and delivery
As with other mattress in a box options, the Emma Mattress can be conveniently ordered online (through the Emma website) and it will arrive at your door in a box (see delivery times in the 'Delivery' section below). Delivery is free, and our box arrived in pristine condition, thanks to additional wrapping around the box.
The Emma Mattress was one the easiest mattress in a box products to remove from its packaging. As usual, we recommend having two people available to unpack a mattress in a box, even though it is usually manageable with one person.
Unpacking the Emma Mattress should only take 5-10 minutes, and we allowed it to decompress for 24 hours before testing. You can see this mattress in 'real life' in our video review here:
Aesthetically, the Emma Mattress has a modern, stylish look. It uses a grey and white colour theme with a dark blue brand label. It also comes with a neat product booklet that includes useful information about the product.
Comfort and support
The Emma Mattress has a well ventilated cover that contains a soft, polyester fabric. This cover sits over a special eco-friendly foam that is breathable and prevents overheating. This foam layer also has a nice level of comfort and responsiveness. It absorbs body weight smoothly and feels well balanced.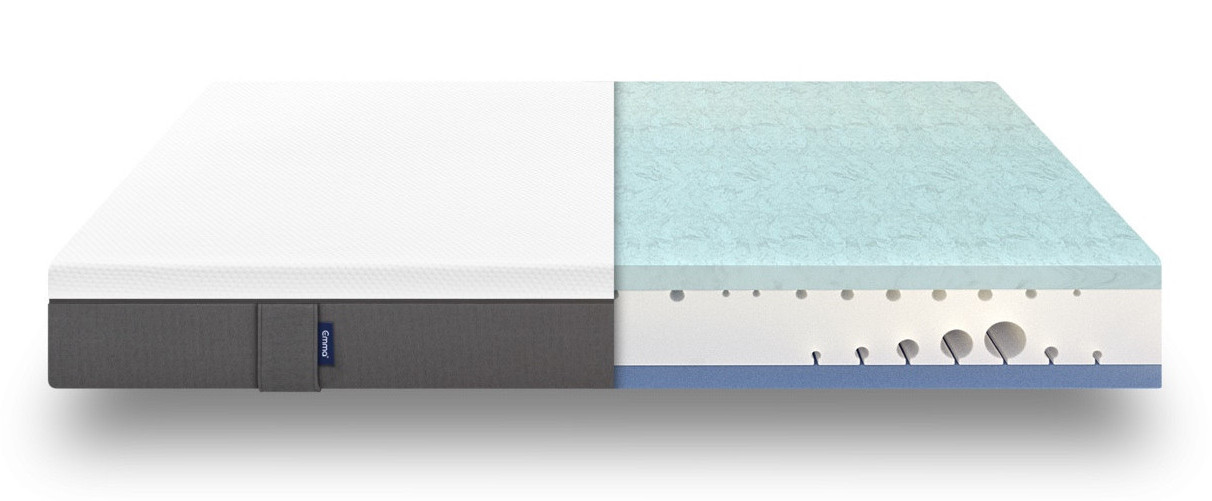 Based on our testing, our team rated it as a 'medium-firm feel' and an 7.5 / 10 on the firmness scale (with 10 being the firmest). Please note that our firmness ratings are just a guide and they do not necessarily relate to comfort.

The main body of this mattress is Emma's sophisticated 7 zone, 'pressure relieving foam'. This offers excellent support and should accommodate people of most sizes. The Emma Mattress also contains a layer of 'point elastic foam' at the base of the mattress. This seems to add an extra level of stability, and partner disturbance is minimal.
The finer details
At 29 kgs (Queen size) the Emma Mattress is noticeably light. This makes it easy to carry and also easy to change the bed sheets, which can be quite difficult with heavier mattresses. As a comparison, other 'full-foam' mattresses like the Koala Mattress (34 kgs) and the Ergoflex Mattress (39 kgs) are significantly heavier. The Eva Mattress (which uses pocket springs) weighs 55 kgs.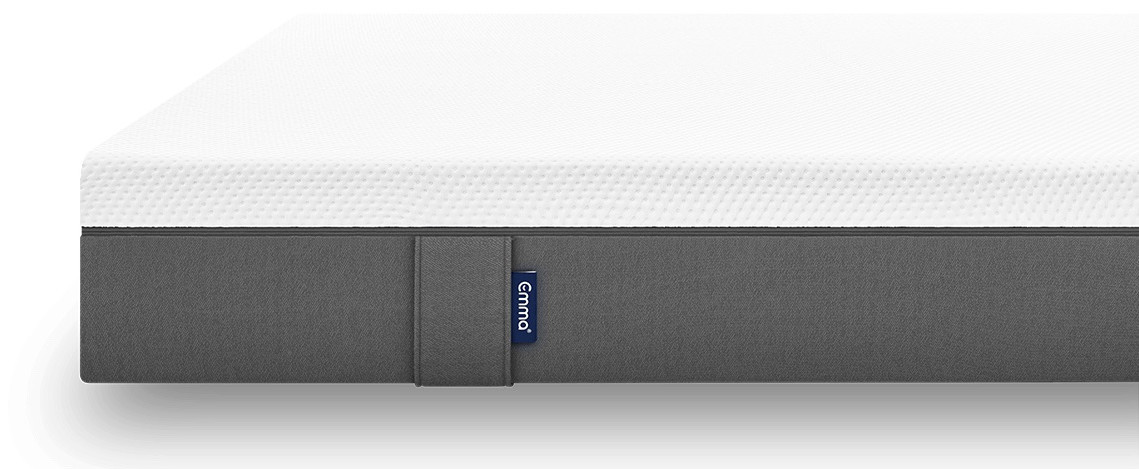 The relative light weight of the Emma Mattress doesn't compromise spinal support or general stability. This is one of the most impressive features of this mattress, as Emma seems to have created the ultimate light-weight, supportive mattress. Edge support is decent, and the mattress comes with practical side handles.
The Emma Mattress has a handy, removable and washable cover.
The Emma Mattress has a handy, removable and washable cover. It is easy to remove, and the top cover can be machine washed every 4 weeks (at 60°C). As you can imagine, this allows you to keep your mattress clean and hygienic and is a big selling point for this mattress.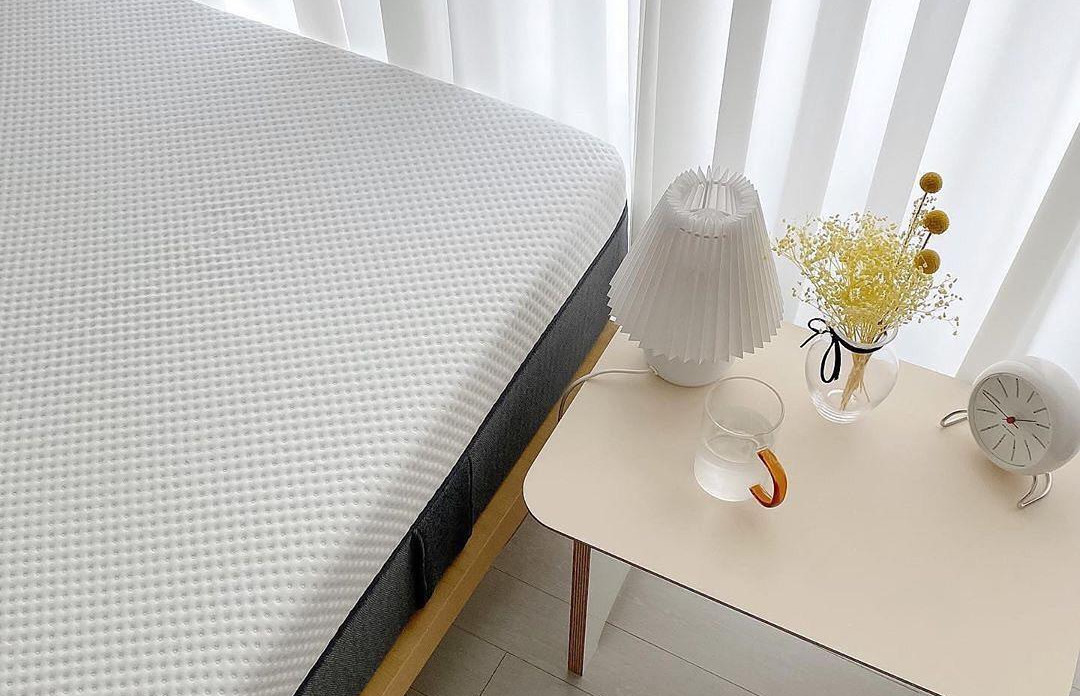 The Emma Mattress has a solid 100 night trial period and a 10 year warranty. It is also worth mentioning that all foam layers in this mattress are certified as non-toxic by OEKO-TEX®, one of the worlds leading authorities in foam testing.
Please note that we do not recommend the Emma Mattress to be used with an adjustable (electric) bed base. Here is our full list of mattresses that are compatible with an adjustable bed base.
Available sizes
This mattress is available in 5 sizes (king, queen, double, king single, and single size) so it should accommodate most sleeping situations. Here are Australia's standard bed (mattress) sizes in 2021.
Final verdict
The Emma Mattress is a nice mattress that offers great value. It provides good back support, and its light weight makes it easy to carry. In a short period of time, this mattress has become very popular in Australia.

Here are our ratings for each category:
| | |
| --- | --- |
| Comfort | |
| Spinal Support | |
| Build Quality | |
| Partner Disturbance | |
| Value for Money | |
Did you know? The Emma Mattress made it into Australia's Top 12 Mattress in a Box in 2021.
If you have any questions about this mattress, comment below or please contact us.
*Click SHOP NOW and use code BEDBUYER10 at checkout to get a further 10% off. If you have any questions about this discount, comment below or please contact us.
---
In a nutshell 🥜
Awarded Australia's 'Best Foam' Mattress in a Box in 2021

Medium-firm feel

Very good value

100 night free trial

Click SHOP NOW and use code BEDBUYER10 to get a further 10% off!
---
Recommended Retail Prices
King Mattress: $1099
Queen Mattress: $999
Double Mattress: $899
King Single Mattress: $799
Single Mattress: $699
Special Bedbuyer Prices*
King Mattress: $593.46
Queen Mattress: $539.46
Double Mattress: $485.46
King Single Mattress: $431.46
Single Mattress: $377.46
*Once Bedbuyer discount code is applied. Click SHOP NOW and use code BEDBUYER10 at checkout. If you have any questions about this discount, comment below or please contact us.
---
Trial Period
100 nights
Warranty
10 years
Delivery
Free delivery
Delivery is available to most places in Australia
Delivery takes 1-2 business days for metro areas. Estimated time of delivery for outside metro areas usually take 3-5 business days but may depend on your shipping area.
Delivery estimates are subject to the availability of stock.
Certifications – Emma Mattress
Class 1 – OEKO-TEX® Certified
Each individual layer of the Emma Original Mattress complies with the OEKO-TEX® Standard 100 – Class 1 (Certificate Number: 16.0.93305). This certification assures that our product is free of harmful substances and is safe for babies and toddlers.
Cover Layer Material 
Top fabric

(99% Polyester / 1% Elastane) 

Side fabric

(100% Polyester) 

Bottom fabric

(87% Polyester / 13% Polypropylene) 

Handles

(x4) (100% Polyester) 
Specifications – Emma Mattress
Weight of mattress: 29 kgs (Queen Mattress)
Mattress Height: 25cm
Country of Origin : Germany
Meet the Emma Original Mattress. Meet the Emma Original Mattress. Combining pressure-relieving, supportive and eco-friendly breathable foams, this award-winning mattress with its 7 zones of support is everything you need to get the best night's sleep.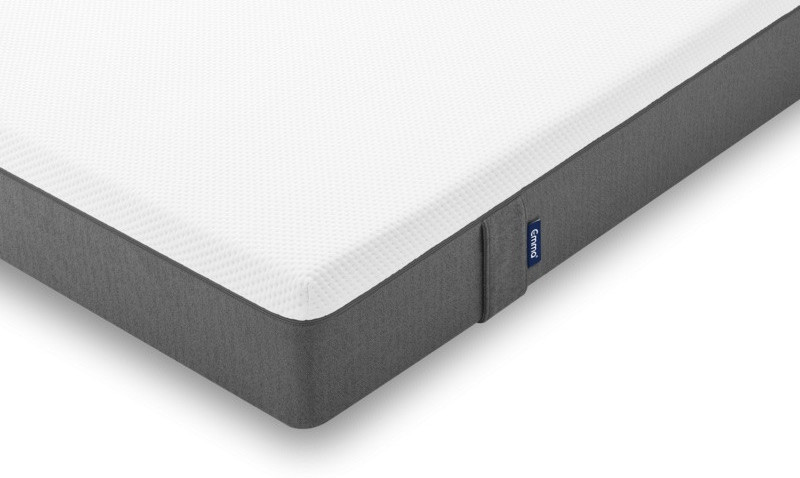 Emma Mattress – Simply perfect for sleep.
Our aim at Emma is to consistently create the best mattress for most body types at the most affordable price. We believe we have lifted the bar higher with improved body support and the latest technology in foam quality. We believe this mattress to be the best we have ever produced. Why not try it for yourself?
Body Support
This three-layered mattress core distributes pressure across the mattress evenly and adapts to your body contours. The expert zoning helps supports you in the areas you need it to and keeps your spine wonderfully aligned.
Pressure Relief
The innovative foam layers work together seamlessly to offer you pressure-relief in all the areas you need it. Thanks to the advanced motion isolation, you're also sure to sleep soundly – even if your partner is a lively sleeper.
Breathability
Our eco-friendly foam is made from natural materials that help you stay cool all night. This innovative layer wicks moisture away and prevents you from getting too hot. The high-quality cover also supports perfect air circulation.
Emma Mattress: 7 Zones of Support
Emma Mattress: Construction
Breathable, adaptive and eco-friendly foam

Pressure-relieving, 7 zone foam

Supportive point-elastic foam

All sizes have a depth of 25cm
Removable and washable top cover out of 99% polyester and 1% elastane. The side cover is made of 100% polyester. The bottom cover is made of 89% polyester and 11% polypropylene.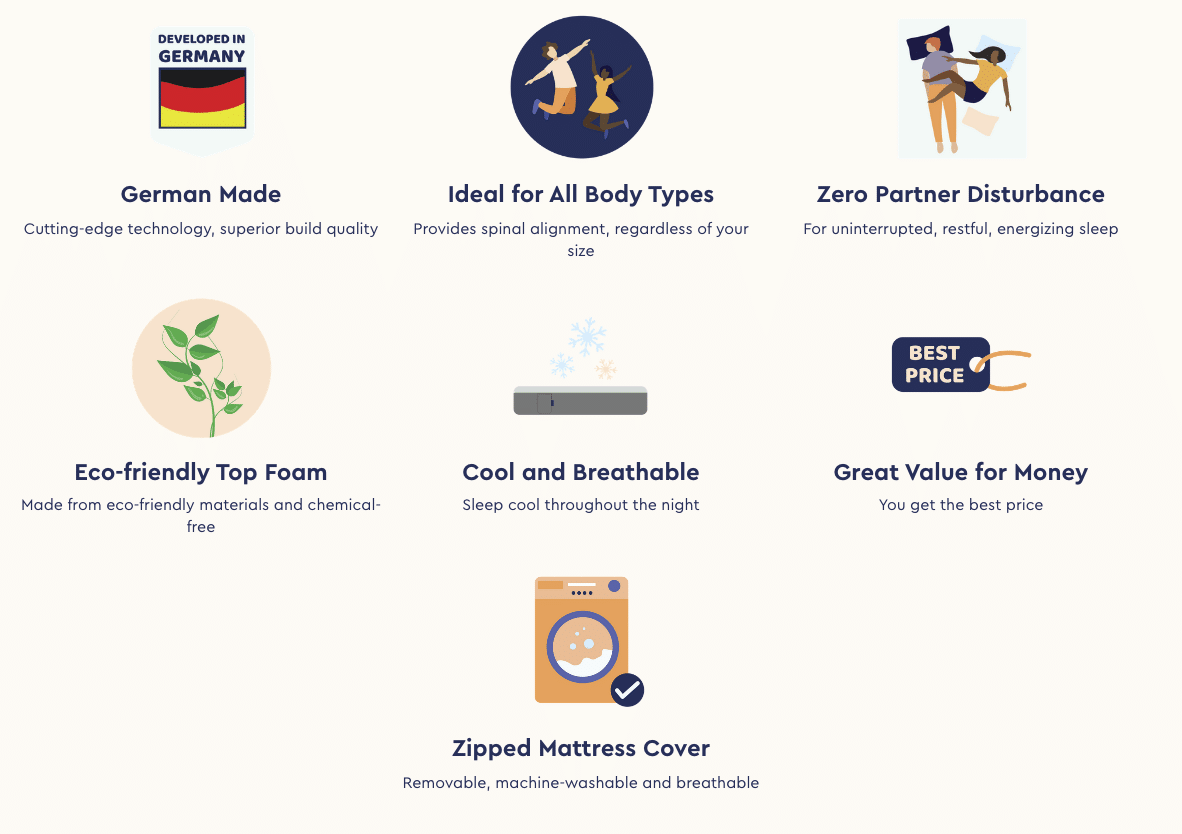 Good sleep doesn't need to be complicated
We want everyone to get the best night's sleep, that's why we're not just committed to giving you the best products. We've simplified the ordering process and are more than happy to offer you free delivery and returns.
Emma Mattress – 10 Year Warranty
Free Delivery & Returns
The Emma Mattress is suitable for an adjustable bed base but it is not recommended that the angle of the bed base is positioned more than 45 degrees.