Emma Diamond Hybrid Mattress Review
The Emma Diamond Hybrid Mattress forms the flagship model in Emma's mattress range. This collection also includes the Emma Original Mattress and the Emma Comfort.
The Emma Diamond Hybrid Mattress classifies as a true 'hybrid' mattress, meaning that it contains a combination of foam layers and springs in one cohesive unit (without a distinguishable pillow top).
Purchase and delivery
As with other bed in a box products, the Emma Diamond Hybrid Mattress can be conveniently ordered online through the Emma website. Delivery is free and your mattress will arrive at your door in a box (see delivery times in the 'Delivery' section further down). Our box arrived in excellent condition, thanks to some additional plastic wrapping around the box.
The Emma Diamond Hybrid Mattress was easy to remove from its packaging, however we still recommend having two people available to unpack a mattress in a box.
The mattress comes with a neat product booklet (in 6 languages) as well as a handy cutting tool. Unpacking the Emma Diamond Hybrid Mattress should only take 5-10 minutes, and we allowed it to decompress for 24 hours before testing.
You can see this mattress in more detail in Emma's information video here:

Aesthetically, the Emma Diamond Hybrid Mattress has a modern, futuristic look. It uses a white, grey, and green, colour theme with stylish lines and indentations. Its brand name embroidery also gives it a nice touch of class.
Comfort and support
The Emma Diamond Hybrid Mattress has a special 'climate-regulating' and elastic cover. This cover is removable and washable, making it easy to keep your bed clean. The zip mechanism is strong, making the cover easy to remove.
This cover sits over a layer of 'Diamond Degree® graphite foam' and a layer of adaptive foam. These layers feel foamy and dense, with a slight 'hardness' to them. Nevertheless, this comfort layer offers reasonable pressure relief, and body weight is absorbed evenly.
This mattress should suit all sleeping positions (side sleepers, back sleepers, and stomach sleepers) but understandably, its suitability will vary between individuals.
Based on our testing, our team rated it as a 'medium-firm feel' and an 7.5 / 10 on the firmness scale (with 10 being the firmest). Please note that our firmness ratings are just a guide and they do not necessarily relate to comfort. Furthermore, our firmness ratings are assigned based on Bedbuyer's testing process and these may differ from firmness ratings given by individual companies.
The main support structure of this mattress is a pocket spring system that uses individually encased steel springs. This spring unit offers good back support and should accommodate people of all sizes. It feels quite stable and partner disturbance is not significant.
It uses a special graphite infused foam that can help with temperature regulation.
The Emma Diamond Hybrid Mattress also contains a layer of 'HRX foam' at the base of the mattress. This is aimed at providing additional support and durability.
The Emma Diamond Hybrid Mattress responds nicely to normal sleep movements and we rated its level of responsiveness in the 'optimal' zone. In basic terms, this means that changing sleep positions (and intimate activities) shouldn't be any trouble.
The finer details
Like the Emma Original Mattress, the Emma Diamond Hybrid Mattress is noticeably light (32kgs, queen size). This makes the mattress easier to unpack, transport, and to change the bed sheets (which can be difficult with heavier mattresses).
As a comparison, other hybrid mattresses like the Onebed X Mattress (44 kgs) and the Zeek Hybrid Mattress (42kgs) are significantly heavier.
The Emma Diamond Hybrid Mattress has a solid 100 night trial period and a 10 year warranty. It is also worth mentioning that all foam layers in this mattress are certified as non-toxic by OEKO-TEX®, one of the worlds leading authorities in foam testing.
What bed base should I use?
As with most mattresses, we recommend the Emma Diamond Hybrid Mattress to be used with a solid bed frame (such as the Sleep Republic Pro Base), or a solid ensemble base (with the slats no longer than 8 cm apart).
A bed frame (with flexible slats) may still be adequate, but again, we strongly recommend that the distance between each slat is less than 8 cm. Use of an unsupportive mattress foundation will usually void the mattress warranty.
Furthermore, we do not recommend the Emma Diamond Hybrid Mattress to be used with an adjustable (electric) bed base as this may also void the warranty. Here is our full list of mattresses that are compatible with an adjustable bed base.
It's worth noting here that mattress firmness, performance, and durability will vary with different bed bases.
Available sizes
This mattress is available in 5 sizes (king, queen, double, king single, and single size) so it should accommodate most sleeping situations. Here are Australia's standard bed (mattress) sizes in 2021.
Final verdict
The Emma Diamond Hybrid Mattress is a respectable mattress that offers good value. It provides good back support, and its graphite infused foam layer may help those who struggle with heat during sleep.

Bedbuyer's rating:  4.2 / 5
Here are our ratings for each category:
| | |
| --- | --- |
| Comfort | |
| Spinal Support | |
| Build Quality | |
| Partner Disturbance | |
| Value for Money | |
Did you know? Bedbuyer recently announced Australia's Top 12 Mattress in a Box in 2021.
If you have any questions about this mattress, comment below or please contact us.
*Click SHOP NOW and use code BEDBUYER5 at checkout to get a further 5% off. If you have any questions about this discount, comment below or please contact us.
---
In a nutshell 🥜
Medium-firm feel

Graphite foam to reduce heat

Good value

100 night free trial

Click SHOP NOW and use code BEDBUYER5 to get a further 5% off!
---
Recommended Retail Prices
King Mattress: $2,399
Queen Mattress: $2,099
Double Mattress: $1,899
King Single Mattress: $1,699
Single Mattress: $1,499
Special Bedbuyer Prices*
King Mattress: $1,253.47
Queen Mattress: $1,096.72
Double Mattress: $992.22
King Single Mattress: $887.72
Single Mattress: $783.22
*Once Bedbuyer discount code is applied. Click SHOP NOW and use code BEDBUYER5 at checkout. If you have any questions about this discount, comment below or please contact us.
---
Trial Period
100 nights
Warranty
10 years
Delivery
Free delivery
Delivery takes 1-3 business days for metro areas. Estimated time of delivery for outside metro areas usually take 5-10 business days but may depend on your shipping area.
Delivery estimates are subject to the availability of stock.
Due to COVID restrictions, delivery time vary vary on what is posted. Please consult our delivery notice for more information
Certifications – Emma Diamond Hybrid Mattress
Class 1 – OEKO-TEX® Certified
Each individual layer of the Emma Diamond Hybrid Mattress complies with the OEKO-TEX® Standard 100 – Class 1 (Certificate Number: 16.0.93305). This certification assures that our product is free of harmful substances and is safe for babies and toddlers.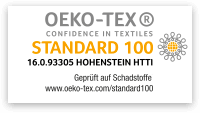 Cover Layer Material 
Top fabric

(99% Polyester / 1% Elastane) 

Side fabric

(100% Polyester) 

Bottom fabric

(87% Polyester / 13% Polypropylene) 

Handles

(x4) (100% Polyester) 
Specifications – Emma Diamond Hybrid Mattress
Take your sleep to the next level with the Emma Diamond Hybrid.
This mattress has all the needed features to give you the sleep you deserve. Our multi-layer HRX support foam will provide 3 zone back support for optimal cushioning and support. Our individual encased spring layers offer motion isolation while also giving superior durability. Finally, our Diamond Degree® Graphite foam is optimised to take away excess heat, making sure your temperature is ideal for a full night's sleep.
Weight of mattress: 32 kgs (Queen Mattress)
Mattress Height: 25 cm
Country of Origin : Germany
Climate-regulating and elastic cover
The top of the cover is made of 99% polyester and 1% elastane, the bottom is made of 100% polyester, and the base is made of 87% polyester and 13% polypropylene.
Diamond Degree® graphite foam
---
An innovative mattress for better sleep
The latest innovation from Emma's Research and Development team. The deep sleep phase is one of the most important areas in our sleep research. Facilitating faster, cooler, longer, and deeper sleep is the promise of Emma's Diamond Hybrid.
Perfect body support
A hybrid mattress without compromise: the Diamond Hybrid mattress completely moulds to your body, thanks to its adaptive comfort foam and pocket spring construction.
Optimised deep sleep
The excellent cooling and heat dissipation properties of the Diamond Hybrid mattress helps your body maintain the ideal sleeping temperature, enabling you to sleep longer in the deep sleep phase and feel more well rested when waking up.
Revolutionary technology
The innovative Diamond Degree® foam infused with diamond and graphite particles quickly dissipates excess heat, thus achieving the ideal sleeping temperature in record time and helping you fall sleep faster.