Zeek Hybrid Mattress Review
The Zeek Hybrid Mattress was awarded Australia's 'Best Hybrid' Mattress in a Box in 2023. It is a 'true hybrid' mattress, meaning that it contains foams and springs in one cohesive unit (without a distinguishable pillow top).
The Zeek Hybrid Mattress forms part of the Zeek mattress range that also includes, the Zeek Original Mattress and the Zeek Bunk Mattress.
Purchase and delivery
As with other mattress in a box options, the Zeek Hybrid Mattress can be conveniently ordered online through the Zeek website, and it will arrive at your door in a box (see delivery times in our 'Delivery' section further down).
Delivery is free, and as usual, we recommend having two people available to unpack this mattress from its box. You can see this mattress 'closer up' in Zeek's product video here:
Visually, the Zeek Hybrid Mattress presents nicely with a clean, stylish look. It uses a grey and white colour theme, along with aqua coloured piping. The Zeek brand label and hexagonal design (on the top cover) give it a touch of sophistication.
Comfort and support
The Zeek Hybrid Mattress has a Tencel fabric cover that is designed for ventilation and temperature regulation. This cover sits over a layer of 'air foam' and gel memory foam.
These foam layers have oodles of comfort, and absorb bodyweight beautifully. Despite the generous level of pressure relief, there is no undesirable sinking or dipping.
The mattress should suit side sleepers well, but it should also accommodate back sleepers and stomach sleepers. Understandably though, this suitability will vary between individuals.
Based on our testing, our team rated it as a 'medium' feel and an 5 / 10 on the firmness scale (with 10 being the firmest). Please note that our firmness ratings are just a guide and they do not necessarily relate to comfort. Furthermore, our firmness ratings are assigned based on Bedbuyer's testing process and these may differ from firmness ratings given by individual companies.

The main support structure of this mattress consists of a pocket spring system and a high density base foam. These components offer good back support and should accommodate people of most sizes. The spring unit feels well balanced, stable, and partner disturbance is minimal.
A comfortable mattress that offers great value.
The Zeek Hybrid Mattress responds nicely to normal sleep movements and we rated its level of responsiveness in the 'optimal' zone. In simple terms, this means that changing sleep positions (and intimate activities) shouldn't be any trouble.

Please note that our responsiveness scales are just a guide and preferred responsiveness levels will vary between individuals. It's worth noting also that innerspring mattresses are generally more responsive than foam mattresses.
The finer details
Overall build quality of the Zeek Hybrid Mattress is very good. The mattress itself is relatively light, and should be easy to carry if necessary. The edges are soft, but this relates to its suitability on an adjustable bed base (discussed below).

The Zeek Hybrid Mattress is certified as non-toxic by CertiPUR-US®, one of the world's leading authorities in foam and fabric testing. It also offers a solid 100 night trial period and a 10 year warranty.
What bed base should I use?
As with most mattresses, we recommend the Zeek Hybrid Mattress to be used with a solid bed frame (such as the Sleep Republic Pro Base), or a solid ensemble base (with the slats no longer than 8 cm apart).
A bed frame (with flexible slats) may still be adequate, but again, we strongly recommend that the distance between each slat is less than 8 cm. Use of an unsupportive mattress foundation will usually void the mattress warranty.
The Zeek Hybrid Mattress is compatible with an adjustable (electric) bed base. With only a small number of bed in a box products with this compatibility, this is an appealing feature for those who love the versatility of an adjustable bed. Here is our full list of mattresses that are compatible with an adjustable bed base.
It's worth noting here that mattress firmness, performance, and durability will vary with different bed bases.
Available sizes
This mattress is available in 6 sizes (king, queen, double, king single, long single, and single size) so it should accommodate most sleeping situations.
Here are Australia's standard bed (mattress) sizes in 2023.
Final verdict
The Zeek Hybrid Mattress is a great mattress, and is well balanced with comfort and support. It is well made, and is compatible with an adjustable bed base. It also comes with a handy 100 night trial period.
Bedbuyer's rating:  4.5 / 5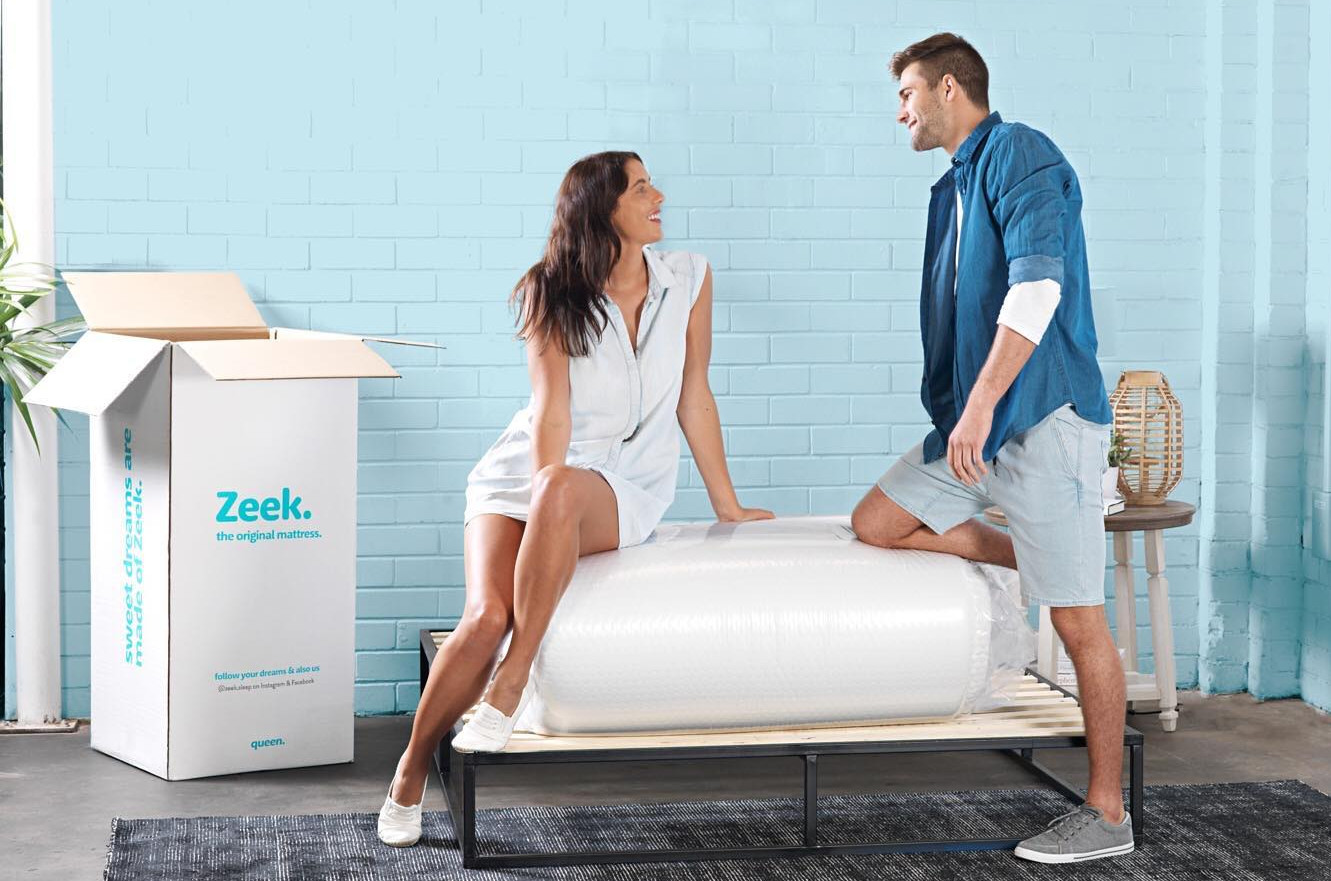 Here are our ratings for each category:
| | |
| --- | --- |
| Comfort | |
| Spinal Support | |
| Build Quality | |
| Partner Disturbance | |
| Value for Money | |
Did you know? The Zeek Hybrid Mattress made it into Australia's Top 12 Mattress in a Box in 2023!
If you have any questions about this mattress, leave a comment below and we'll respond shortly!
*Click SHOP NOW and your 30% discount will be automatically applied at checkout.
---
In a nutshell 🥜
Awarded Australia's 'Best Hybrid' Mattress in a Box in 2023

Great value

Adjustable base compatible

100 night free trial

Click SHOP NOW and your 30% discount will be automatically applied!
---
Retail Prices
King Mattress: $1,299
Queen Mattress: $1,099
Double Mattress: $999
King Single Mattress: $899
Long Single Mattress: $799
Single Mattress: $749
Bedbuyer Prices*
King Mattress: $909.30
Queen Mattress: $769.30
Double Mattress: $699.30
King Single Mattress: $629.30
Long Single Mattress: $559.30
Single Mattress: $524.30
* To claim this price, click SHOP NOW.
---
Trial Period
100 nights
Buy the Zeek Hybrid Mattress online and try it for 100 nights. If you're not in love with your Zeek mattress, we'll give you a full refund! For metro and regional cities, we could even come and collect it for free. For more information, click here.
Warranty
10 years
Delivery
All Zeek items will be dispatched within 48 hours of the order placed. Orders placed on a weekend or public holiday will dispatch the next business day. Delivery time varies between 5-7 working days depending on location. Rural deliveries may be slightly longer.
Depending on your location, your Zeek Hybrid Mattress can be collected from any ComfortStyle store in Western Australia. You will need to contact your closest store to arrange this.
Certifications – Zeek Hybrid Mattress
CertiPUR-US® Certified
Zeek is free from Ozone depleters, PBDE flame retardants, heavy metals, formaldehyde, phthalates and Volatile Organic Compounds.
Antibacterial and anti-dust mite treated.
Specifications – Zeek Hybrid Mattress
Height : 25cm
Weight : 42kg
Soft Tencel Cover
We use a Tencel fabric cover that magically keeps you cool in summer & warm in winter! Our Tencel is fully breathable, supports regular body temperature and is suitable for sensitive skin!
Air Foam
This fancy foam has advanced temperature regulation properties which means it not only keeps you cool and comfy all night long, it keeps you at an ideal sleep temperature! Woo Hoo!
Gel Memory Foam
Using the same tech used in high-end sports equipment, our gel memory foam cradles your pressure points to help relieve aches and pains and regulate your body heat to keep you cool!
16cm Pocket Springs
Deep within this mattress are hundreds of individually wrapped coils designed to contour perfectly to your body. Pocket springs also ensure minimal motion transfer which is ideal for co-sleepers.
High Density Base
A open cell foam core foundation provides added strength, durability, and structure to your mattress. This means your mattress will feel brand new for longer and won't even consider sagging.
Great things come in boxes juuust about this size.  
Welcome to the future: where mattresses aren't a big bulky pain to lug up into the bedroom anymore! Our mattresses all come compressed in a handy box that is easy to transport, easy to set up, and protective of your new purchase inside!
Low allergy, low irritant, no nasties, no harsh chemicals, none of that!  
You can sleep soundly knowing all Zeek products have been carefully and intentionally designed to be as clean and safe as humanly possible! All our mattresses are CertiPUR-US approved which means we use no harsh 'ingredients' or filler products, we only include everything that makes a mattress comfy and supportive and durable.
Pocket springs AND foam. The dream team.  
Many mattresses in a box only contain foam – and don't get us wrong, foam-only mattresses are incredible! But our Hybrid mattress pairs both foam AND pocket springs to create an extra layer of support, cushion, and all-round comfort.
Stay cool in summer, warm in winter, and comfy all year round.  
This mattress has been specially designed to keep you cool during those sweaty Aussie summers. Using a very fancy foam called Air Foam and natural tencel to cover the mattress, these two materials work in tandem to naturally absorbs heat and cools it down. Now that's super cool.
---
Care instructions
In the event of spills or stains, spot clean the area of your Zeek Hybrid Mattress with warm soapy water and a damp cloth. Avoid dry-cleaning fluids as these can damage the unit.
If your mattress is listed as "No-flip" then there is no need to flip your mattress. If it is not given this label, we recommend flipping your mattress on a monthly basis to extend its lifespan.
Do not smoke in bed or expose your mattress to any open flames. Do not bend, fold, or stand your mattress as this can permanently damage spring systems.
Body impressions over time are normal on the Zeek Hybrid Mattress as your mattress contours to your body shape.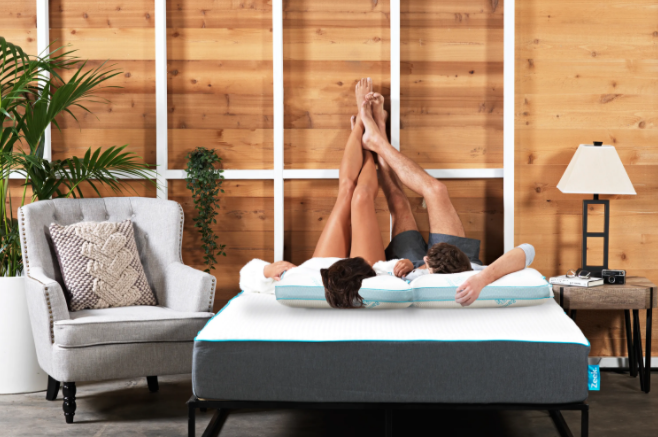 Finance Options
4 fortnight interest free payments.
6 month interest free payments.