Naptime 2.0 Mattress Review
The Naptime 2.0 Mattress is a great mattress that offers excellent value. It classifies as is a true 'hybrid' mattress, meaning that it contains the combination of foam layers and springs in one cohesive unit.
The Naptime 2.0 Mattress forms the flagship model in Naptime's mattress range that also includes the entry level iNap Mattress, and the mid range Naptime Mattress.
Purchase and delivery
The Naptime 2.0 Mattress can be conveniently ordered online through the Naptime website. Delivery is free and the mattress can be delivered Australia-wide (see prices below). Naptime has an efficient delivery service and most deliveries will arrive within 7 business days (see delivery times also below).
It's 15-year warranty is one of the best on the market.
The mattress was easy to remove from its packaging, but we would recommend having two people available to unpack this mattress. At 38kgs (Queen size), it is relatively light for a spring mattress as it is not unusual for spring mattresses to weigh over 50kgs.
We allowed 24 hours for the mattress to fully decompress before we conducted our testing. To see this mattress in 'real life', see our video review below:
Comfort and support
The Naptime 2.0 Mattress has a distinct 'clean' and modern look. The outer cover comprises of a premium quality TENCEL™ knit cover that feels smooth and durable. This cover sits over several comfort layers that include an 'open-cell' Transition® foam, gel-infused memory foam, natural latex, and transition® foam layers.
Its 15-year warranty is one of the best on the market.
This top comfort layer feels lovely in all sleeping positions and absorbs body weight evenly. Based on our testing, our team rated it as a 'medium' feel and a 6 / 10 on the firmness scale (with 10 being the firmest). Please note that our firmness ratings are just a guide and they do not necessarily relate to comfort.

The main support structure of the Naptime 2.0 Mattress comprises of a 5 zone pocket spring system. This feels solid and responsive and provides excellent spinal support. It has an impressive 420kgs weight capacity, so it should accommodate people of all sizes.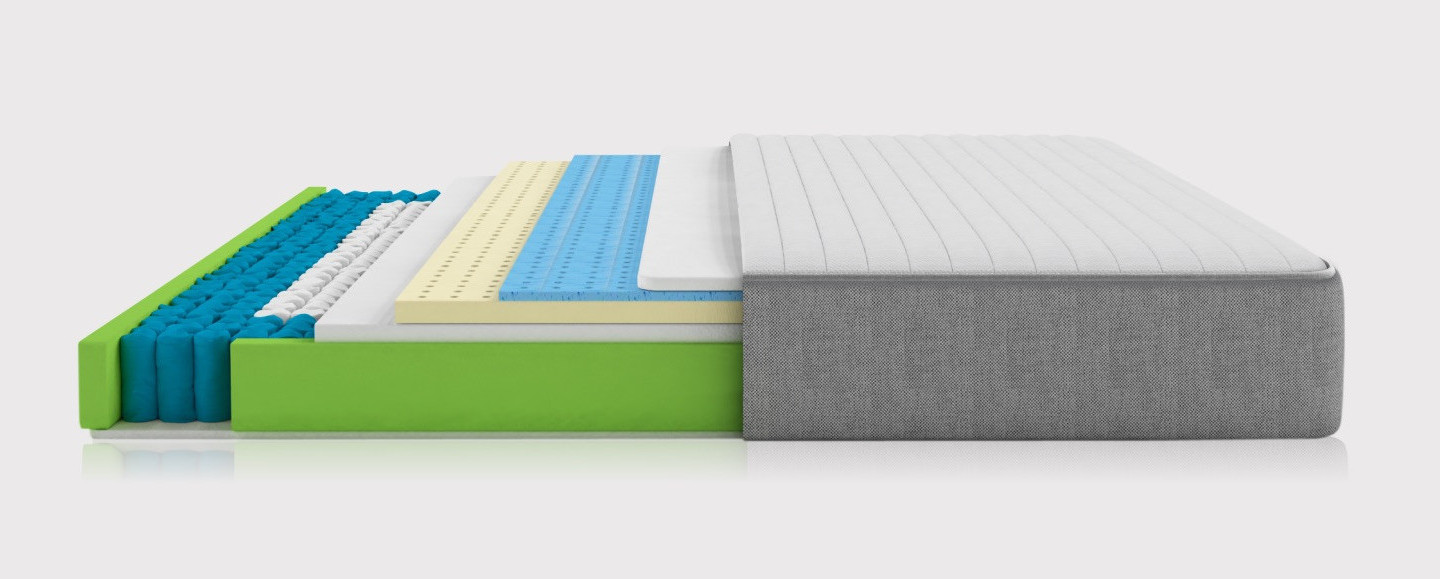 The finer details
The Naptime 2.0 Mattress is well made and based on our inspection, appears very durable. One example of this quality construction is the layer of foam around the sides of the mattress. Naptime gives this a fancy name – the 'i-core edge-to-edge foam encasement'. This is always a a good indicator of mattress quality and refinement, as you can 'feel the springs' through the sides of most cheap mattresses.
Partner disturbance is minimal on this mattress, so a restless partner shouldn't cause any major issues. Edge support is also sound, thanks to the special foam encasement mentioned earlier.

It is also worth noting that this mattress is well certified as non-toxic, having attained the CertiPUR-US® and OEKO-TEX® Standard 100 certifications which are among the world's leading authorities in foam and fabric testing.
Available sizes
The Naptime 2.0 Mattress is available in 3 sizes (king, queen, and double) so it should accommodate most adult sleep situations. Here are Australia's standard bed (mattress) sizes in 2020.
Final verdict
The Naptime 2.0 Mattress is a lovely mattress that offers very good value. It is comfortable, supportive, and its 15-year warranty is one of the best on the market.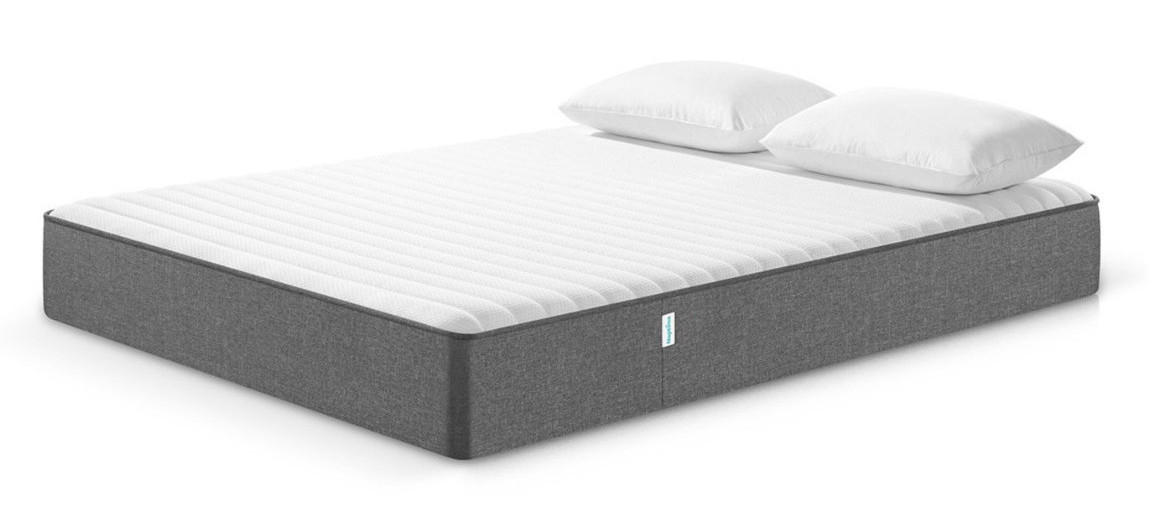 Here are our ratings for each category:
| | |
| --- | --- |
| Comfort | |
| Spinal Support | |
| Build Quality | |
| Partner Disturbance | |
| Value for Money | |
If you have any questions about this mattress, comment below or please contact us!
Did you know? The Naptime 2.0 Mattress made it into Australia's Top 10 Mattress in a Box in 2020.
Click SHOP NOW and use code BED-BUYER at checkout to claim your 10% off. If you have any questions about this discount, please contact us.
---
In a nutshell 🥜
Australia's 'Best Hybrid' Mattress in a Box 2020

Comfortable and supportive

Great value

5 zone pocket springs

Click SHOP NOW and use code BED-BUYER at checkout to claim 10% off!
---
Recommended Retail Prices
King Mattress: $999
Queen Mattress: $899
Double Mattress: $799
Special Bedbuyer Prices*
King Mattress: $899.10
Queen Mattress: $809.10
Double Mattress: $719.10
*Once Bedbuyer discount code is applied. Click SHOP NOW and use code BED-BUYER at checkout to claim your 10% off. If you have any questions about this discount, please contact us.
---
Warranty
15 years
Delivery Times
Free delivery Australia wide.
Aus-wide Metro
We are proud to offer same/next day dispatch totally FREE! Yep, free! on all Naptime orders. Under normal circumstances, delivery times average within 1-7 business days. Order your mattress before 3 pm on a weekday and it will dispatch our warehouse the very same day. No need to worry about missing our drivers or waiting around, we have authority to leave on all items and will send you live tracking information via email. For more information please contact us.
Aus-wide non-metro
For those dreamers outside of metro areas, delivery is also completely FREE. Delivery times are usually average 4-12 business days. We use an express overnight service nationally to deliver our products and don't worry, you too will receive tracking information so you can track the journey of your order. For more information please contact us.
Outside area's
Please contact us for far rural or area's outside standard delivery zones. We handle every enquiry/sale with the highest priority to make sure we see no delays.
*Please note: During peak season (November – January) deliveries may be delayed.
Certifications – Naptime 2.0 Mattress
CertiPUR-US® Certified
The i-core Transition foam layers provide breathability, contouring, and optimal support. Did you know? We are CertiPUR-US® certified and manufacture no nasties here.
OEKO-TEX® Standard 100 Certified
Our STANDARD 100 by OEKO-TEX® certified cover is breathable, flexible and durable all in one.
Specifications – Naptime 2.0 Mattress
Weight (Queen) :  38kg
Height : 28.5cm
Maximum Weight Limit : 420kg (Queen mattress)
Spring count: 1080 (Queen mattress)
Coil gauge : 1.8mm to 2.3mm on the edges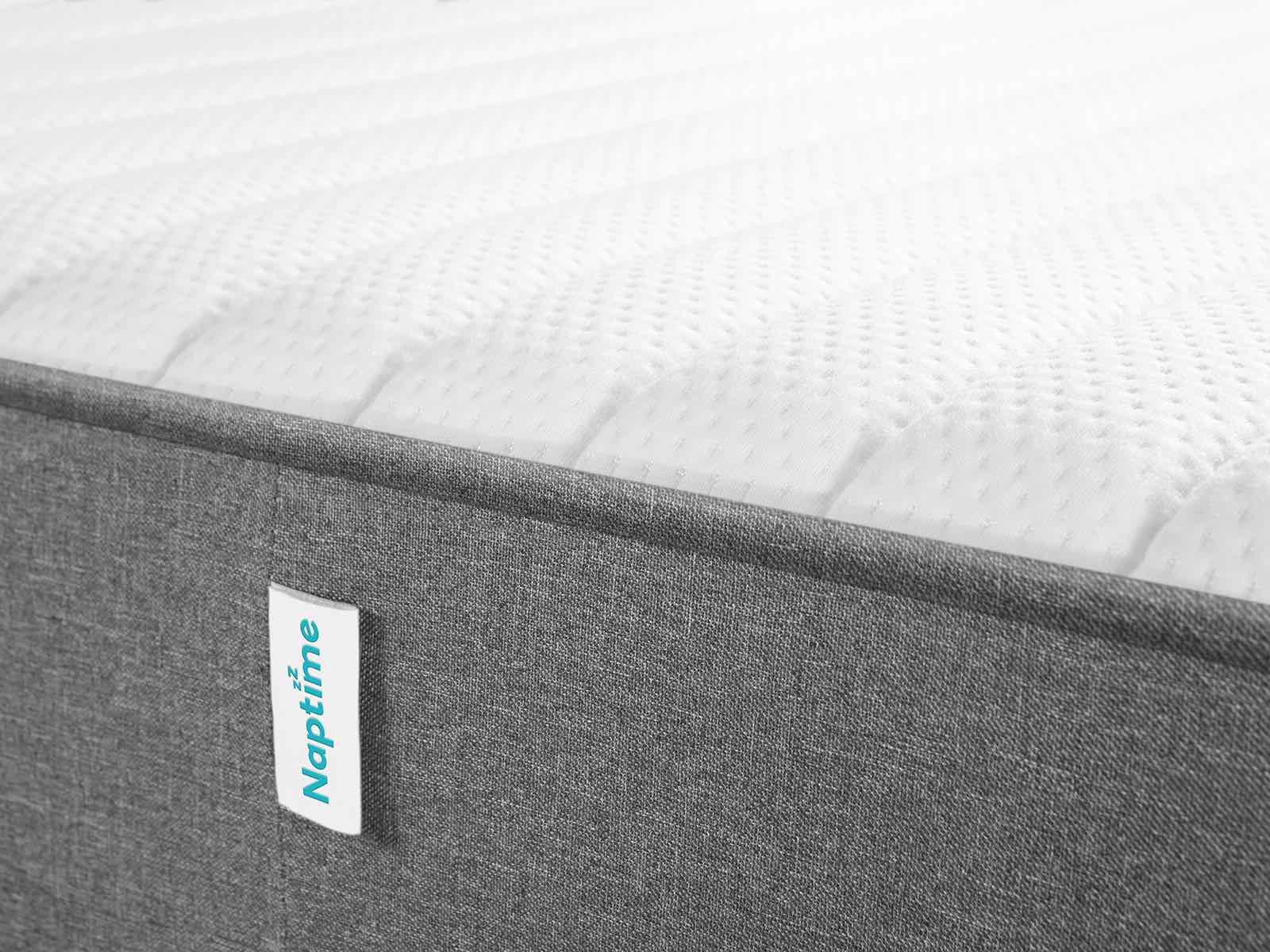 Our most advanced Hybrid mattress. Enjoy the best of both worlds.
Enjoy Tencel knitted fabric, hybrid gel infused memory foam & natural latex all supported with our foam encased 5 zone pocket coil system.
We made the best. Then made it better.
Our Naptime the original universally a comfortable and highly awarded mattress that changed the way Australian's shopped and slept. Naptime 2.0 now pushes the boundaries with everything that makes the original great, but with exciting new features.
Its whats inside that matters.
Our mattress was designed to provide you consistent support from edge to edge throughout the night, no matter your body type or sleeping style. The Naptime 2.0 mattress uses premium foam technology and individually-wrapped 5 zone pocket coils to adapt to every curve of your body.
Cool in the summer and cozy in the winter. Our Hybrid technology supports and combines the latest support foams that balance the body rather than surrounding and engulfing you. We've created a mattress built for dream makers and Naptimers.
Not just your ordinary mattress…
Starting with its lavish looks and its superior comfort, the Naptime 2.0 is not just your ordinary mattress. Designed for all types of sleepers, the support layer of 1,080 individually-wrapped pocket coils minimizes motion transfer for you and your partner.
Spring + Foam, best of both worlds.
The multi-zoned pocket coil system takes your sleep to a whole new level, featuring a 5-Zone edge-to-edge support coil system that divides the mattress into five sections providing individual support levels in specific, well-known areas to promote natural spinal alignment and extra lumbar support while giving you exceptional edge support while sitting or laying down.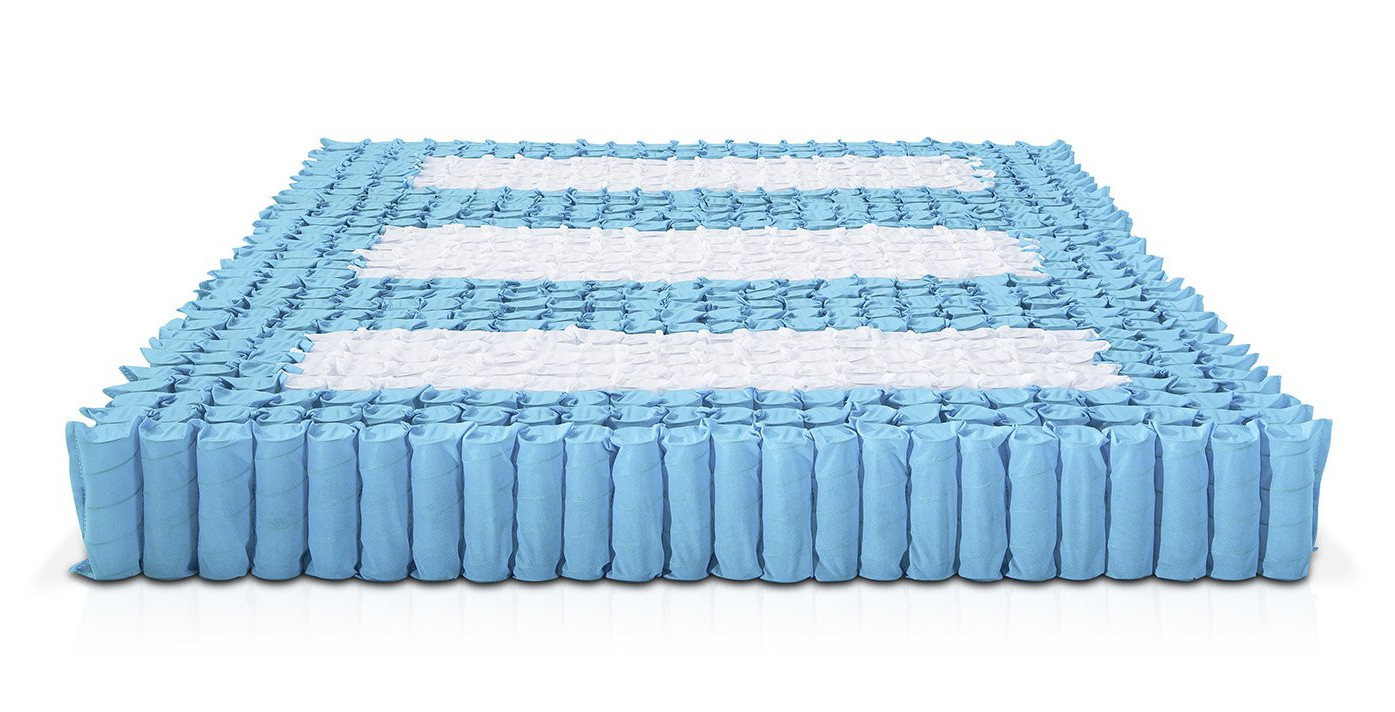 What's inside
– 320gsm TENCEL™ knit cover
– Breathable open-cell Transition® foam
– High-density gel-infused memory foam
– Hypo-allergenic natural latex
– Durable i-core Transition® foam layers
– 5 Zone Pocketed Coil System
– i-core Edge-to-Edge foam encasement
Cover – 380gsm matrix-grey zipped linen-weave cover
Naptime warranty
Your Naptime Mattress is covered by our trusted 15 Year Warranty. Our mattresses are designed and built to last, as we proudly stand behind this as proof of our confidence in the product.
Mattress care
So simply when you sleep, you sweat. In fact, some people can lose as much as 200 grams of water every night! Your mattress soaks up this moisture every night and, over time, can attract those unwanted nasties. Within a few years, or even months, your new mattress may have soaked up litres and litres of sweat and may be home to millions of dust mites. Unfortunately, we can't pop our mattress into the washing machine. But, fortunately, we can wash a mattress protector. So it's a good idea to put a mattress protector on your brand new Naptime.
Mattress support
If you've just bought a new Naptime mattress the last thing you should do is place it on a saggy, broken-down bed frame. Not only could it be bad for your mattress, it may be bad for your comfort. A solid bed base will make your Naptime last longer and feel more comfortable for years ahead.
Superior finish
Not only does it feel good but it looks good too! The Naptime 2.0 Mattress is finished with high quality eco-knit fabric, giving the product the perfect final touch.
Temperature control
Cool in the Summer and cosy in the Winter. Our mattress has memory foam technology supports the body rather than surrounding and engulfing you. The finishing eco-knit layer also allows for breathability.
Responsive technology
The Naptime 2.0 Mattress bounces back faster than you can say lights out! Forget the saggy body groove that you make during the night, the Naptime bounce back technology keeps you on the mattress, not in it.
Please note: We don't generally recommend mattress in a box products to go on an 'adjustable base' (a base that can be angled via a remote control). If a mattress in a box product is placed on an adjustable base, it is recommended that a person/s be lying on the mattress (and base) whilst making positional adjustments. We generally recommend a mattress in a box product to go on a solid ensemble base, or a slat base. If you have any queries about bed bases, please contact us.
Finance Options
4 fortnight interest free payments.