Sherman Mattress 'Full Body Hug' Review
The Sherman Mattress ('Full Body Hug' version) is an excellent mattress and was awarded Australia's 'Best Value' Mattress in 2020. Not surprisingly, our expert team considers this mattress as one of the best options on the Australian market.
The Sherman Mattress (Full Body Hug) forms the 'plush' feel version of the Sherman mattress range, that also includes a firm (Firm but Fair) and a medium (Just Perfect) version.
All Sherman mattresses can be conveniently ordered online through the Sherman website. Delivery is free and can be delivered to most places in Australia (check delivery range here). Sherman has an excellent delivery service, and is very accommodating with days and times that suit the customer (see mattress prices and delivery times below). You can see this mattress in 'real life' in our video review here:
*Please note: the information in this video was current at the time of filming. Sherman still offers a free woven cloth storage bag (with each mattress purchase), but no longer issues a free mattress protector.
Unlike most mattresses that can be purchased online, the Sherman Mattress (Full Body Hug) doesn't come compressed in a box, so you wont need to wait for it to 'decompress' before sleeping on it. Sherman has a special 'white glove' delivery service where your mattress will be placed carefully into your home, even if you have several flights of stairs (please note, Melbourne metro suburbs – 'non-contact' delivery only, see full details below).
An outstanding softer feel mattress that offers incredible value.
On first appearance, the Sherman Mattress (Full Body Hug) has a distinct modern, elegant style. As with all Sherman mattresses, the top cover is made from a mix of cotton and polyester. This layer feels soft and smooth, and gives the mattress a luxurious vibe.
This cover sits over a comfort layer that includes memory foam, convoluted foam, and a soft premium foam. These comfort layers provide plenty of softness and pressure relief, and absorb body weight beautifully. Even though it is a soft feel, we didn't detect any undesirable 'sinking'. Our team rated it as a 'medium-plush' feel and a 4.5 / 10 on the firmness scale (with 10 being the firmest):

All Sherman mattresses use a robust pocket spring system that offers excellent support, and should accomodate people of all sizes. This support system also has a nice level of responsiveness, and is noticeably easy to change sleeping positions.
All Sherman Mattresses have a high level of craftsmanship and refinement. Edge support is sound and partner disturbance is minimal. Sherman also offers a 100 night trial period so you have the ultimate in peace of mind when you buy. It's also worth noting that Sherman mattresses are free of any toxic chemicals and use certified foams.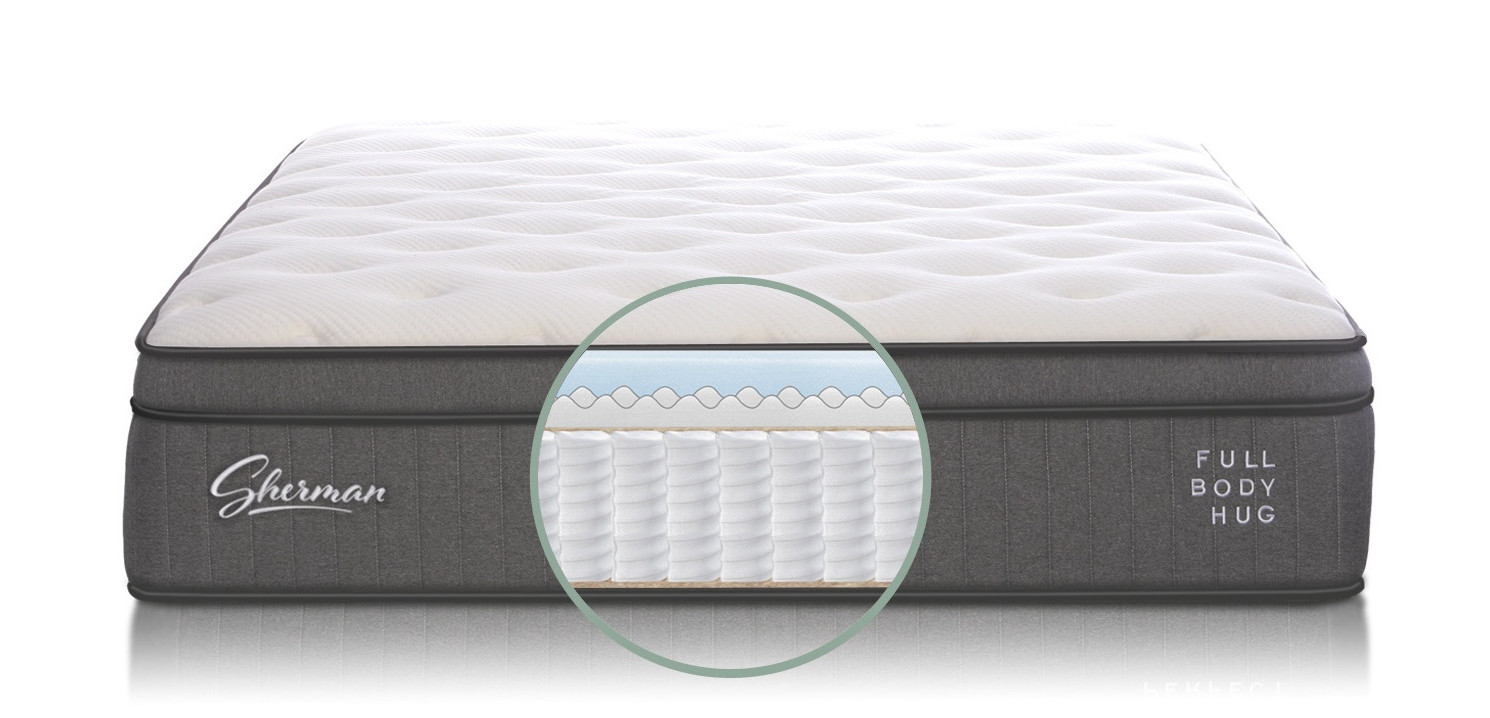 The Sherman Mattress (Full Body Hug) is available in 2 sizes (king and queen) so it should suit most adult sleeping situations. Here are Australia's standard bed (mattress) sizes in 2020. This mattress also comes with a free woven cloth storage bag, perfect for future storage or transport.
Final verdict
The Sherman Mattress (Full Body Hug) is lovely softer feel mattress that offers incredible value. It easily compares to many retail store mattresses double its price, and is well-backed with a 100 night trial period. To see all 3 options in this mattress range, click here.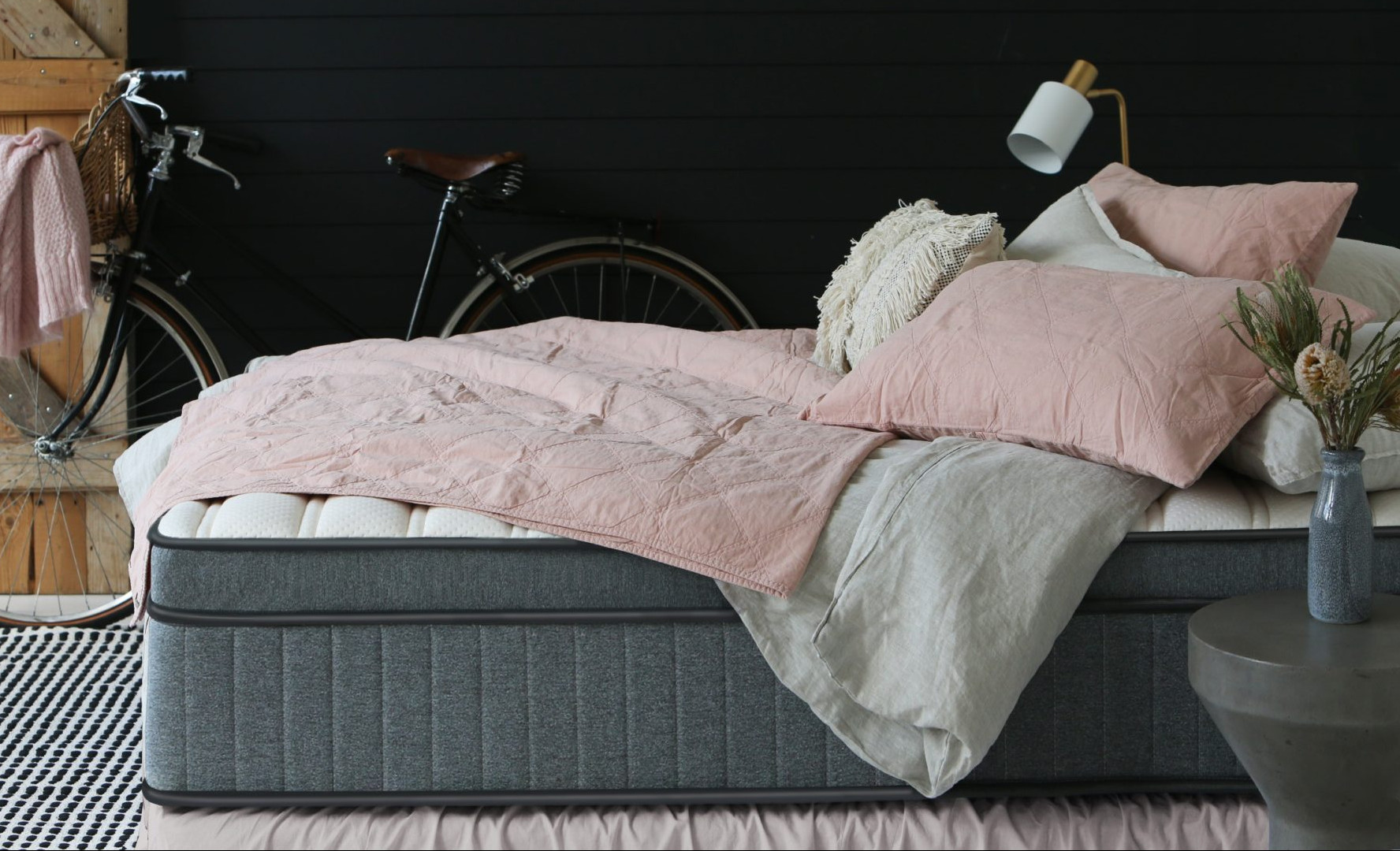 Here are our ratings for each category:
| | |
| --- | --- |
| Comfort | |
| Spinal Support | |
| Build Quality | |
| Partner Disturbance | |
| Value for Money | |
Did you know? The Sherman Mattress range made it into Australia's Top 10 Mattresses in 2020!
If you have any questions about this mattress, leave a comment below or don't hesitate to contact us!
---
In a nutshell 🥜
Australia's 'Best Value' Mattress Award 2020

Delivery to NSW, VIC, ACT, QLD and SA (check your postcode here)

Medium – plush feel

100 night free trial
---
Recommended Retail Prices
King Mattress: $1399

Queen Mattress: $1299
---
Trial Period
100 nights
Your 100 night trial awaits, test your Sherman Mattress without risk. We're not going to trick you into buying a mattress that might not be right for you. Return your Sherman mattress and get your money back (or replacement if you prefer), no strings attached.
Warranty
10 years
Showroom Location
2/663 Victoria St, Abbotsford VIC
Open from Tuesday – Sunday, 10am – 4pm
Delivery Times
Click here to see Sherman's delivery range and estimated delivery times to your suburb.
Currently, Sherman is delivering into metro suburbs around Brisbane, Sydney, Melbourne & Adelaide as well as many regional centres along the East coast, from Hervey Bay in QLD down to Warrnambool in VIC. Once you've placed your order for delivery to these areas, we'll contact you (during normal business hours) to arrange your delivery. We try our best to deliver within 5 working days of receiving your order,
Your purchase includes free delivery and installation. Our team will bring the mattress into any room in your home, set up completely and remove any rubbish. At this time, in order minimise our delivery staff's exposure to anything that may compromise their health, we are not able to remove old mattresses. We're hoping to reinstate this service again soon and apologise for any inconvenience that may cause.
However, if you would like a Non-contact delivery, please let us know at any stage (even when our delivery staff arrive). Our team can deliver the mattress to your home and leave in a secure area outside and will call you from outside of your home to let you know that the mattress is there.
UPDATE Melbourne metro suburbs – 'Non-contact' delivery only: Whilst Melbourne suburbs are under Stage 4 restrictions, we're not able to install the mattress in your home but we can deliver to your door. Please contact us 1300 982 325 or hello@sherman.com.au before you place your order if you are unsure, and see our 'Non-contact' terms and conditions here.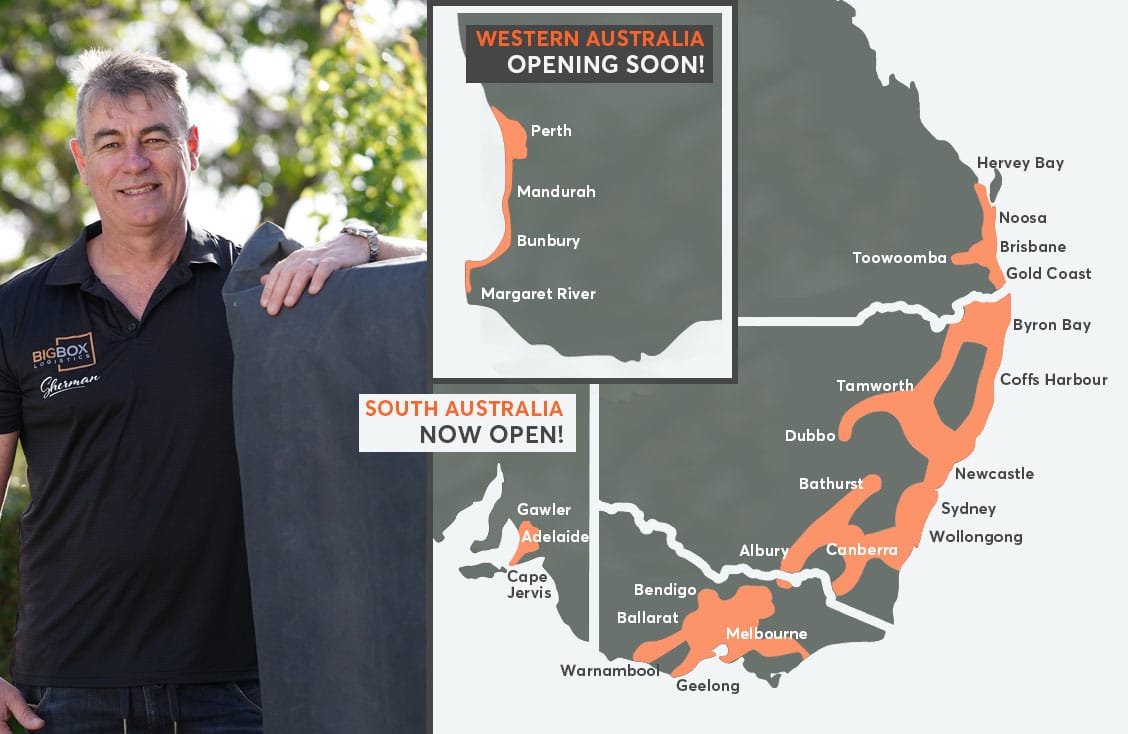 We've recently expanded to offer a much larger delivery area throughout Qld, NSW, ACT , VIC & South Australia. We're now able to deliver along the East Coast as far north as Hervey Bay, all the way down (and beyond) to Geelong and Adelaide . We can also deliver to some major regional areas such as Toowoomba, Tamworth, Dubbo, Albury/Wodonga, Ballarat, Bendigo and Warnambool. Click the links below to see if your postcode is part of our free delivery area, and to see approximately how long your delivery will take.
Certifications – Sherman Mattress
CertiPUR-US® Certified
The Leading International Standard for Foam Materials
Your Sherman Mattress is tested by independent U.S. laboratories to guarantee our high-grade foam layers are durable and made without any harmful chemicals. Sherman Australia is listed on the CertiPUR-US consumer directory, linked here.
Specifications – Sherman Mattress
Weight: 35kgs (Queen mattress)
Height: 30cm
Total maximum weight limit: 260kg (Queen mattress)
Spring count: 720 (Queen mattress), 840 (King mattress) tempered steel coils.
Wire gauge: top coils 1.8mm, central coils 1.9mm, end coils 1.8mm. Two perimeter rows of 2.3mm gauge coils and dual perimeter support frames 0.5mm gauge.
Objectively measured, the Sherman Mattress is comparable to top-selling mattresses in big brand stores at less than half the price,
The Just Perfect comfort layers feature the amazing body-conforming properties of a full layer of premium memory foam.
The support system of the Sherman Mattress is a premium pocket spring, offering superior comfort and support. The centre lumbar zone is firmer to gently lift your lower back, ensuring perfect posture whilst you sleep. 720 individually pocketed springs completely eliminate partner disturbance whilst providing a perfect combination of contouring and support.
FEEL – The Sherman Full Body Hug offers a medium level of support, topped with a soft, ultra-plush comfort layer
From the pocketed spring unit to the memory foam comfort layers, each and every vital component of your Sherman bed is exactly as you would expect; luxurious, supportive and long lasting.
Sherman's uncompromising quality and design is the only way to create a supremely sumptuous and comfortable mattress that will fit you like a glove.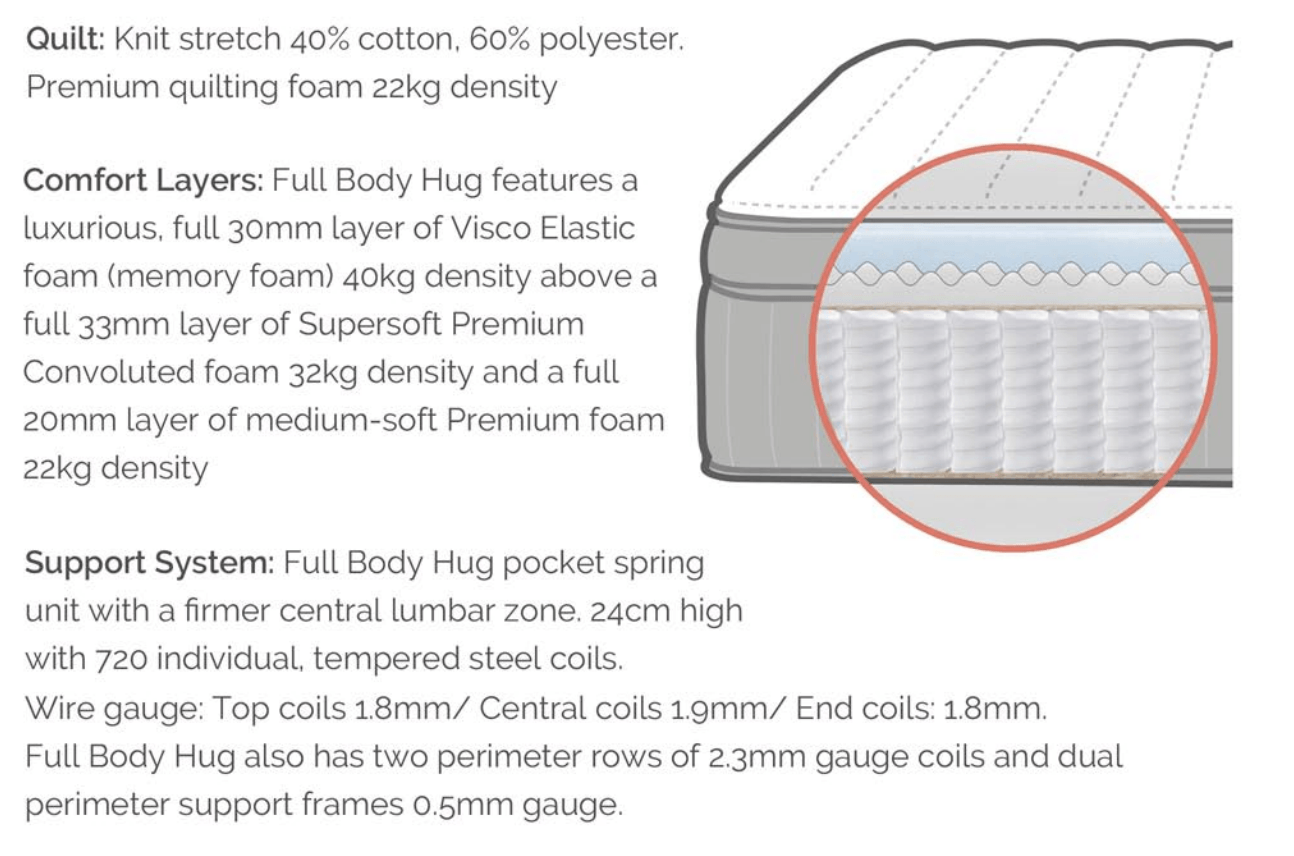 Finance Options
Pay in 4 Instalments