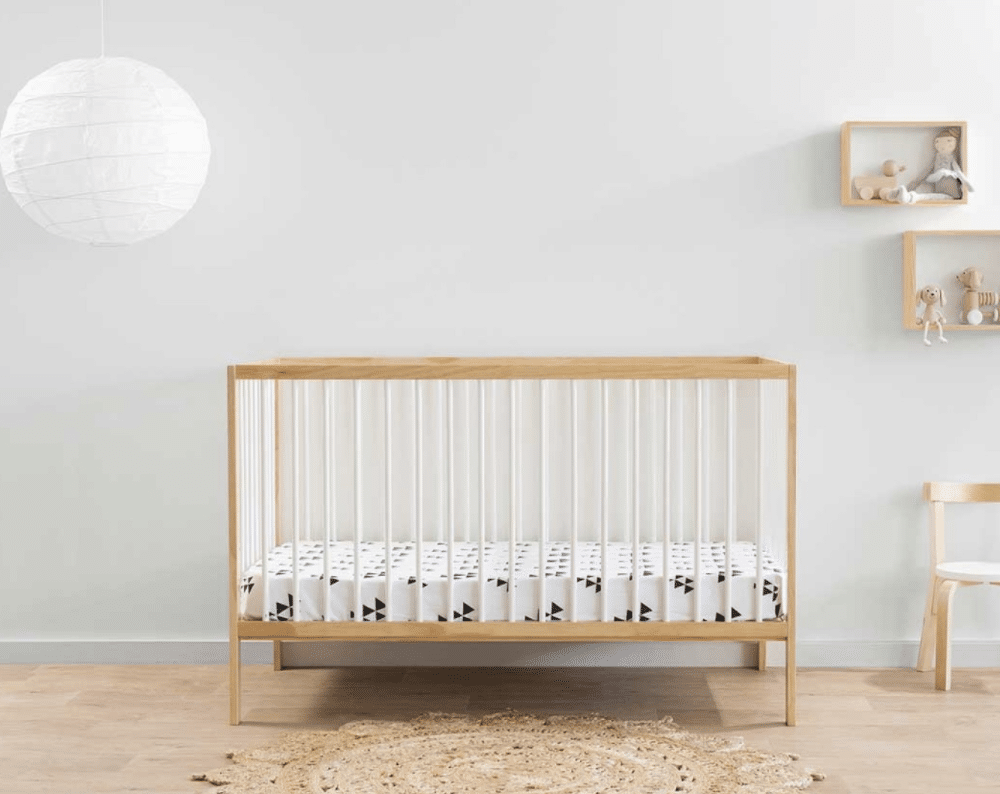 Recommended Retail Price
Mocka Darby Cot – $179.95 (Cot only)
Specifications – Darby Cot
The Darby Cot – Natural/White makes preparing and caring for your little one that much easier. We believe that every child should have the best start in life, so we ensure our cots come without the price-tag and are super practical with everything a baby will need to rest safe and sound. This stylish cot comes in a chic natural pine design which fits easily into any nursery styling. With any children's furniture safety is essential, which is why this cot does not include a drop side and complies with all Australian standards. The adjustable base features a newborn setting as well, so you can raise or lower depending on your babies age and development.
Product Details of the Darby cot
The Darby Cot – Natural/White gives your baby the best start in life. Create a cosy, sleepy space for your baby to rest, learn and grow. The white/natural pairing is light and bright, and the perfect gender neutral design to suits a variety of nursery styles. Style with adorable cot sheets, quilts or decor to create an ultra dreamy space.
Featuring an adjustable base, you can raise or lower to suit your baby's age and development. Providing plenty of room for your baby without being big and bulky, this cot is the perfect height for reaching in to lift your child in and out. Both our vale cot mattress and nero cot mattress fit this cot.
Safety is paramount when it comes to nursery furniture. The Darby Cot complies with the mandatory safety standard AS/NZS 2172:2003 so you can rest assured any baby sleeping in this cot is safe and secure. This cot also has four fixed sides for added safety. By eliminating the 'drop-side' from the cot, you and your baby can enjoy a stronger, safer cot. Without the need for fiddly latches, the Darby Cot is easier to use and noticeably more solid and sturdy than cots with drop-sides. Make a space just for your baby with the Darby Cot – Natural/White.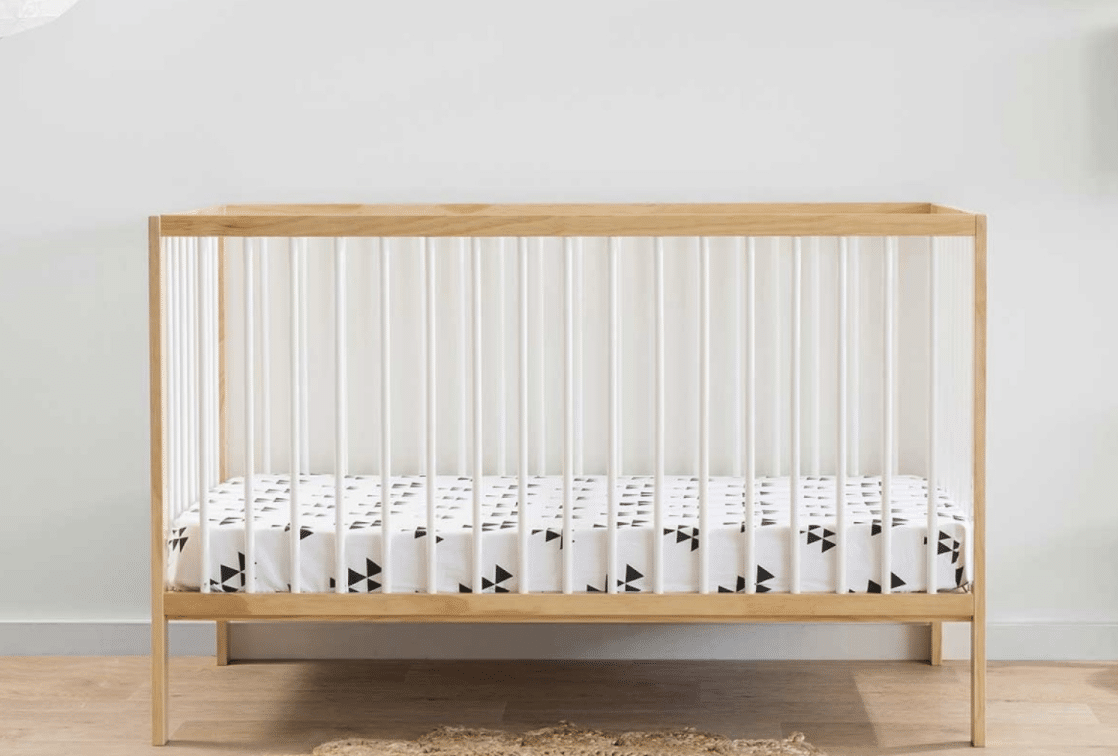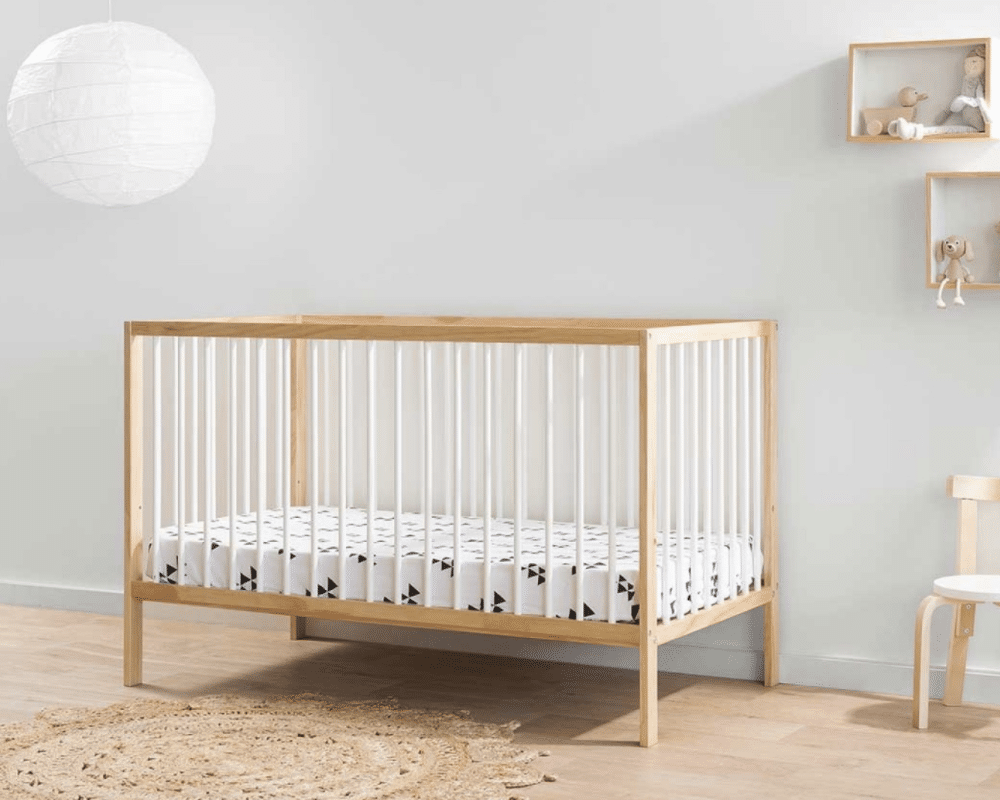 Specifications – Mocka Darby Cot
Made from

Pine with a sealer finish and rails have a matte finish.

Available colours

Natural/White

Weight limit

30kg

Assembled dimensions

134cm wide x 85cm high x 73cm deep

Extra dimensions

Lower mattress base to top of cot – 62cm

Upper mattress base to top of cot – 42cm

Inside area for mattress – 130cm wide x 69cm deep

Floor to under cot side – 19cm high

Between bars is 58mm

Carton dimensions

15.85kg – 136cm x 83cm x 15cm

Safety standards

AS/NZS 2172:2003

Assembly required

Yes

Returns/refunds

If ordering a cot mattress with your cot, please note for hygiene reasons we do not exchange or refund mattresses for change of mind. Please ensure you select these products carefully before purchase.
Shipping & Returns
Delivery
All products are couriered and delivery charges depend on what you order and the delivery destination. Please use the shipping calculator to work out a delivery quote.
Your order is dispatched from Brisbane, Queensland. The approximate delivery time to main metro areas is 4 to 6 working days. However please allow these approximate transit times for outer areas, SA 7-9 working days, TAS 7-9 working days, WA 10-14 working days & NT 12-14 working days. Visit our shipping & delivery page for more information.
Returns
100% no questions asked, MONEY BACK GUARANTEE
For full returns and exchanges information, visit our returns & exchanges page.
To see our full range of Baby Cots, click here.