Neoluxe Vantage Silver Ultra Plush Review
Outstanding product

Soft, plush feel

Eco-friendly, non-toxic comfort layers

12 Zone Spring System

Australian Made
---
The Neoluxe Vantage Silver mattress is simply and outstanding product that is one of the best mattresses available in Australia.
As you would expect, the Neoluxe Vantage Silver Ultra Plush is an outstanding mattress. It offers excellent pressure relief, and feels soft and luxurious. As you will see in the specifications below, it has a very sophisticated construction and build quality is outstanding and the robust spring system offers exceptional support for people of all sizes.
The Neoluxe Vantage Silver Mattress also comes in a firm, medium, and plush option so you can choose the firmness that suits you best.
This mattress is a true stand out in the retail mattress market and definitely worth trying out at Beds n Dreams. If you have any queries about this mattress or any other, please contact us!
As you probably guessed, the Neoluxe Vantage Silver made it into Australia's Top 10 Mattresses for 2020! To see our full list, click here.
Please note that the price mentioned in the above video review was quoted during 2018 and prices have since changed. Please see below for a full list of current pricing. If you have any queries, please contact us.

| | |
| --- | --- |
| Comfort | |
| Spinal Support | |
| Build Quality | |
| Partner Disturbance | |
| Value for Money | |
Recommended Retail Prices
Long Single Mattress: $3,899
Special Bedbuyer Prices*
Long Single Mattress: $1549
*To claim this offer, mention 'Bedbuyer' at any Beds n Dreams store OR click SHOP NOW and use code BEDBUYER200 at checkout. This is a special Bedbuyer price that may differ from the price indicated on the Beds n Dreams website. Delivery cost will vary depending on your location. If you have any questions about pricing, please contact us.
---
Warranty
10 years
Certifications – Neoluxe Vantage Silver Ultra Plush
GECA Certified
The exceptional quality of this mattress is recognised by leading industry bodies such as the Australia Furnishing Association, Good Environmental Choice Australia and Okeo-Tex – Euro textile standard.
Oeko-Tex and CertiPUR Certified
SilverlineTM
Silverline uses a genuine silver fibre yarn to guarantee a natural antimicrobial function. Silverline also discharges static electricity absorbed by the human body during the day, promoting a deeper and more relaxing sleep.
SilverFormMade and tested in Italy, Silverform is certified in both Okeo-Tex and CertiPUR. It's silver content has natural Anti-Micrbial properties that inhibit the growth of bad bacteria.
Specifications – Neoluxe Vantage Silver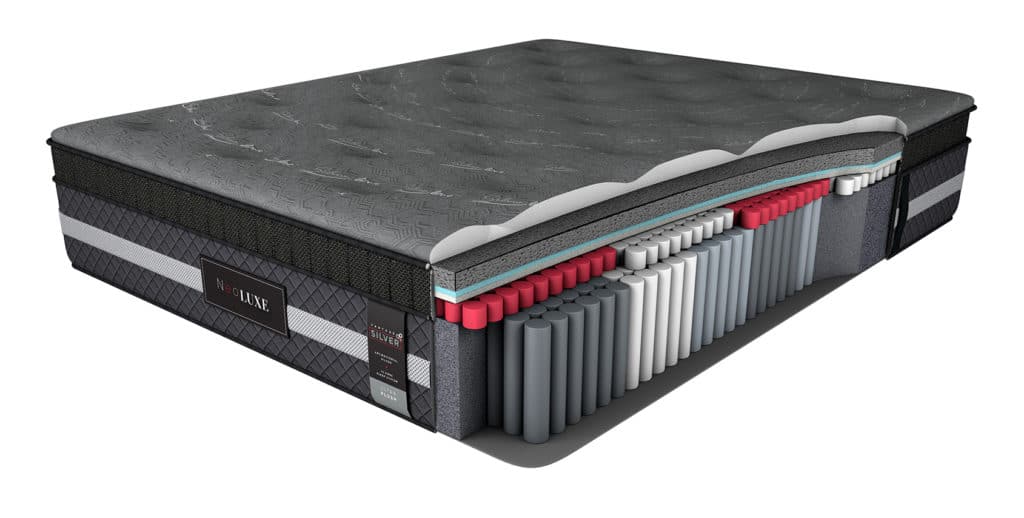 Silverline™ Surface Fabric – Silverline™ genuine silver fibre yarn to guarantee a natural antibacterial function of freshness and hygiene as well as anti-static properties.
Breathable Luxury Quilt Layer – Combination of Hypersoft and Quiltec comfort technology for luxury and breathability.
Italian SilverForm Comfort – The Neoluxe Vantage Silver has Italian made high-performance comfort foam infused with genuine silver particles for antimicrobial health. SilverForm is an innovative new technology boasting amazing pressure relief for overall body comfort. Silverform, where innovation meets luxury.
HD Progressive Comfort Technology – Multi-layer premium HD comfort foams provide a smooth transition in feel offering a perfectly balanced sleep.
12 Zoned Sleep System – The Neoluxe Vantage Silver has a unique dual coil system provides targeted support for the ultimate tailored sleeping experience.
Complete Edge-to-Edge Support – With its ultra-durable construction, EdgeBoost™ robust wall encasement provides a 100% sleeping surface.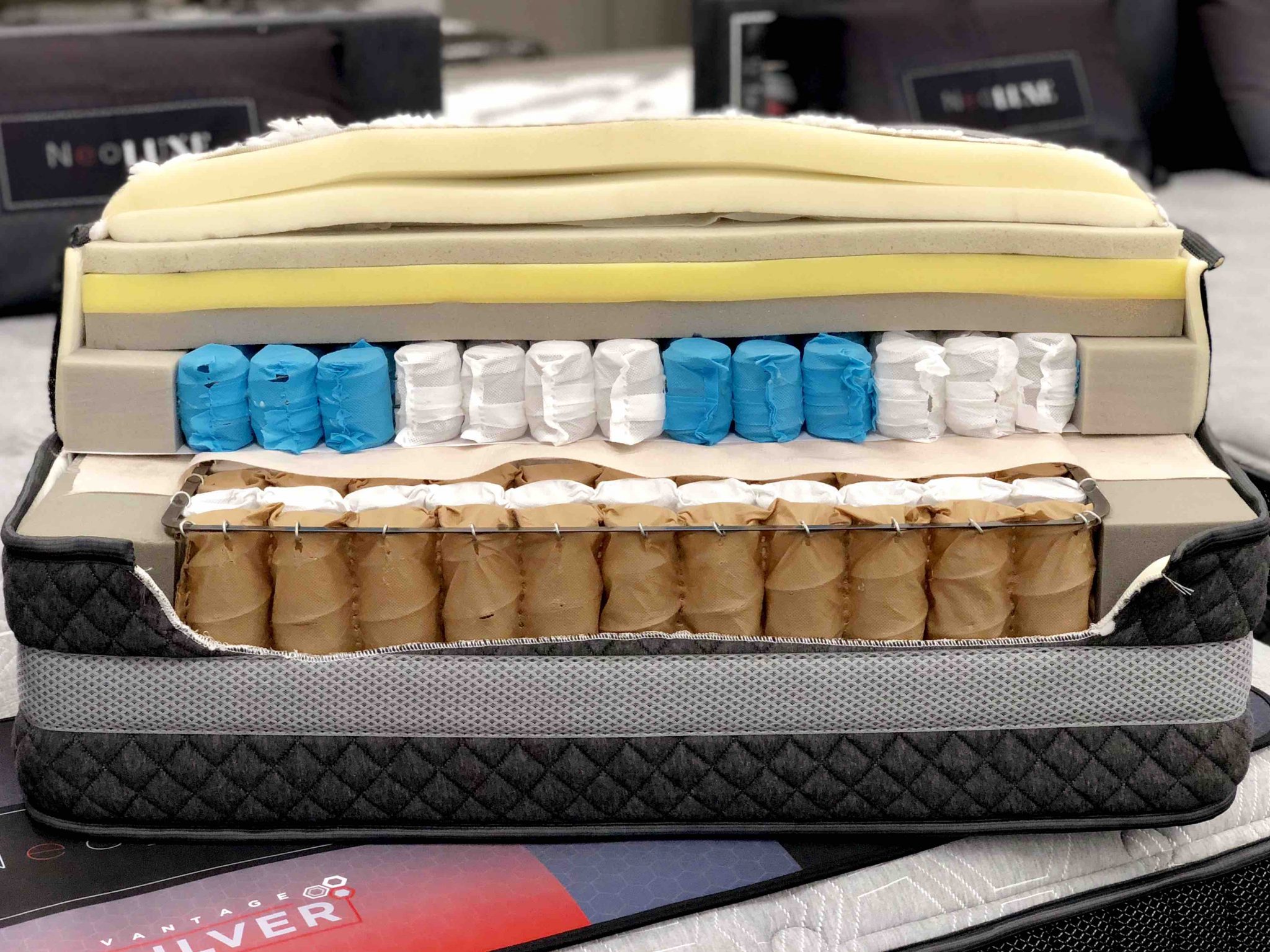 Features

Australian Made – 10 Year Warranty

Specifications

Available in

Single (92cm x 188cm x 38cm)

King Single (107cm x 203cm x 38cm)

Double (138cm x 188cm x 38cm)

Queen (153cm x 203cm x 38cm)

King (183cm x 203cm x 38cm)

Add a Mattress Base

Mattress

Feel

Medium

Brand of Mattress

Neoluxe
The Neoluxe Vantage Silver can be custom ordered with a different firmness on each side (for example firm on one side and plush on the other). This allows you and your partner to choose the exact feel to help you both get the best night's sleep. When you choose a Neoluxe Vantage Silver you can rest assured you will not only enjoy sound sleep but that you'll do so every night for years to come. Every morning your body will thank you for choosing the best.
The Neoluxe Vantage Silver is made using only the finest quality components, sourced from Australia, Italy and other world leading providers of fine bedding materials. From carefully chosen fabrics to precision hand tailoring and craftsmanship in assembly, no detail is too small, no challenge too large in the pursuit in quality. As a family owned Australian manufacturer we are proud to offer you our finest product.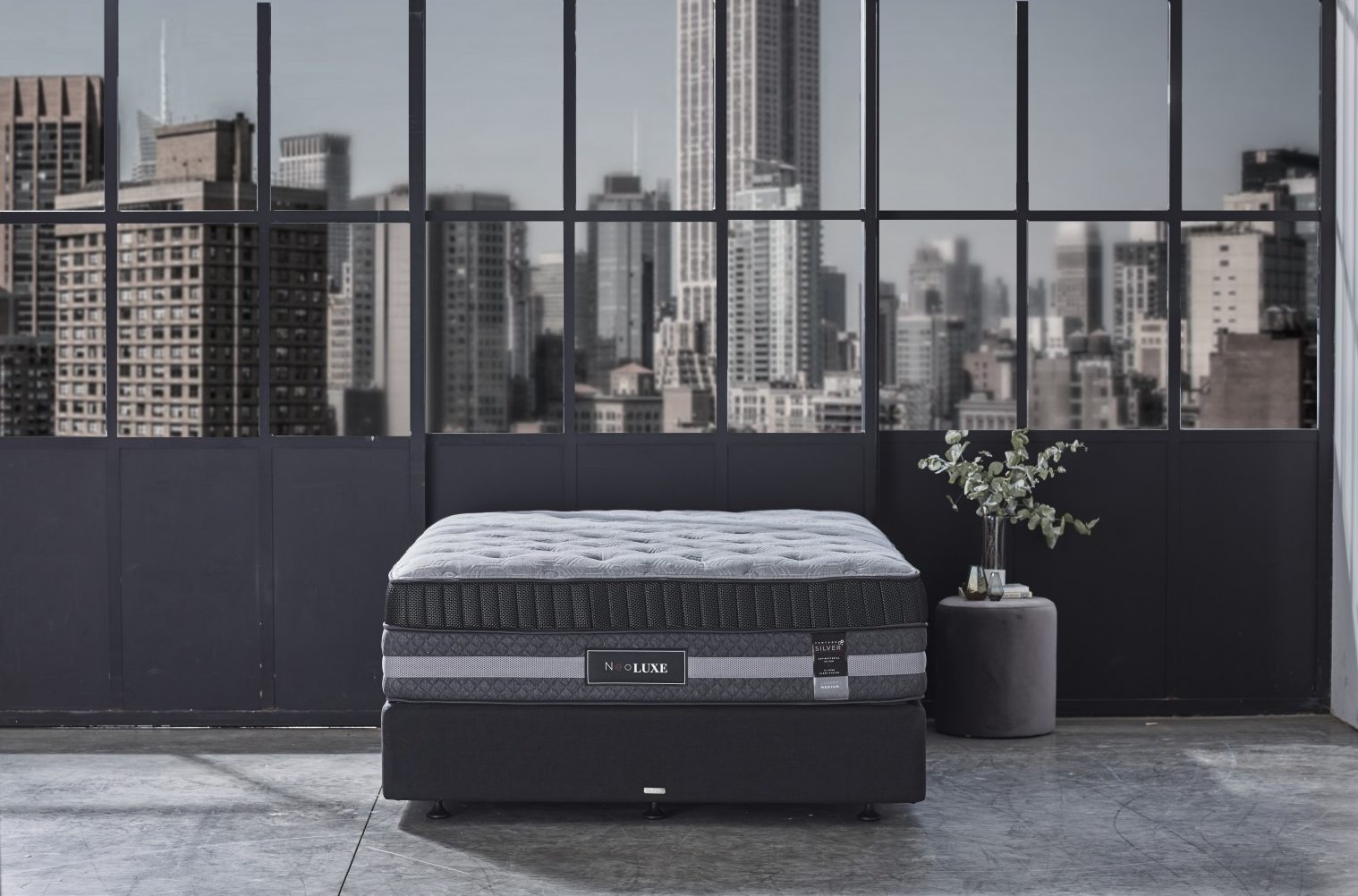 ---