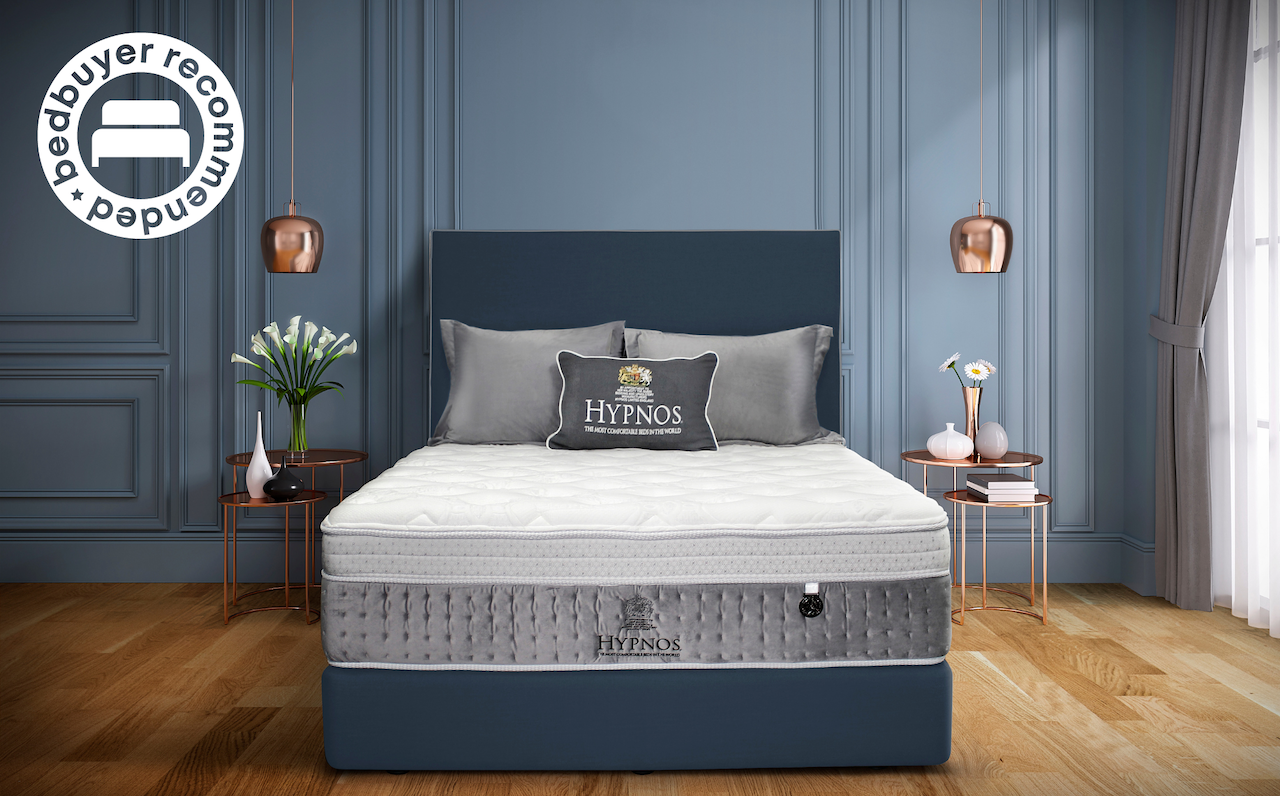 Hypnos Cambridge Medium
The Hypnos Cambridge Medium is a beautiful mattress that uses high quality materials. It is Australian made and comes with a 15 year warranty.
Purchase and delivery
The Hypnos Cambridge range can be purchased through the Beds n Dreams website or at any of their 30 plus stores Australia-wide. Delivery costs will depend on your location, but a typical delivery cost to a metropolitan area is $80.
This version forms the medium feel option in the Balmoral range. This collection also includes a plush version and a firm version. King and super king size mattress can also be specially ordered with different firmness levels on each side (e.g. firm on one side and medium on the other).

The mattress arrived in a two piece, sturdy cardboard box, along with 2 thick plastic wrappings. Once these were removed, it revealed a lovely Hypnos fabric 'bedwrap' that definitely sets the vibe.
From the outside, the Hypnos Cambridge Medium oozes luxury and elegance. It sits 42cm high and uses a light grey and cream colour theme. The exquisite stitching and embroidery reinforce the premium status of this mattress.
The Hypnos 'God of Sleep' medallion gives the mattress a magnificent touch of class, as do the nickel border air vents. The handles contain a product number, and you can even request your name to be embroidered on the handles.
Comfort and support
The top comfort layer of this mattress starts with a premium cover made of a silk yarn and a silk/wool blended fibre. This cover feels soft and breathable, and has been treated with Virase to help minimise the spread of viral infections.
Underneath this cover lies an assortment of premium foams that includes copper gel memory foam, hospital high grade foam, and stamina foam.
This top comfort layer feels luxurious and expensive, with a firm, dense feel. It absorbs body weight well and we certainly didn't detect any sinking or sagging.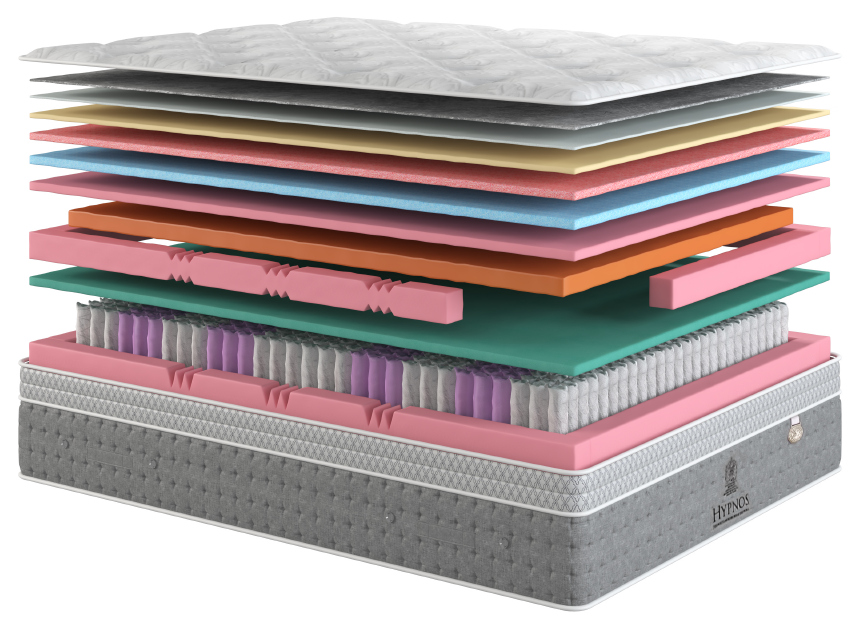 This mattress should suit all sleeping positions (side sleepers, back sleepers, and stomach sleepers) but understandably, its suitability will vary between individuals. Our team rated it a 6.5 / 10 on the firmness scale (with 10 being the firmest).
Please note that our firmness ratings are just a guide and they do not necessarily relate to comfort. Furthermore, our firmness ratings are assigned based on Bedbuyer's testing process and these may differ from firmness ratings given by individual companies.
The Hypnos Cambridge Medium uses an incredibly robust, European 9 zone pocket spring system. This support structure feels strong, stable, and will easily accommodate people of all sizes. It offers excellent back support and should help to maintain a healthy spinal position.
The Hypnos Cambridge Medium responds nicely to normal sleep movements and we rated its level of responsiveness in the 'optimal' zone. In basic terms, this means that changing sleep positions (and intimate activities) shouldn't be any trouble.

Please note that our responsiveness scales are just a guide and preferred responsiveness levels will vary between individuals. It's worth noting also that innerspring mattresses are generally more responsive than foam mattresses.
The finer details
As you would expect, the overall build quality of this mattress is exceptional. The finishings and embroidery are first class, and the fabrics feel expensive and durable.
Edge support is sound thanks to the full, high definition foam box around the main (9 zone) spring system. It's worth noting also that the top comfort layer (pillow top) has a foam box to further enhance edge support.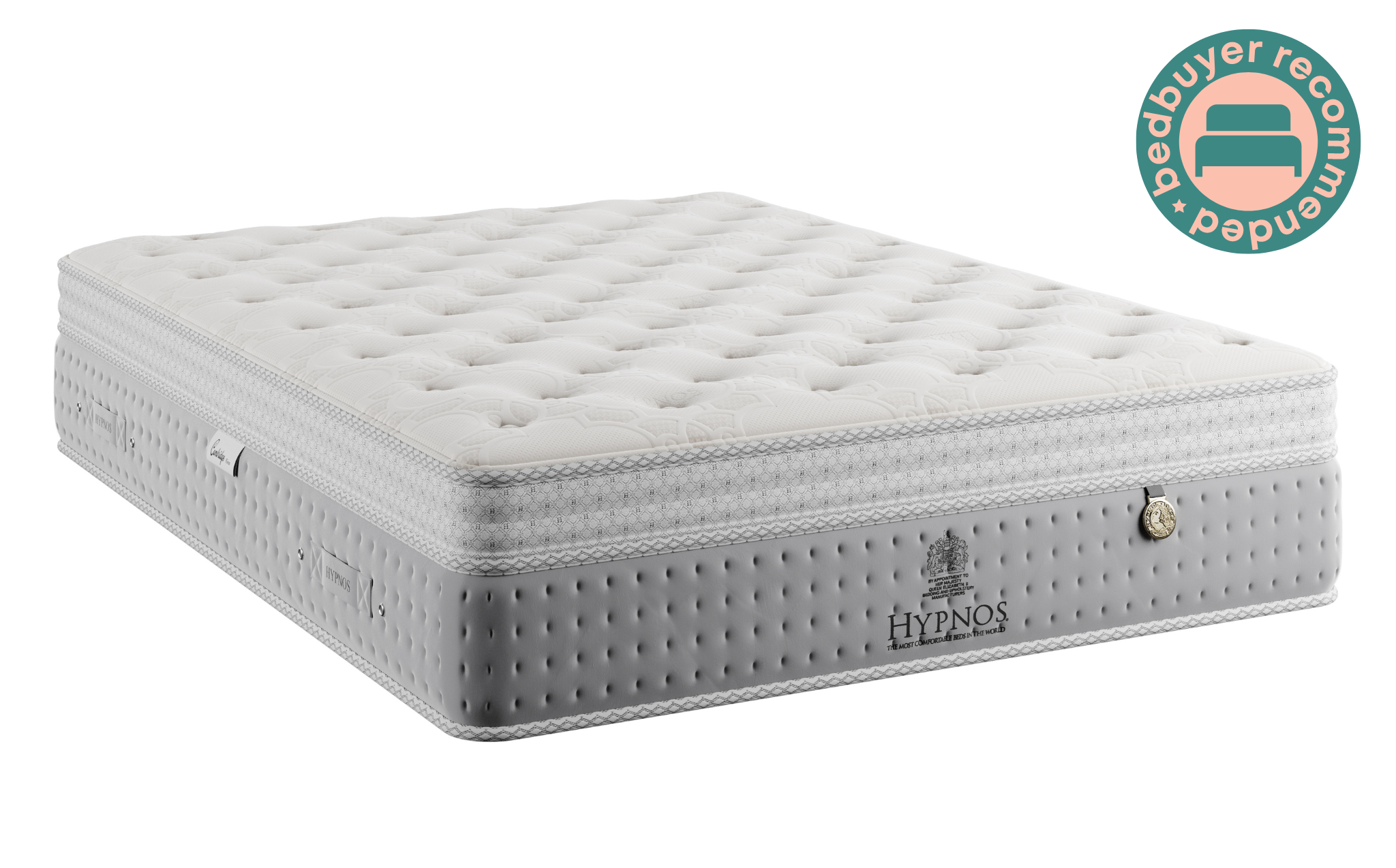 Partner disturbance is noticeable, but certainly not significant. As always though, motion transfer will vary depending on the mattress size and the size of the occupants of the bed.
All foams used in this mattress are certified as eco-friendly and non-toxic by GECA.
All foams used in this mattress are certified as eco-friendly and non-toxic by GECA, so you can feel safe bringing this product into your home. The Hypnos Cambridge Plush also comes with an impressive a 15 year warranty.
What bed base should I use?
As with most mattresses, we recommend this mattress to be used with a bed base with solid slats (not flexible/posture slats), such as the Atlantis Bed Base.
Use of an unsupportive mattress foundation will usually void the mattress warranty.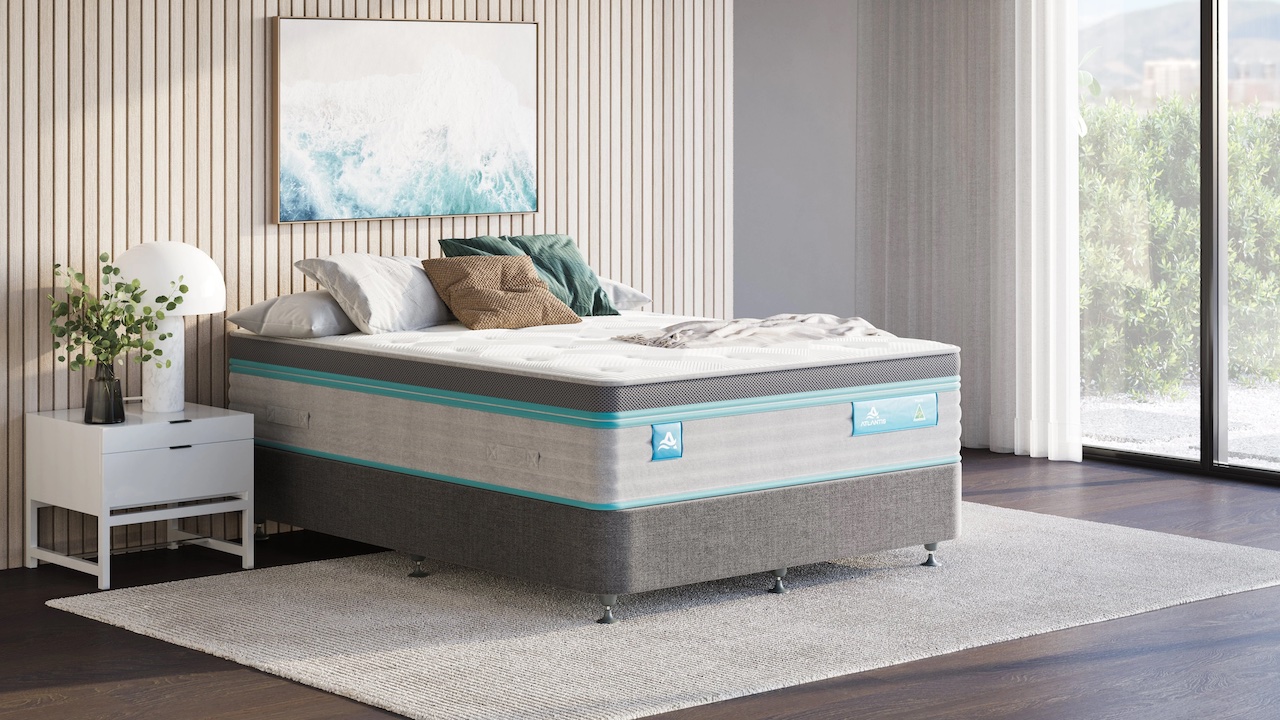 Atlantis Bed Base
Furthermore, we do not recommend this mattress to be used with an adjustable (electric) bed base as this may void the warranty. Here is our full list of mattresses that are compatible with an adjustable bed base.
It's worth noting here that mattress firmness, performance, and durability will vary with different bed bases.
Available sizes
The Hypnos Cambridge Medium is available in all 7 sizes (super king, king, queen, double, king single, long single, and single) so it should suit all adult sleeping situations.
Here are Australia's standard bed (mattress) sizes in 2022.
Final verdict
The Hypnos Cambridge Medium is a lovely mattress that comes with plenty of quality, comfort, and support. It uses a quality spring system and should last for many years.
Bedbuyer's rating:  4.6 / 5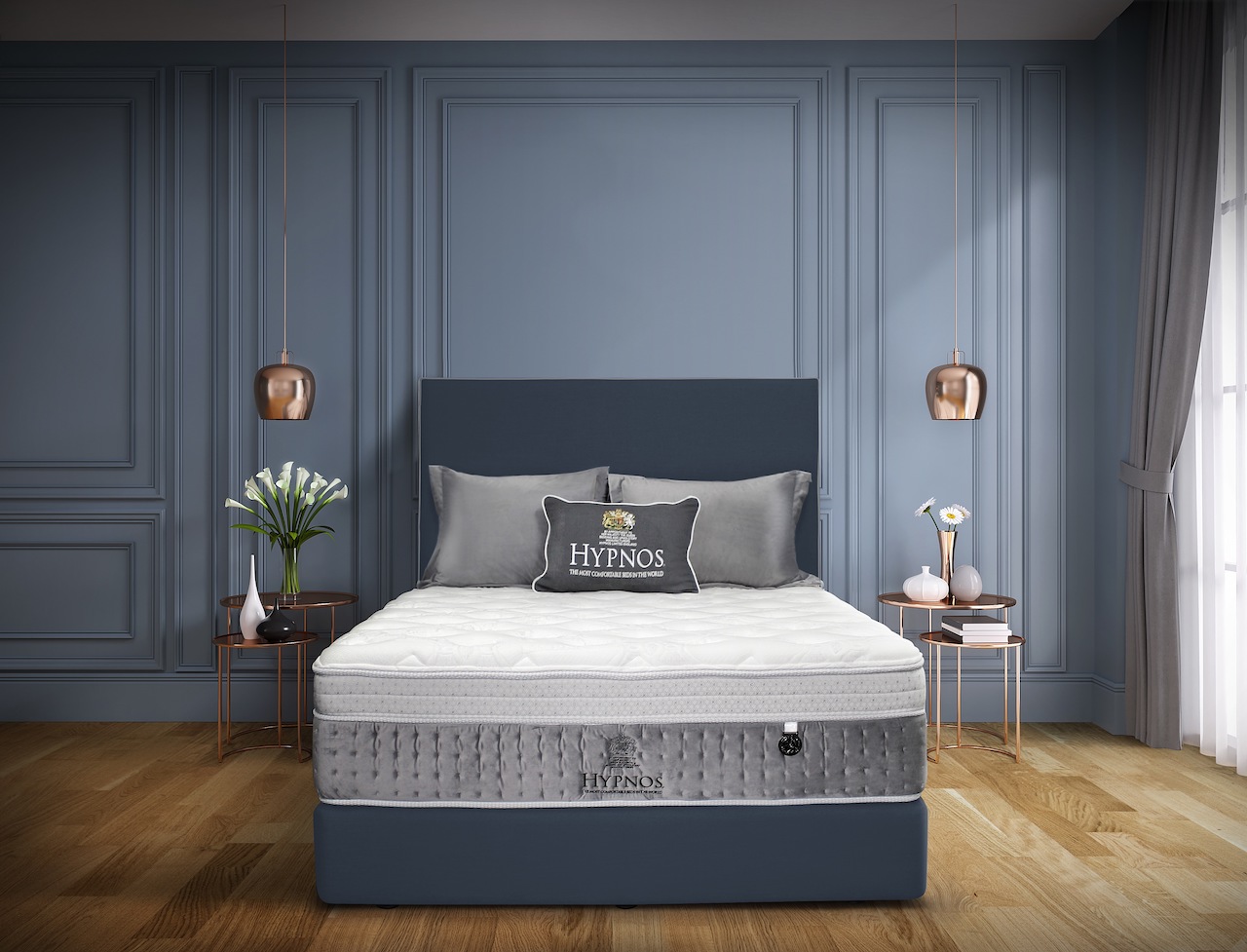 Here are our ratings for each category:
| | |
| --- | --- |
| Comfort | |
| Spinal Support | |
| Build Quality | |
| Partner Disturbance | |
| Value for Money | |
If you have any questions about this mattress, comment below or please contact us.
---
In a nutshell 🥜
Beautiful craftsmanship

Medium-firm feel

Advanced spring system

Australian made

15 year warranty
---
Retail Prices
*Click SHOP NOW and use code BUYCAMB at checkout. mention 'Bedbuyer' at any Beds n Dreams store (or mention 'Bedbuyer' at any Beds n Dreams store). Delivery cost will vary depending on your location. If you have any questions about pricing, please contact us.
---
Warranty
15 years
Specifications – Hypnos Cambridge Medium
Height: 42cm
Weight: 75kgs (Queen)
Foam box 9 zone pocket spring – The Australian designed and European made 9 zone pocket springs with foam box edge support, gives the mattress even weight distribution maximising pressure relief and sleep comfort. The foam box walls have been designed to be used on standard bed bases but also Adjustable Beds.
Copper/Gel memory foam – Copper Infused/Gel has been known to reduce joint inflammation and its antimicrobial properties help reduce the risk of microbes and bacteria growing in the Visco. Memory Foam provides Protection against Viruses, and Microbial Growth to Prevent Odours. Also Helps Dissipates Excess Body Heat.*
HG Foam – This high quality Australian made foam has been specifically designed for use in healthcare mattresses, as a support layer. Hospital Grade foam is a high density, high durability conventional foam. This ultimate internal support layer, offers superior support. It has a humidifier built into the foam to cater for humidity caused by the body heat. Ultra- Fresh antimicrobial treated to prevent microbe growth, reduce odour, and improve hygiene and product longevity.*
Stamina Foam – This antimicrobial Ultra Fresh foam is a high density durable foam that lasts the lifetime of the mattress.*
Pillow Top Foam box – gives side edges extra support
Silk/wool – Both natural fibres have been quilted together to create a durable comfort layer which helps absorb & release moisture into the atmosphere, by regulating temperature control.
Individual Sleep Surface – No two people are the same. So we offer the choice of different feels on the same mattress.
Vents – Hypnos beds are designed with breathability & ventilation in mind to keep the sleepers body cool.
Virase Finish – Virase is a treatment that is applied to the fabric which helps fight the spread of viral infections by reducing the viral activity on the sleep surface.
Silk Ticking – Silk is one of the most exclusive and expensive fibres available. Its preciousness conveys a luxurious smooth feel and soft texture, making it one of the strongest natural fibres available, giving a classic timeless appeal to your mattress.
Warranty – 15 yrs Australian made product
Name on handles – customise your own mattress with names. (No more than 7 characters
long).
Numbered handles – Provides exclusivity to product like a collector's piece.
Comes in 3 different feels – Plush, Medium and Firm
Hypnos Badge – Each Hypnos bed is customised with an original Hypnos badge for product authenticity.
*All foams used in this product are GECA approved
---
Hypnos Royal Warrant
Hypnos is the only luxury bed company to actively supply the Royal British Family, the Royal Household and palaces.
A Royal Warrant from Her Majesty Queen Elizabeth II bestows Hypnos with a mark of excellence and supports Hypnos' reputation of representing the very best of British quality.
Each Hypnos bed is a masterpiece; a bespoke creation, handcrafted to perfection. Our dedication to quality, comfort and exquisite hand tailoring guarantee years of sumptuous and luxurious sleep.
The Hypnos Balmoral Collection of mattresses (including the Hypnos Cambridge Medium) can be selected with varying degrees of firmness. Pick from a range of comfort options hand built to your exact requirements.
Download full brochure here.
Hypnos is made in Australia under license and specification. The same build-up for four generations. Their production manager trained in the UK for two months.
Other companies that hold a Royal Warrant Aston Martin, Rolls Royce, Royal Dalton.
Other prominent users of Hypnos Tom Cruise, James Packer, Oprah Winfrey.
---
About Beds n Dreams
Beds N Dreams is an Australian-owned bedding specialist that has been operating for over 10 years and currently has more than 30 stores across Australia.
We're Australian owned and operated and our senior owner-operators have collectively over 50 years' experience in the bedding industry and specialise in mattresses, bed frames, bedroom furniture and bed accessories.
We're a little different to other bedding retailers. We don't carry the standard retail range of mattress brands and bedroom furniture. As bedding specialists and direct owners in our business, we personally hand-pick the best mattresses from around the world plus we commission the manufacture of our own bedroom suites.
Plus, Beds N Dreams also has multiple warehouses across Australia so receiving your delivery should be a fast-turn around, without having to wait for stock to arrive from overseas.
As a result, we provide our customers the best possible price, quality and range of mattresses and bedroom furniture to give our customers a perfect sleep. Consider the Hypnos Cambridge Medium today.