Hypnos Balmoral Medium Review
The Hypnos Balmoral Medium is an outstanding mattress and one of the best products on the market. It is beautifully comfortable and feels very luxurious.
The top comfort layer consists of premium fabrics, cashmere, gel infused memory foam, and 100% natural latex. This combination is simply divine and offers smooth pressure relief in all sleeping positions. This comfort layer is market leading and is one of the reasons why this mattress took out Australia's 'Best Luxury Mattress' award in 2020.
An outstanding mattress and one of the best products on the market.
Coupled with its excellent spring system, the comfort layer produces a true medium feel. It is has a lovely balance of comfort and spinal support – our team rated it a 6 / 10 on the firmness scale (with 10 being the firmest):

Build quality is outstanding and partner disturbance is minimal. A stand out in the market and a worthy award winner in 2020. The Hypnos Balmoral Mattress also comes in a firm, and plush version. 
Here are our ratings for each category:
| | |
| --- | --- |
| Comfort | |
| Spinal Support | |
| Build Quality | |
| Partner Disturbance | |
| Value for Money | |
As you may have guessed, the Hypnos Balmoral made it into Australia's Top 10 Mattresses in 2020! To see our full list, click here.
If you have any questions about this mattress or any other, please contact us.
---
In a nutshell 🥜
Australia's 'Best Luxury' Mattress Award 2020

Beautifully comfortable and supportive

Medium feel

Sophisticated dual layered spring system

Australian made
---
Recommended Retail Prices
*To claim this offer, mention 'Bedbuyer' at any Beds n Dreams store OR click SHOP NOW and use code BEDBUYER100 at checkout. This is a special Bedbuyer price that may differ from the price indicated on the Beds n Dreams website. Delivery cost will vary depending on your location. If you have any questions about pricing, please contact us.
---
Warranty
15 years
Specifications – Hypnos Balmoral Medium
Height: approx. 40cm
The Royal Warrant
Hypnos is the only mattress in the world that has claims to the Royal Warrant and yes, the Queen sleeps on a Hypnos mattress, every six months Hypnos management inspects the Queen's residence.
What defines a Royal Warrant – A Royal Warrant of Appointment is a mark of recognition of those who have supplied goods or services to the Households of HM The Queen, HRH The Duke of Edinburgh or HRH The Prince of Wales for at least five years, and who have an ongoing trading arrangement. Only products made with exquisite class & the finest materials receive this prestigious seal.
| | |
| --- | --- |
| Other companies that hold a Royal Warrant? |     Other prominent users of Hypnos |
| Aston Martin |     Tom Cruise |
| Rolls Royce |     James Packer |
| Cadbury |     Oprah Winfrey |
| Sony |     Donald Trump  |
The Quality
Hypnos is made in Australia under license and specification. The same build-up for four generations. Their production manager trained in the UK for two months.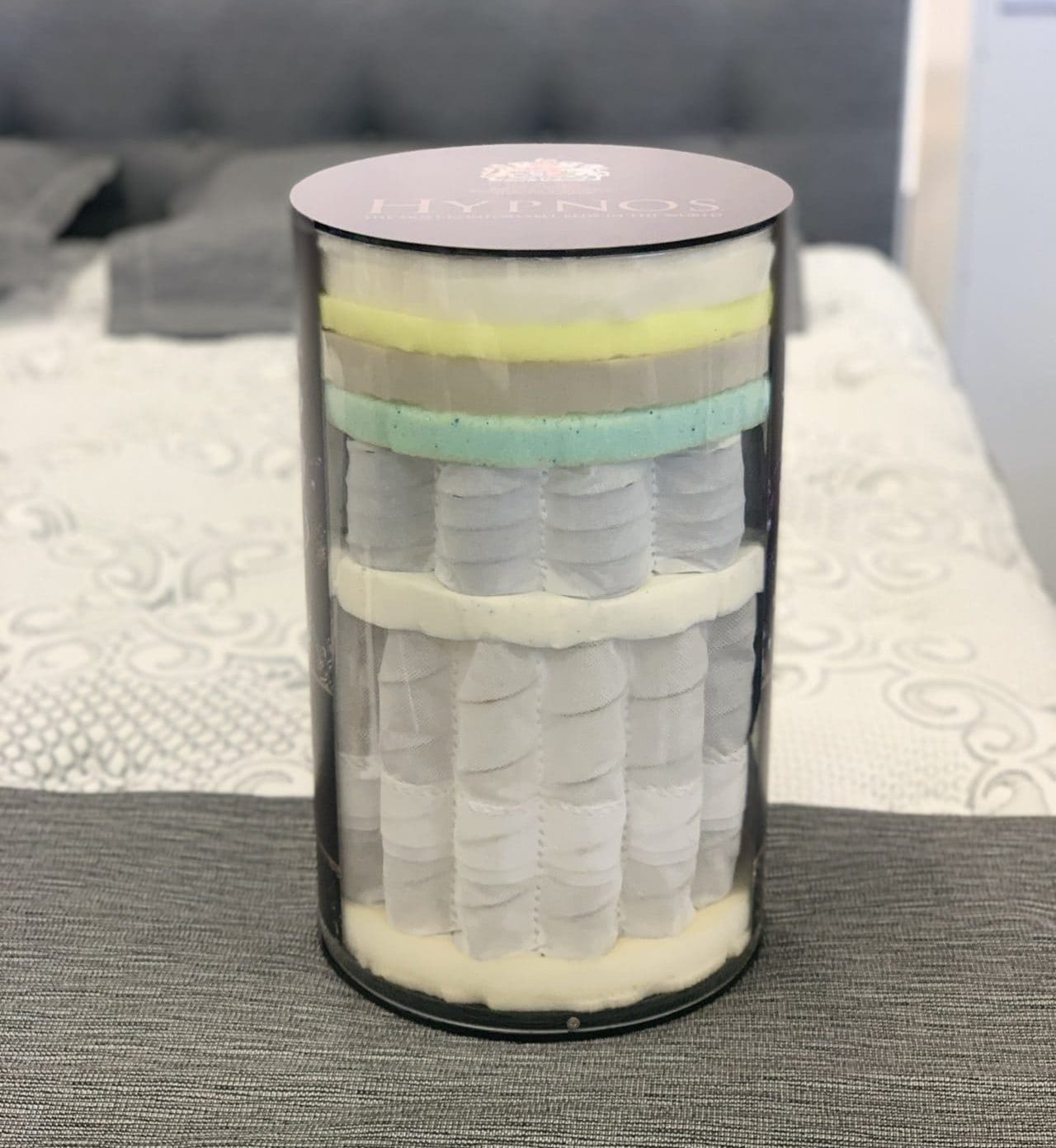 5 Zoned Pocket Spring – The Hypnos Balmoral Medium is made with your support in mind. That's why the Balmoral is made with a 5 zoned individual pocket spring support system. This support system provides individual sleep comfort and reduces partner disturbance. On top of that, the Balmoral has a second mini coil system to provide even more personalised support. Boasting a total spring count of 2500 you can't find better support.
Latex – Most mattresses today are made of polyurethane foam. Although they may feel enticingly soft and very plush in store, over time the foam will dry out and lose its original feel. However, the Balmoral mattress by Hypnos is 100% natural latex. 97% milk content.
Natural Cashmere – Luxury is the incomparable softness, lofty feel and natural crimp of cashmere. Cashmere is an extremely fine fibre. A single cashmere fibre is less than 19 microns in diameter. Cashmere yarn retains the loft of its fibres which makes it a lightweight fabric with insulation properties. It reacts to the amount of humidity in the air, making it comfortable in all climates (even warm ones).
Gel Infused Memory Foam – One of the many comfort layers of the Balmoral mattress is a layer of Visco Elastic Gel Infused Memory Foam. Memory foam is used for its added support and ability to keep shape for the years to come. This memory foam is infused with Gel for its cooling properties and is great for pressure relief.
Ticking – The out fabrics of the Balmoral mattress are made from Polyester, Spun Viscose, and Dorlasiai. These materials provide a luxurious feel while maintaining strength and quality.
Traditionally Handcrafted – Each Hypnos bed is a masterpiece, a bespoke creation, handcrafted to perfection. Their dedication to quality, comfort & exquisite hand tailoring guarantee years of sumptuous & luxurious sleep.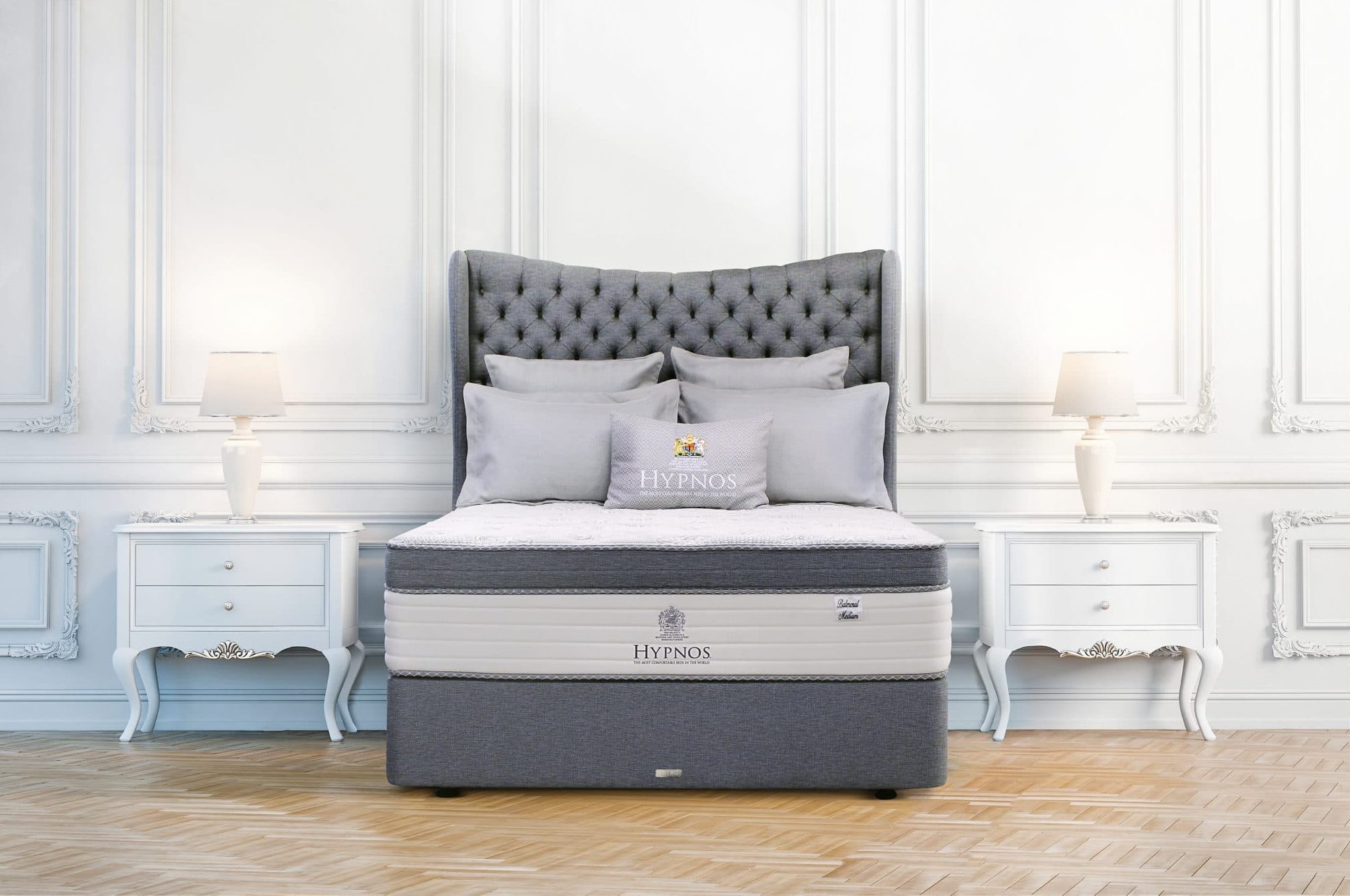 ---