Englander Boston Medium Review
The Englander Boston Medium is a great 'all rounder' that uses memory foam and a 7 zone pocket spring system. It also comes with a solid 10 year warranty.
Purchase and delivery
This mattress can be ordered online, and delivery is available to most major cities, Australia-wide (see full delivery information in our 'Delivery' section below). It can also be purchased through any of Beds n Dreams stores across Australia.
The Englander Boston Medium presents nicely with a cool, fashionable vibe. It uses a white, grey, and purple colour theme as well as a model name embroidery at its base.
Comfort and support
This mattress has a comfort layer that consists of a bamboo stretch knit fabric and gel infused visco elastic memory foam. This gives lovely pressure relief, and absorbs body weight smoothly.
We rated the Englander Boston Medium as a 'medium-firm' feel and a 6.5 / 10 on the firmness scale. Please note that our firmness ratings are just a guide and they do not necessarily relate to comfort.
The spring system used in the Englander Boston Medium is a '7 zone micro pocket spring system'. This spring unit feels stable and sturdy, and and should accomodate people of all sizes. It offers very good back support and responds to normal sleep movements well.
The finer details

In terms of build quality and craftsmanship, the Englander Boston Medium is excellent, given its price. It comes with side handles to assist in transport, and its quality and finishings are sound.
Partner disturbance is minimal, and edge support is sound, thanks to its '360 Foam Box Support'. It's worth noting here also that this mattress is well backed with a 10 year warranty.
What bed base should I use?
As with most mattresses, we recommend this mattress to be used with a bed base with solid slats (not flexible/posture slats), such as the Atlantis Bed Base.
Use of an unsupportive mattress foundation will usually void the mattress warranty.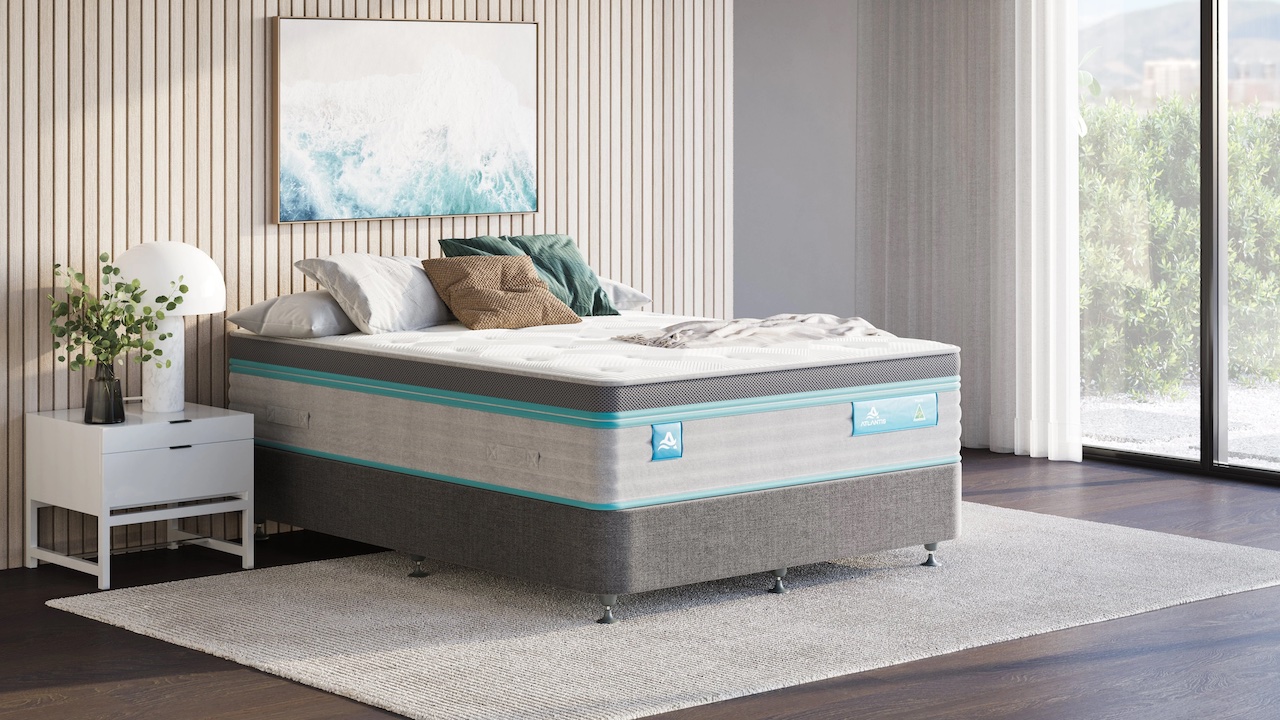 Atlantis Bed Base
Furthermore, we do not recommend this mattress to be used with an adjustable (electric) bed base as this may void the warranty. Here is our full list of mattresses that are compatible with an adjustable bed base.
It's worth noting here that mattress firmness, performance, and durability will vary with different bed bases.
Available sizes
The Englander Boston Medium is available in 5 sizes (king, queen, double, king single, and single) so it should suit most sleeping arrangements. Here are Australia's standard bed (mattress) sizes in 2022.
Final verdict
The Englander Boston Medium is a great option in the retail store mattress market. It offers excellent value, and is well balanced with comfort and support.

Here are our ratings for each category:
| | |
| --- | --- |
| Comfort | |
| Spinal Support | |
| Build Quality | |
| Partner Disturbance | |
| Value for Money | |
Did you know? Bedbuyer recently announced Australia's Top 10 Mattresses for 2022.
If you have any questions about this mattress, leave a comment below or please contact us!
---
In a nutshell 🥜
Excellent value

Medium-firm feel

7 zone pocket spring system

10 year warranty
---
Retail Prices
King Mattress: $2,599

Queen Mattress: $2,199

Double Mattress: $1,999
*Click SHOP NOW and use code BUYBOST at checkout to get a further 3% off the current sale price, or mention 'Bedbuyer' at any Beds n Dreams store. Delivery cost will vary depending on your location. If you have any questions about pricing, please contact us.
---
Warranty
10 years
Delivery
Beds N Dreams only sells our products within Australia and can only deliver to a location where we provide our dedicated service. We do not deliver the Englander Boston Medium outside of Australia.
We require full payment to be received prior to delivery being completed. Delivery charges and estimated times will depend on where your product is being delivered.
What are the typical delivery days?
Delivery days vary by store. Most stores do not deliver on Sundays or Public Holidays. Contact your nearest store for specific days and times. The delivery date and time will be confirmed via phone or email and an additional confirmation message will be provided 1-2 days prior to delivery to ensure that you, or somebody nominated by you, will be available to accept delivery.
In the event of any unforeseen circumstances on delivery date and time (including but not limited to vehicle breakdown, traffic accident or severe weather) Customer Service will contact you to make alternative arrangements.
Specifications – Englander Boston Medium
Height: 34 cm

7 Zone Micro Pocket Spring system

Gel infused visco elastic memory foam

Bamboo stretch knit fabric

Edge support: 360 Foam Box Support maximising sleep surface

Reduced partner disturbance

10 Year guarantee
The Englander Boston Medium series has been designed to provide deep individualised comfort with superior body support for a lasting and restless sleep.
Each mattress incorporates an advanced seven zoned pocket spring system to maximise body contouring and individualised support while providing minimal partner sleep disturbance.
This mattress combines cool body contouring gel with extra firm supportive comfort layers to create an ideal and very firm mattress. Ideal for sleepers that want ultimate support in a very firm feel.
SUPPORT SYSTEM 
Seven Zone Individualised Pocket Spring to maximise body contouring and support
EDGE SUPPORT
360 Foam Box Support maximising sleep surface
---
Beds N Dreams is an Australian-owned bedding specialist that has been operating for over 10 years and currently has more than 30 stores across Australia.
We're Australian owned and operated and our senior owner-operators have collectively over 50 years' experience in the bedding industry and specialise in mattresses, bed frames, bedroom furniture and bed accessories.
We're a little different to other bedding retailers. We don't carry the standard retail range of mattress brands and bedroom furniture. As bedding specialists and direct owners in our business, we personally hand-pick the best mattresses from around the world plus we commission the manufacture of our own bedroom suites.
Plus, Beds N Dreams also has multiple warehouses across Australia so receiving your delivery should be a fast-turn around, without having to wait for stock to arrive from overseas.
As a result, we provide our customers the best possible price, quality and range of mattresses and bedroom furniture to give our customers a perfect sleep. Consider the Englander Boston Medium today.