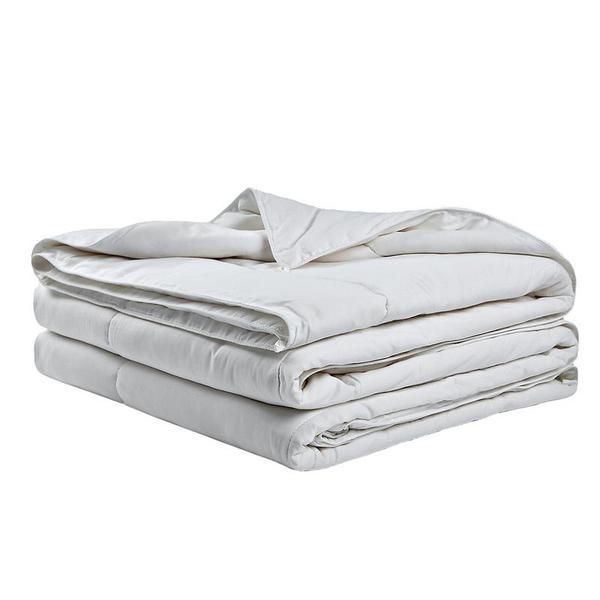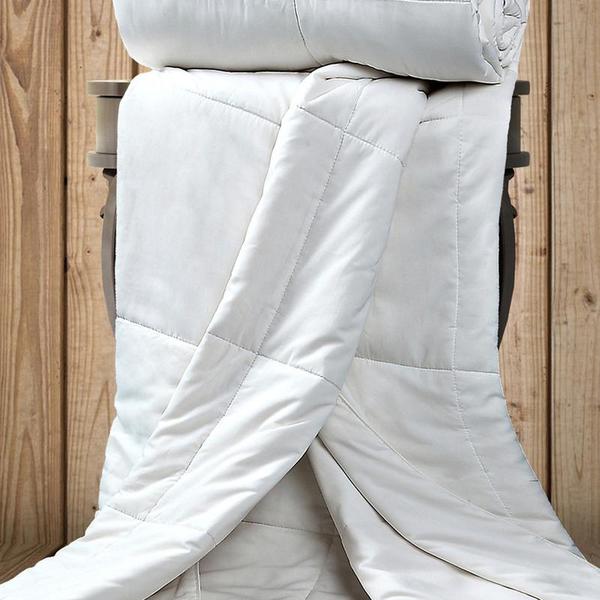 Bamboo Whitehaven Quilt/Duvet
Our Bamboo Whitehaven Quilt/duvet is mindfully designed using our signature CleanBamboo™ as the shell and 100% organic bamboo filling, making it extremely breathable compared to polyester filling. Complete your bed with a vegan down alternative duvet made entirely from organic bamboo. Eco-friendly, hypoallergenic and thermo-regulating to help you warm in winter and cool in summer. Summer Weight Tog rating is 7.5 with 200gsm filling.  Winter Weight Tog rating is 13.5 with 400gsm filling. Pair it with some Bamboo Lyocell bed sheets.
Recommended Retail Price
$230 (Summer)
$270 (Winter)
Hypoallergenic

Luxurious silky smooth texture

Plush and soft
– Perfect for layering and transeasonal weather.
– Corner ties to attach to our Duvet Covers.
– Baffle box stitching to prevent filling shifting.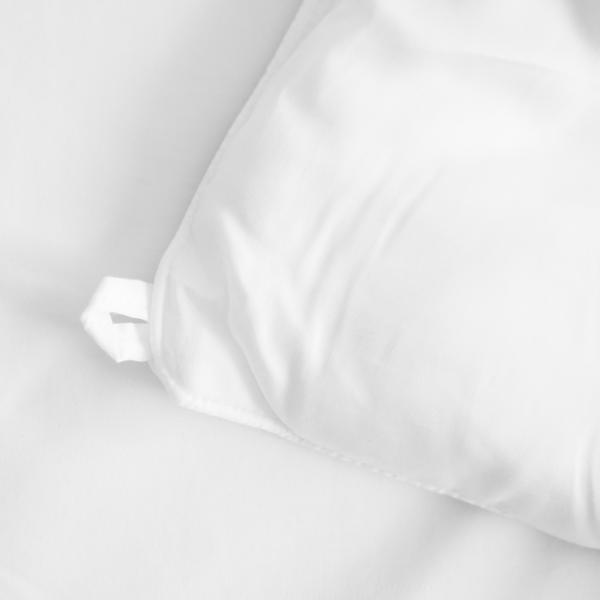 Made of 100% Organic Bamboo shell with100% hypoallergenic Organic Bamboo fill of 200gsm. 
Care – Bamboo Whitehaven Quilt/Duvet
Dry clean only

Do not machine wash

Do not bleach

Do not use fabric softener
Why We're Different
Before Ettitude, it was impossible to find bedding, bath and sleepwear that were as smooth as silk, as sustainable as hemp, and as breathable as linen at the price of cotton. That's why we took it upon ourselves to not only develop the softest material on the planet, but also the most sustainable. Our patented Bamboo Lyocell fabric technology is unlike anything you've ever felt before, and our products are certified, meaning they pass the highest criterion of testing for harmful chemicals and synthetics.
The bedding industry has been using the same materials for hundreds of years without any regard for Mother Earth's resources; cotton being one of the world's largest water and air pollutants.
We're on a mission to finally change that; one sleep at a time.
---
What's the difference between ettitude bamboo bed sheets and other brands?
Our bamboo sheets are made of the world's first CleanBamboo™, one of the most soft and sustainable materials of the 21st century. Other bamboo beddings are made from either bamboo/cotton or bamboo rayon/viscose blend fabrics, which require the use of harmful chemicals. Our patented CleanBamboo™ is made sustainably from 100% organic bamboo lyocell.
Learn more about bamboo fabric blends.
What's the difference between your CleanBamboo™ bamboo lyocell, bamboo charcoal and bamboo twill fabric?
CleanBamboo™ is our signature fabric and the foundation for everything we make. Made with lyocell from 100% organic bamboo—the most resource-efficient plant on the planet—our CleanBamboo™ material is cloud-soft, cooling, and sustainable.
Our CleanBamboo™ charcoal fabric blends all the same benefits of bamboo lyocell with charcoal powder to safeguard your sheets for long-lasting freshness.
Our CleanBamboo™ twill fabric utilizes a twill weave—the same weave used in denim jeans—to create a slightly heavier and more durable fabric compared to bamboo lyocell and bamboo charcoal.
Learn more about our fabrics.
Are your products suitable for people with long-term sickness, skin problems, and infants?
Our CleanBamboo™ fabric is hypoallergenic, breathable and free from harmful chemicals. Our products are suitable for every skin type, including sensitive acne-prone skin, eczema, dermatitis and psoriasis. Infused with naturally antimicrobial bamboo charcoal, our CleanBamboo™ charcoal products are also proven to reduce bacteria by 99.9% compared to cotton.
Learn more about the benefits of CleanBamboo™ fabric.
What dye do you use?
We use non-toxic, eco-friendly AVITERA® SE reactive dyes which are certified. These dyes reduce water and energy consumption by up to 50%, salt consumption by 20% and overall cycle time by 25%. Furthermore, the dyes comply with the Zero Discharge of Hazardous Chemicals (ZDHC) Group's manufacturing restricted substances list.
I've noticed some color variation. Why?
Our fabrics are made in small dye lots, meaning that unique batches sometimes have a slight color tone variation. It is very difficult to ensure unique batches are 100% the same in color without using the harshest of chemicals, so we've prioritized our commitment to sustainability over guaranteeing an exact color match every time.
We want to ensure you love your ettitude products. Contact our team at care@ettitude.com.au and we'll help make sure of it.
Are your products ethically sourced
Our bamboo is responsibly grown in FSC-certified forests that provide environmental, social and economic benefits.
Do bamboo sheets shrink?
Our CleanBamboo™ sheets are pre-washed and pre-shrunk. We have also included a small margin on the bedding size for unforeseen shrinkage. That said, we do not recommend drying your CleanBamboo™ sheets using high heat.
Learn more about laundry care for your CleanBamboo™ bedding.
Do your sheets have a thread count?
Our CleanBamboo™ bamboo lyocell sheets have a thread count of 300, which is equivalent to 1,000 thread count in cotton. While we're proud of that, we also know that based on recent innovations, thread count is no longer the most important factor when deciding on sheets. Rather, the quality of the raw fiber and the weave of the sheets are the most important factors.
Learn more about thread counts and what to look for.
How do I care for my bamboo bedding?
Our CleanBamboo™ products come with care labels that detail washing instructions. We recommend cold machine wash with like fabrics on gentle or delicate setting, line dry or tumble dry low. And please, no bleach or fabric softener—it doesn't get softer than CleanBamboo™!
Learn more about laundry care for your CleanBamboo™ bedding.
What is the TOG rating of your duvets and quilts?
Our summer duvet is about 7.5 TOG, and our winter duvet is about 13.5 TOG. TOG stands for 'Thermal Overall Grade', which is a unit of measurement used to calculate the thermal insulation of a product—the higher the number, the warmer the duvet or quilt.