The end of the financial year is possibly the best time to purchase a mattress. With huge savings such as 50% off, is it time you finally got that new mattress you have needed? Well here is a list for the money conscious buyer – Australia's top 5 mattresses that are currently selling for under $1000. This is not the recommended retail price, but the advertised sale price up until June 30th 2017.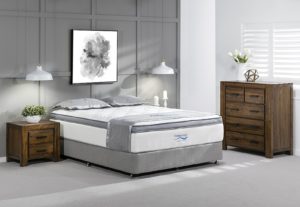 The Orthokinetic Cirrus Plush is comfortable and supportive. Has a nice spongy top layer that feels nice to lie on but is still dense enough to provide good spinal support. Partner disturbance seems pretty minimal. As with the other version in the Cirrus range, this is a very well priced product. A steal for under $1000. For more, read our full review here.
With the current $100 discount available on the Eva website, $699 (queen) is an great price for this mattress. The Eva mattress is comfortable and supportive, and is the only mattress in a box that we have seen that actually has a pocket spring system. This creates a slightly bouncier feel than the other mattresses in a box, but certainly doesn't feel cheap like some other spring systems. Some slight partner disturbance but nothing too significant. Overall, a stand out mattress for less than $700. For more, read our full review on the Eva mattress.
The Luxi mattress is one of the most innovative and practical mattresses we have tested. The Luxi mattress is essentially a collection of specially designed foam pieces that fit inside a strongly built but flexible cover. There are 4 foam slabs inside the cover which allow you to choose between 3 different sleeping surfaces – soft, medium, and firm. The neat part about the Luxi mattress is that you can select different sleeping surfaces for each side, which means if you like firm and your partner likes soft, you can set it up accordingly. In terms of how it performs as a sleeping surface, it really does support the body well. The Luxi mattress is comfortable – in all versions. If you like a mattress that is easily transportable, adjustable, and well-priced, give it a go – you get a 180 nights to see if you like it. If not you get a full refund. A very ingenious mattress with a solid refund system. We thoroughly enjoyed testing this one. For our full review of the Luxi mattress, click here.
The Slumberland Fulham has a nice mix of comfort and support. The top layer is made of up puffy pockets which feel nice and soft. The comfort layer also supports the spine well. The spring system feels fairly robust and partner disturbance is minimal. For the price, this is an excellent buy. Give it a go. For our full review on the Slumberland Fulham, click here.
AND AUSTRALIA'S BEST MATTRESS FOR UNDER $1000…
The current sale price for the Active Sleep Venetian Medium is $999 and we think that's as good as it gets for under $1000! This medium version is comfortable and hugs the body beautifully. Spinal support is very good. Minimal partner disturbance and feels quite well-built. This is a very good mattress at a an outstanding price.
Congratulations to Active Sleep and Forty Winks! See our full review on the Active Sleep Venetian Medium.
Add to favourites